SAN ANGELO, TX — With early voting beginning Monday, April 19, candidates for the two contested San Angelo City Council seats faced off Thursday night in a forum led by San Angelo Chamber of Commerce CEO Walt Koenig at the Fort Concho Stables.
Challenging Councilwoman Billie DeWitt for her seat in Single Member District 6 are Larry Miller, and James R. Ervin. Miller did not attend Thursday night's forum. SMB 6 covers most of Southland and part of College Hills.
Challenging the SMD 2 incumbent, Councilman Tom Thompson, were Mercedes DeLa Cruz and Cie Avel Rangel. SMD 2 covers most of Lake View.
Councilwoman Lucy Gonzales in SMD 4, the northeast corner of San Angelo, is running unopposed and did not attend the forum.
Koenig moderated the forum well, giving each candidate equal time to answer general questions. No single issue seemed to raise the eyebrows on the faces of any of the approximately two dozen citizens in the audience.
In general, the depth of knowledge of each of the incumbents shined as both DeWitt and Thompson were able to draw on years of experience — three for Thompson and four for Dewitt — to craft their answers.
All agreed that tourism is good for San Angelo, although some, particularly SMD 4 candidate Rangel wanted to add more industry for adding job opportunities. She said she was anxious to work with whatever parties are working to attract new industry. Seemingly taking a jab at Thompson, who headed the marketing for the annual San Angelo Livestock Show and Rodeo for many years, she said the City should promote a more diverse portfolio of events, no matter how small, because all events are "just as important as our big rodeo."
Ervin said San Angelo is fortunate to have so many events that will attract out-of-town visitors. Thompson said tourism is a strong industry in San Angelo and is what has kept San Angelo the largest city in Texas without an interstate highway. He then pivoted to the tourism mantra. "It's all about heads in beds," he said. Thompson praised the Chamber for attracting particularly sports tourism, such as attracting baseball and softball tournaments to the Texas Bank Sports Complex. Most of those sporting event participants will stay in a San Angelo hotel, particularly since the tournaments last more than one day.
The next issue was engaging constituents.
DeWitt said she engages her constituents by "keeping my cell phone charged and answering it 24/7." She added that she has hosted community meetings when important decisions are about to be made by the council to gather constituent input. Thompson joked with DeWitt saying that he realizes that his counterpart always pulls items out of the consent agenda. "But I know now you do it to educate your constituents," he said.
On the issue of transparency, Rangel praised the way the City places information on its website and said she would like to continue to improve accessibility to online information. DeWitt said she would never want citizens to think the City is attempting to hide anything. She then admitted she often pulled items from the consent agenda to ask questions so her constituents can have a more detailed view of what the council is about to decide. Ervin noted his experience in the military where he dealt with classified information and security clearances. He said he will "want to be as transparent as legally possible." And, "if I think I see anything wrong going on, I will put it out as soon as possible, even if other people disagree with [my decision]," he said. DeLa Cruz said she thought the council does a good job with transparency.
Koenig asked about the housing shortage. DeWitt said she was aggressive in doing what she can to attract housing developers. She listed a couple of projects that are currently in development on Melrose St. and near Arden Rd., both in her district. "These have to be the right project at the right location at the right time," she said. Ervin said he would keep an eye on the City inspectors. Thompson pointed out the in-field development process — or building new homes on existing vacant lots in established neighborhoods — in Lake View that was improved by the City during his tenure. DeLa Cruz noted that there were still empty lots she has seen in Thompson's district and felt that the north side was "a little lacking" with housing opportunities when compared to the other parts of the city. Rangel expanded on the problem DeLa Cruz claimed existed. She said she would like to help developers build more homes in Lake View.
Early voting begins April 19 and Election Day is May 1.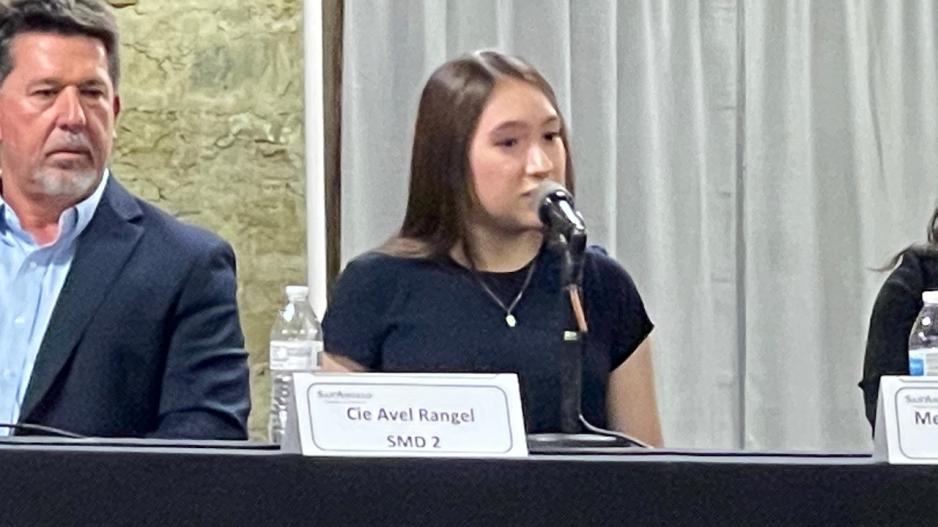 Of the newcomers to San Angelo politics presenting Wednesday night, Rangel shined, bringing a perspective as a recent Angelo State University student. She expressed herself well but, like all of the challengers, lacked a depth of knowledge of how the City works. Regardless of if she is successful in knocking off the incumbent, she exhibited energy and drive needed for the next generation of leaders here. If she falls short and Thompson retains his seat, Thompson would be well served by appointing her to a City board to gain more experience.
Most Recent Videos