EL PASO, TX — The crisis at the border came into focus as members of Republican U.S. House leadership led by House Minority Leader Kevin McCarthy (R-CA) visited key border security centers in the El Paso Sector of the Customs and Border Protection (CBP). Congressman August Pfluger (TX-11) and Tony Gonzales (TX-23) were front and center asking the Biden administration to recognize the crisis that is brewing along the U.S. and Mexico border and to take action.
Pfluger said that President Biden is choosing winners and losers in the current crisis. The losers are the American people and the winners are the drug cartels who are organized and spearheading the flood of human beings who began a dangerous trek from as far away as South America through Central America and then Mexico before swimming or wading across the Rio Grande into Texas.
Pfluger seemed visibly shaken by the vast number of children he witnessed at a 98,000 sq. ft. facility not equipped to handle 1,040 migrants at a time.
"We saw through their eyes (the children's) and what we saw were children who had been taken advantage of during their 22-day trip," Pfluger said. He called it "heartbreaking."
Gonzales said he was also there to support the men and women in green. His district, CD-23, stretches from San Antonio to just east of El Paso and includes the longest stretch of all congressional districts along the Texas-Mexico border.
"The U.S. Border Patrol Agents are doing God's work keeping us safe. We have your back," he said.
Gonzales, whose west Texas borderland district incorporates a large percentage of Americans of Hispanic origin, emphasized that a more robust legal immigration policy could help reduce the pressure. But, he said, border security and a well-executed legal immigration policy go hand in hand.
McCarthy said the 98,000 sq. ft. facility processing facility was built within the past year. The size and design of the building was intended to be so large that it would accommodate the largest illegal immigrant surge imagined after the 2019 surge of the caravans that left border communities reeling before President Trump enacted the "Remain in Mexico" policy for asylum-seekers.
"The 1,040 people processed today broke all records and was beyond the capacity of the brand new facility," he said. He said he saw makeshift facilities in tents in the parking lot Monday.
"Out of the $1.9 trillion Covid relief bill, not one dollar is in there for operational costs at the border," he said.
Chuck Fleischmann (TN-03), Ranking Member of House Appropriations Homeland Security Subcommittee, said he learned that the CBP was borrowing from its budget in future months to pay for the current crisis. That means the Department of Homeland Security will likely approach congress later this year for supplemental funding just to make the CBP's payroll.
Fleischmann too admitted that he was shaken by what he saw Monday.
"The pandemic crisis is large, but this crisis at the border…the Biden administration created this crisis by incentivizing (illegal immigration). Those migrant teens were told to come on, come across. This is a complete (policy) failure right here at our border," he said.
"No more euphemisms or political maneuvering by (House Speaker) Pelosi and (Senate Majority Leader) Schumer. We need to call this a national problem and act together as Americans and act united," he said. "President Biden created this crisis but we need to come together as Americans, not Democrats and Republicans, and solve this."
Clay Higgins (LA-3), Ranking Member of Homeland Security Border Security, Facilitation, and Operations  Subcommittee, in his distinctive Cajun draw, talked common sense.
"This began last year when the Biden campaign hinted he'd loosen up border security. The cartels were listening. The cartels' infrastructure is well developed and well funded. They were hoping for a Biden victory… I ask for President Biden to please pay attention. Allow us an audience with you. You have been misled. You are endangering the children of God…Allow the voice of reason to enter the White House," he said. "You took charge in January 20 and on the same day, you gave control of the border to the cartels."
He urged American citizens everywhere to call the White House to ask for a new direction in policy on border security.
Congresswoman Yvette Herrell (NM-02) mentioned Title 42 expulsions and urged Biden to keep the rule in place. The Trump administration implemented the use of Title 42 of the U.S. Code when the pandemic response began in 2020 to immediately expel on the spot persons who potentially pose a health risk. Herrell noted that there are not enough resources to test all migrants for Covid while the impact of the coronavirus is known to all Americans. "Everyone knows someone impacted by Covid," she said.
"[Yet] President Biden is allowing infected and exposed people through," she said.
So far, the Biden Administration has left Title 42 in place. It was responsible for the immediate expulsion of 64,613 persons in January and 72,413 in February. For contrast, the February number exceeds each month in 2020 while the January number is in the same range as October-December 2020. There is no doubt that the trend is upward.
McCarthy said only about 10 percent of those processed are receiving a Covid test.
These issues discussed at the Monday press conference were already sent to President Biden via letter, McCarthy said. "We offered to work with him, but he doesn't even acknowledge he received the letter," he said.
After the El Paso visit, Pfluger traveled to Midland where 700 migrant children (we reported earlier as many as 1,000) will be housed in a former man camp and called an Emergency Intake Site. Per federal law, the U.S. Department of Health and Human Services is housing the unaccompanied migrant children due to overcrowding at facilities at the border.
"President Biden's dangerous immigration policies and senseless rhetoric have triggered a massive surge in illegal migration. Our border patrol facilities and officers lack the capacity and resources to handle the influx of illegal crossings, and facilities have become so overwhelmed that the Biden Administration has begun busing migrants away from the border to holding sites in the interior of the U.S., including one in Midland County, which was set up without proper notification given to myself or other state and local officials.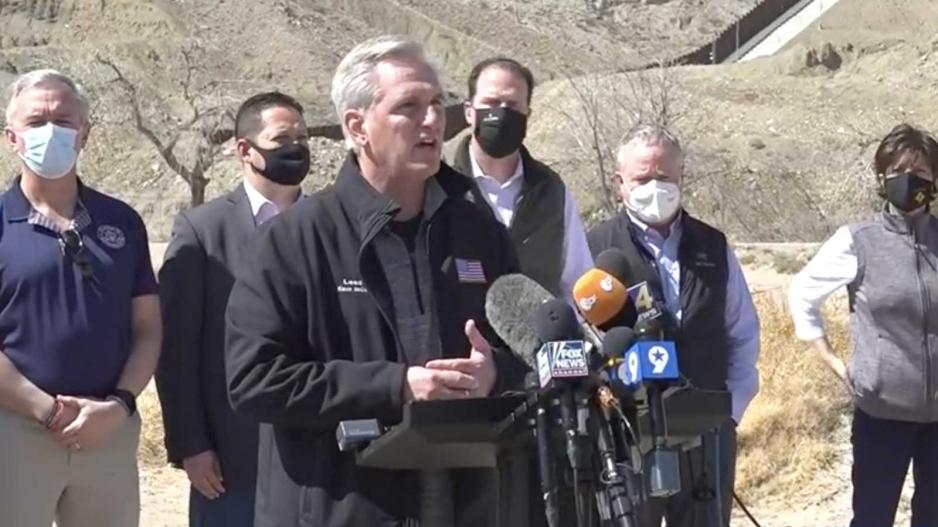 "It is heartbreaking to see this crisis unfold. The Midland community deserves action and answers from the Biden Administration," Pfluger said in a statement following his stop in Midland. "We are outraged by the decision to unexpectedly move migrants into the county without proper consultation and explanation. I have nothing but compassion for the children who are being exploited by coyotes and cartel traffickers emboldened by President Biden and his 'open-border' policies.
"I am calling on President Biden to immediately reverse his damaging rhetoric and policies and provide border patrol officials with the tools and resources they need to handle it."
Most Recent Videos