WASHINGTON, DC — The month of February concluded early Sunday morning with Congressman August Pfluger voting with a united Republican caucus against President Joe Biden's $1.9 trillion stimulus plan. The bill passed the house early Sunday morning 219-212. Not one Republican voted for the package.
Pfluger's opposition culminated in a Twitter spat with House Democrat colleague Congressman Don Beyer a former Obama operative who now represents Northern Virginia's 8th Congressional District. Beyer took exception to Pfluger's tweet criticizing Democrats for passing the massive $1.9 trillion package during the dead of the night.
"Because your Republican colleagues dragged out a Rules Committee hearing that normally lasts 1-2 hours for over 10 hours to keep us here overnight so you could again deploy this greatly overused talking point," Beyer fired back at Pfluger who said the vote was happening when most of America is asleep.
Pfluger said he opposed the legislation because only 9 percent of the funds appropriated are targeted at Covid-19 relief.
"This bill rewards states that remain locked down, encourages unemployment, keeps schools closed, and includes billions of dollars in spending towards Democrat pet-projects, including funding for Planned Parenthood, $112 million for an underground railway in Speaker Pelosi's district, $270 million for the arts and humanities, and $12 billion in foreign aid," Pfluger said.
The Democrats claimed in a press release targeting Republicans in swing districts that the GOP congressmen failed to help working families, by opposing:
Providing direct relief of $1,400 per person Aggressively speeding up vaccinations
Expanding unemployment benefits
Providing funding for schools to re-open quickly and safely, and funding for child care
And providing resources to save the jobs of first responders, like firemen and police officers
Pfluger and the Republicans contend that all of those line items could have been handled with a spending package that didn't increase the national debt by almost 10 percent.
Over $1 trillion in previous Covid-19 spending remains unspent, Pfluger noted. Additionally, the Congressional Budget Office, a nonpartisan research arm of Congress, estimated that by the middle of 2021, the U.S. economy would return to pre-pandemic GDP levels without further stimulus spending. Prior to the vote, Congressman Pfluger spoke on the House Floor in opposition to H.R. 1319.
Watch
:
Voting NO on the Democrats' $1.9 Trillion Blue State Bailout
Pfluger Calls on President Biden to Recognize Cuban Regime's Threat to Democracy
Last week, Congressman August Pfluger (TX-11) joined Congressman Mark Green, Ranking Member of the House Foreign Affairs Subcommittee on the Western Hemisphere, and fellow Subcommittee Member Congresswoman Maria Salazar (FL-27) in sending a letter to President Biden urging him to implement a Cuba policy that holds the regime accountable for its human rights abuses and support for authoritarian regimes in the region.
In their letter, the lawmakers express grave concern about the threat Cuba's communist dictatorship poses to the national security of the United States and the stability of the Western Hemisphere. The letter urges President Biden to take the steps necessary to restrict the flow of U.S. dollars to the Cuban military, maintain designations that hold the regime accountable for its support for global terrorism, and continue support for democracy on the island.
"America is the beacon of freedom and democracy, and our foreign policy towards authoritarian regimes must hold them accountable for any and all human rights violations and oppressive actions," Congressman Pfluger said. "President Biden must support democracy on the island and ensure no American dollars go towards propping up a communist regime responsible for atrocities and sowing discord in the region."
Congressman Green said, "The list of human rights violations by Cuba's communist regime is extensive and includes the suppression and torture of political dissidents without due process or adherence to the rule of law. Political dissidents are held in notoriously atrocious prison conditions, and the Cuban dictatorship has a history of exporting its oppressive system and undermining the region's democracies. We are urging President Biden to maintain the previous administration's policies and not revert to the failed appeasement policies of the Obama Administration."
"I was born in Little Havana – the daughter of Cuban exiles. My community, of victims and survivors of tyranny, understands all too well the true despotic nature of the ruthless Castro dictatorship," said Congresswoman Salazar. "It's not the time for concessions to the very same regime that continues to jail, starve, murder and systematically oppress the people of Cuba. It's time to support the brave men and women yearning for freedom within the island and it is my hope that this administration stands with the Cuban people and not the brutal tyranny that oppresses them"
Pfluger fights to protect religious freedom
Last week, Pfluger voted no on H.R. 5, the Democrats' so-called Equality Act. This legislation elevates 'sexual orientation' and 'gender identity' to the ranks of a protected class under the Civil Rights Act of 1964. If this legislation is signed into law, businesses, churches, schools, shelters, and other charities will be forced by law to recognize and individual's chosen gender over their biological sex.
Congressman Pfluger released a statement following his no vote on the bill: "As a Christian, conservative, and father of three fantastic girls, I vehemently oppose this bill. I strongly believe that every person is created equal and deserves dignity and respect, but we can absolutely not allow the federal government to send a down a decree that forces Americans to act in violation of sincerely-held religious beliefs, threatens the safety and rights of women and girls, jeopardizes the rights of parents, and puts the lives of our unborn children at even more risk."
Congressman Pfluger also shared a video detailing his reasons for opposing the bill. Watch.
Read their letter to President Biden here.
Pfluger, Gonzalez Bi-Partisan Energy Diplomacy Bill Passes Committee
Pfluger joined Democrat and U.S. Representatives and House Foreign Affairs Committee Vicente Gonzalez (TX-15) to announce the introduction of their bi-partisan bill, H.R. 1311, The Energy Diplomacy Act, that establishes an Assistant Secretary of State for Energy Resources within the U.S. State Department, ensuring that American energy is a top priority of U.S. foreign policy. The bill was included as part of H.R. 1157, the Department of State Authorization Act, that passed through the House Foreign Affairs Committee today.
Rep. August Pfluger: "Our nation is blessed with abundance of natural resources and strong innovative spirit that has dramatically re-shaped the global energy landscape and made the United States a world-leading energy producer. This position will ensure energy security remains at the forefront of U.S. foreign policy, and help to promote economic and resource development that will bolster our allies and interests abroad. By ensuring that we are working in tandem with our partners across the globe to advance smart energy policies that promote trade, spur technology development, and advance an all-of-the-above energy strategy, we can better insulate ourselves and our allies from the malign efforts of Russia, Venezuela, and Iran."
Rep. Vicente Gonzalez: "Energy is a key component of our foreign policy and national security. Faced with the impending climate crisis and increased threats from foreign adversaries, the State Department must play an active role in U.S. energy security, development, and distribution across the world. I am proud to dedicate this legislation to our former partner and colleague, Congressman Ron Wright, who tragically passed away and was a fellow advocate for Texas energy and a foreign policy that embraces an all-of-the-above energy strategy."
H.R. 1311 establishes an Assistant Secretary of State for Energy Resources within the U.S. State Department, ensuring that American energy is a top priority of U.S. foreign policy. The Assistant Secretary will support the development of energy resources, promote the availability of diversified energy supplies in the global market, resolve international disputes related to energy, and champion American energy security on the global stage.
Pfluger to Schumer: How to deal with the oil and gas jobs emergency
WASHINGTON, D.C. — Congressman August Pfluger (TX-11) is proud to announce the introduction of his second piece of original legislation, H. Res. 125, which protects the oil and gas industry from executive overreach by recognizing that any policy-making action taken to address climate change should be undertaken by the legislative branch, not through unilateral executive action—which the Biden administration continues to abuse.
Congressman Pfluger's resolution, H. Res. 125, is in direct response to Senator Chuck Schumer's call for President Biden to declare a 'Climate Emergency.' Congressman Pfluger refuted Sen. Schumer's declaration in a statement:
"Our Nation does not need more dictator-style executive orders from President Biden. Already, he has unilaterally killed thousands of jobs with his plethora of executive actions. Our district is one of the main reasons a climate emergency is not needed. Thanks to American ingenuity and clean burning natural gas, the United States of America has already reduced CO2 emissions to a 20-year low.
"We must continue to promote this progress and oppose executive actions that will increase our dependence on foreign energy, increase consumer costs, and disadvantage the United States from adversarial nations such as Russia and China."
Pfluger leads bi-partisan group asking Biden to declare full emergency in all counties
Last Monday, as CD-11's snow melted, Congressman August Pfluger and Congressman Henry Cuellar led a bi-partisan group of 27 Members of the Texas Congressional Delegation in sending a letter to President Biden asking him to immediately approve the Individual Assistance Program for all 254 counties in Texas.
"We fear that your initial Federal Emergency Management Agency (FEMA) declaration falls far short of the actual needs of our state and request the immediate approval of all 254 Texas counties for Individual Assistance," the Members wrote in the letter. "The services provided by FEMA's Individual Assistance programs are essential to helping states and communities recover from disasters. Although the initial effects of this unprecedented winter storm are beginning to dissipate, the entire state continues to reel from the aftermath that has left millions without power, potable water, and dwindled food supplies."
"President Biden's initial disaster declaration left too many counties in the 11th District of Texas behind. I am proud to represent this resilient district and advocate on behalf of the hard-working men and women who live here. The President should immediately approve Individual Assistance for every Texas county in need," said Congressman August Pfluger.
The letter was led by Congressman August Pfluger and Congressman Henry Cuellar. Other signers of the letter include Texas Representatives Tony Gonzales, Ronny Jackson, Pat Fallon, Van Taylor, Joaquin Castro, Kevin Brady, Michael T. McCaul, Dan Crenshaw, Randy Weber, Al Green, Beth Van Duyne, Michael C. Burgess, M.D., Colin Allred, Lance Gooden, Pete Sessions, Roger Williams, Jodey Arrington, Sheila Jackson Lee, Louie Gohmert, Vicente Gonzalez, Eddie Bernice Johnson, Brian Babin, John Carter, Michael Cloud, and Kay Granger.
Prior to Winter Storm Uri dumping heaps of snow and stressing the Texas electric power grid, Pfluger co-signed a letter requesting a statewide disaster declaration from the Biden administration.
Pfluger asks USDA to swiftly approve relief for Texas agriculture producers
Thursday, Congressman August Pfluger (TX-11) joined a bi-partisan group of 33 Members of the Texas Congressional Delegation calling on the USDA to swiftly approve relief for Texas agriculture producers who suffered insurmountable damage from Winter Storm Uri. In a letter addressed to Secretary of Agriculture Tom Vilsack, the lawmakers asked the agency to declare Secretarial Disaster Declaration for Texas counties, as well as resume the Coronavirus Food Assistance Program (CFAP).
"This winter storm came at a time when Texas' hardworking farm and ranch families were already struggling through COVID-19. They were also working to recover from other extreme weather events, such as hurricanes in South Texas and drought in other regions of the state. Additionally, commodity and livestock markets remain very volatile. When you combine all these factors together, it makes it extremely difficult for producers to continue feeding and clothing the world," the Members wrote in the letter.
Pfluger announces staffing changes at home offices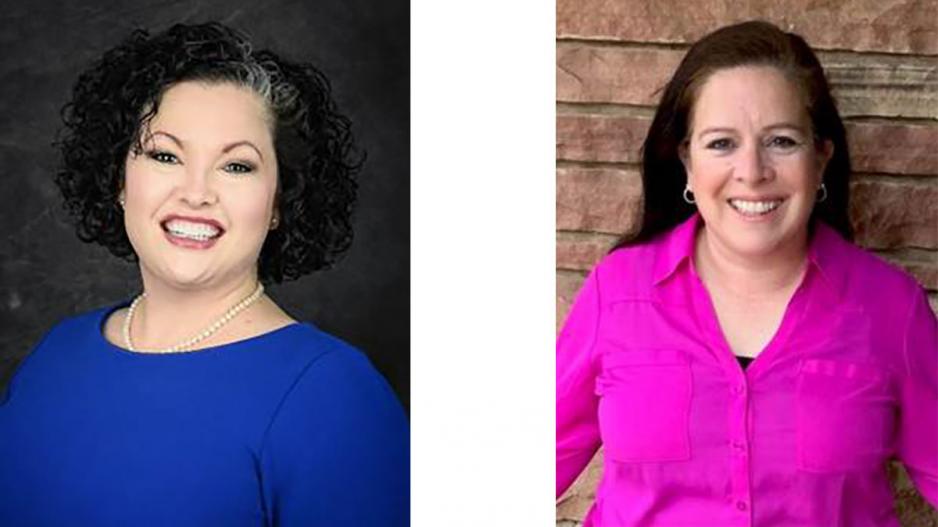 Pfluger's new District Director is Bernadette Granger.
Bernadette is originally from Hobbs, New Mexico—a friendly community in the Permian Basin—and is proud to now call Midland home. Her heart for service comes from a rich family tradition of volunteerism and public service. As a young girl, Bernadette witnessed her parents volunteer countless hours in their community, looked up to her uncle who served as the Sheriff of Eddy County, and watched her grandfather devote numerous hours coordinating Hispanic outreach efforts. One of Bernadette's earliest memories is going door-to-door with her uncle handing out fliers to members of her community.
Bernadette graduated from University of the Southwest in Hobbs, New Mexico, with a Master's Degree in Educational Counseling. Prior to working for the 11th District of Texas, she worked at Concho Resources Inc. in Midland, and previously served as Deputy District Director for Congressman Steve Pearce.
Bernadette feels a strong call to advocate and help others, and is thankful to be able to work for the people of District 11.
Congressman Pfluger also announced that the new Odessa Regional Director is Monica Gonzales-Mauldin.
Monica is proud to have been grown up in the heart of the 11th District, living in both Midland and Odessa throughout childhood. She attended Midland High School and Texas Tech University before returning to Midland to open a local moving company with her husband.
Outside of the office, Monica is an avid sports fan and enjoys cooking Tex-Mex recipes handed down through many generations of her family.
Monica has a heart for service and community involvement and looks forward to serving the needs of constituents and working for the best district in the Nation.
The Odessa office serves Ector and Andrews Counties and is located at the Municipal Plaza 119 W. 4th Street Suite 215 Odessa, TX 79761. Phone: (432) 331-9667. Hours: M-F, 8:30 a.m. to 5 p.m.
Video Coverage of the 2021 San Angelo Rodeo