Congressional Candidate Brandon Batch Grapples With his "NeverTrump" Past
SAN ANGELO, TX — A Republican candidate for Congressional District 11 congressman was once a "Never Trumper" in the Republican Party. A screenshot of a Facebook post Brandon Batch made on March 2, 2016 has surfaced and is being shared on social media suggesting, as far as supporters of President Donald J. Trump are concerned, Batch is a wolf in sheep's clothing.
"Trump is merely a symptom of a virus that has been created over the course of many years If we are lucky, we will develop a vaccine for this virus," Batch wrote on a March 2, 2016 Facebook post.
The post links to an article in the New York Times titled, "The Governing Cancer of Our Time" by columnist David Brooks.
"Trump represents the path the founders rejected. There is a hint of violence undergirding his campaign. There is always a whiff, and sometimes more than a whiff, of "I'd like to punch him in the face," Brooks wrote in the piece Batch shared on Facebook.
Here's the entire post: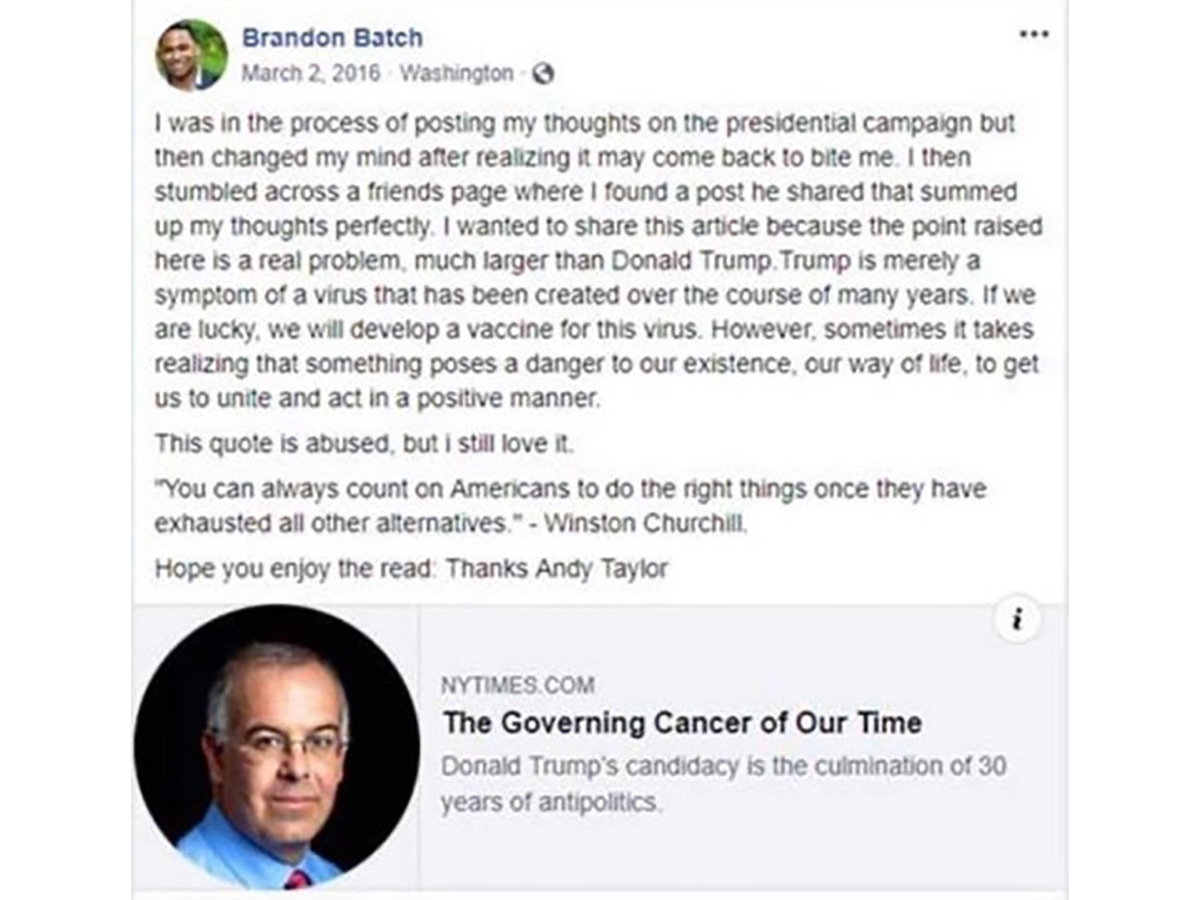 Above: Congressional candidate Brandon Batch's controversial NeverTrump Facebook post from March 2016. 
At the time he made the post on Facebook, Batch was working in politics in Washington, DC. In our interview last month, Batch said he worked for Congressman Michael McCaul as a legislative assistant. McCaul's voting record is with Trump since Trump's inauguration in January 2017, but he has not always been viewed by the Trump Train in a good light. As late as 2019, American Greatness, an online journal that argues for pro-Trump policy positions, noted that McCaul was among the "NeverTrump-dominated Republican foreign policy establishment."
The date of the post, March 2, 2016, and what was happening during the 2016 Republican primary at the time, may explain much of Batch's angst expressed in his NeverTrumper Facebook post.
Last night, Batch said the post has to be taken within the context of the times. March 2, 2016 was the day after the Super Tuesday primary results when Trump trounced the purist conservative wing of the Republican Party in 11 states with a cumulative popular vote of 2.955 million to runner-up and conservative purist Ted Cruz's 2.502 million votes.
Tonight at 6 p.m. and 10 p.m. KTXS and ABC38 multimedia journalist Jacquelyn Quinones interviews Batch and presumptive frontrunner in the race for CD-11, August Pfluger, to get their views. Tune in on Suddenlink channel 12.
Within days before and after Super Tuesday 2016, all of the candidates except Cruz and Ohio Governor John Kasich withdrew from the contest. The era was tumultuous for the American conservative movement, and Batch was apparently caught up in it, trying to figure it all out, like most Republicans were.
Batch indicated he has had a change of opinion and became a big supporter of Trump.
"I said we needed a vaccine. Now we see that Trump is the vaccine," he said. Back in 2016 when Trump was knocking conservative candidates out of the primaries, a concern of Republican operatives was that Trump would win the presidency only to advocate and pass liberal policies. No all were convinced Trump was truly pro-life, for example.
"Nobody knew what Donald Trump would be like. They had no idea," Batch said.
At the same time, Batch said the contents of the article shared and his remarks in the post point towards years of inaction by the conservative movement in congress. The Republicans controlled the House and Senate, but Obama was still president and the Senate lacked a super-majority needed to pass conservative legislation. Congressman Mike Conaway faced an angry town hall at the Cactus Hotel at around that time where frustrated constituents confronted him on congressional inaction.
"We had 30 plus years of congress saying one thing and doing another thing. and that led to the election of Donald Trump," Batch said last night. "We needed a vaccine."
Batch released a formal statement on the 2016 NeverTrump post this morning.
"I guess I feel a little flattered because they were just attacking Ted Cruz on the same thing yesterday.
"Look, four years ago when the post was made, there were several other Republican candidates for President that people could have been supporting - including Ted Cruz himself.
"But the fact is: Republicans all united behind Trump and that was why he became President and he has done a phenomenal job of getting our country back on track. There is no one I would rather have as our president and nominee fighting the socialists like Bernie Sanders, who said on day one of his presidency he would ban fracking. That would destroy our West Texas way of life. I stand with President Trump and cannot wait to stump for him once I am the Republican nominee for Congress," Batch stated.
Tonight on KTXS television news and ABC38, Jacquelyn Quinones interviews candidate Brandon Batch on camera and gets the reaction from presumptive frontrunner candidate August Pfluger. San Angelo can catch the interviews at 6 p.m. and 10 p.m. on channel 12 (ABC) on Suddenlink.
Get more stories like this by signing up for our daily newsletter, The LIVE! Daily.