Riding Around the State Capitol with Harvey Kronberg
AUSTIN, TX — Harvey Kronberg, publisher of the Quorum Report, has been covering the Texas Legislature for decades. His website, quorumreport.com, is the online version of the newsletter he sold via subscription since 1983. Kronberg has more history at the State Capitol than the politicians running it.
We asked Kronberg his take on events occurring at the start of the 86th session of the Texas Legislature. It's advertised to be the biennial 140-day law-writing festival. In reality, it's not all that action-packed, especially for the first 60 days.
Nothing can be voted upon during the first 60 days. That doesn't mean nothing is being accomplished.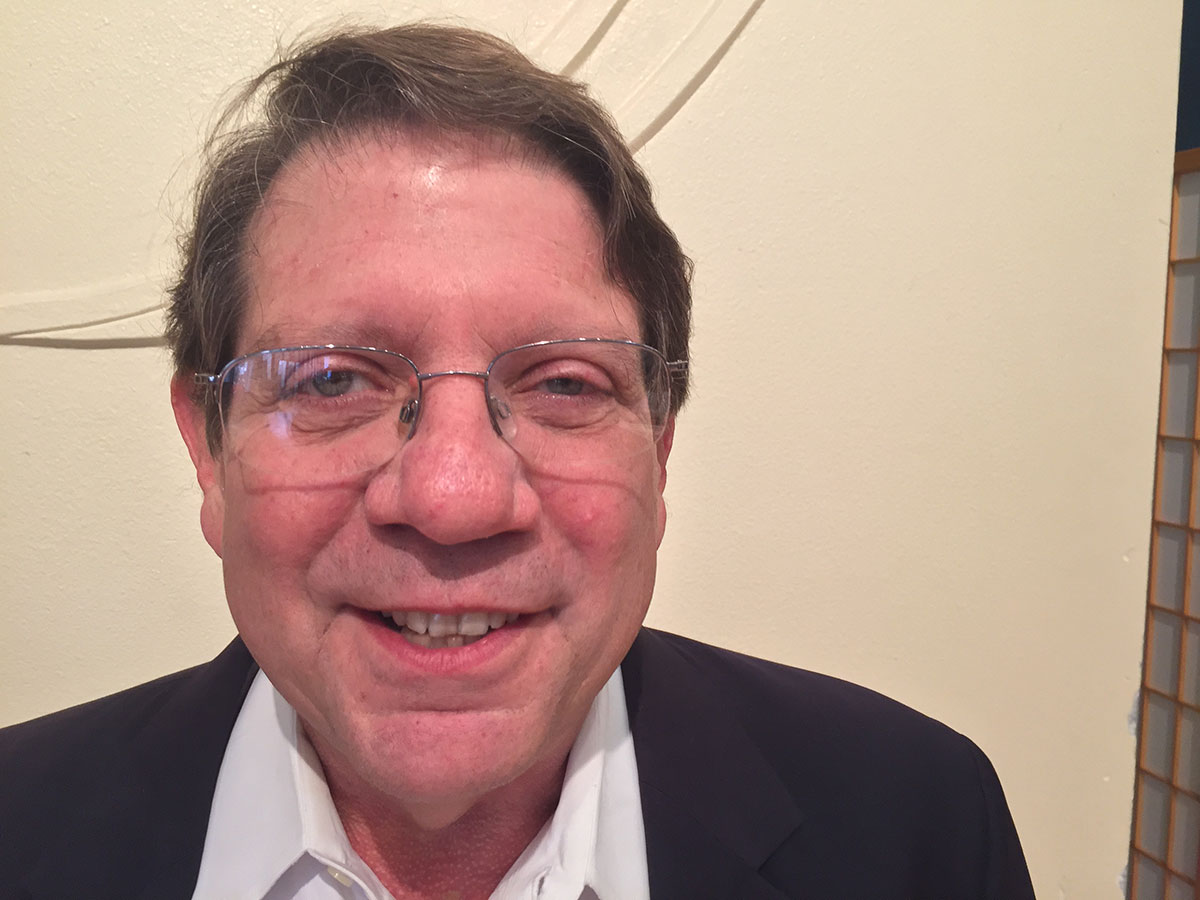 Above: Journalist Harvey Kronberg (KOOP radio at koop.org)
Yesterday evening, the Texas House, led by Speaker Dennis Bonnen, released their proposed budget. Eyebrows were raised because what is expected of Republicans is a budget stingy towards funding public education. The Bonnen budget "proposes [a] massive increase for public school funding," screamed a Texas Tribune headline last night.
The first proposed budget of the session increases public school funding 17 percent, or about $7 billion.
Tom Green County Democratic Party Chairman David Currie is not optimistic. "Watch Lt. Gov. Dan Patrick kill it," he moaned on Facebook last night. The Lt. Governor, who runs the Texas Senate, is the embodiment of all that is wrong and evil in Currie's world. He's even mentioned something along the lines that Patrick is of the Devil before. Currie is also a preacher.
The House and Senate versions of the two-year budget are negotiating instruments from each of the two bodies. What becomes law is what lawmakers can hammer out in compromise between the Senate and the House. The Senate has not released their proposed budget yet, but Patrick is touting increases in public education funding too, including across-the-board teachers' salary increases.
What is on everyone's mind in the Texas Legislature right now is who will be appointed to what committee. Committee chairmanships are important for members of both the Senate and the House. "Each carries with them a small portion of the budget," explained Kronberg. Having control over State money means power.
Kronberg expects Lt. Gov. Dan Patrick to release the names on committee assignments first. Bonnen said he wants to model his speakership after former House Speaker Pete Laney, Kronberg noted. The former Plainview state representative held the House speakership from 1993 until 2003 during what many refer to as the golden era of Gov. George W. Bush.
"Laney was known for delaying announcing who is chair or on what committee until the last possible moment," Kronberg said. "He used it quite successfully as a negotiating tactic."
Kronberg is watching to see if Bonnen follows through with the same tactic. Speakers need to build coalitions to pass their agendas. Committee assignments are among the biggest carrots they have.
Since lawmakers cannot vote for 60 days on anything, Kronberg offered a rundown of the popular bars in Austin where one may run into their state representative or senator.
On the top of Kronberg's list? Steakhouses.
Lawmakers wheel and deal at steakhouses in Austin, like Bob's Steak and Chop House on Lavaca St., about eight blocks south of the Capitol building.
"But finding where they all hang out is more difficult today than it was 20 years ago because there are so many places to choose from now," Kronberg said.
Kronberg is a cigar-smoking, old-timer journalist, so he prefers bars where you can light up a stogie. He noted that the Fairmont on Red River St. is "delightful" but the old standby bar where the lawmakers can be found is at the bar inside the InterContinental Stephen F. Austin at 701 S. Congress, commonly referred to as the "SFA."
One bar fell out of favor at the Four Seasons on San Jacinto near the Colorado River. After undergoing what the hotelier calls a "stunning redesign," the bar was rearranged with a look and feel of a regular bar, absent the necessary easy chairs and sofas journalists prefer for engaging in "long conversations," Kronberg said.
Back to the first place he mentioned, Kronberg notes the new place to try out is at the Fairmont at 101 Red River St., the seventh-floor bar there that allows cigars.
The most recent topic of discussion among lawmakers is Lt. Gov. Dan Patrick's move to credential Empower Texans as a media outlet. "They are an advocacy group, lobbyists!" Kronberg said with a hint of disdain in his voice. Empower Texans is akin to the Heritage Foundation in Washington, D.C. They advocate for conservative policy positions. Kronberg opines ET's positions are more closely aligned with Grover Norquist's D.C. organization called Americans for Tax Reform. Basically, ET demands lawmakers say "no" to everything, especially new taxes, spending, or dipping into the State's rainy day fund, officially known as the economic stabilization fund, or ESF.
Our Rep. Drew Darby runs against the ET crowd often. Tom Green County Chairman Jeff Betty believes the divisions within the party ET foments will eventually hand the entire state of Texas over to the progressive Democrats.
Now ET operatives are recognized as journalists! Kronberg is beside himself.
Many of the issues with the State government stem from the reluctance to tackle revenue or spending deficiencies to fix problems, like school finance.
The House budget proposal demands increases to the budget for public education only if lawmakers also "can satisfactorily overhaul the school finance system to slow the growth of property taxes."
Fixing property taxes, where Texans are smothered with rapidly increasing annual bills from their appraisal districts, most of it going to public schools, will be difficult.
Kronberg noted that Gov. Greg Abbott's proposed 2.5- percent revenue increase cap would harm rural school districts, municipalities, and counties. Abbott proposed not allowing any local jurisdiction's property taxes to generate pro forma revenue more than 2.5 percent over the previous year's revenue. The City of San Angelo, Tom Green County, and the San Angelo ISD all determine what the succeeding year's tax rate will be during budget workshops leading up to adopting annual budgets before Oct. 1 each year. Abbott's proposal may force all local jurisdictions to lower property tax rates to comply with the 2.5-percent cap on revenue increases.
Kronberg gave a tour of Austin's economic development. Apple is building a new, giant facility there. The U.S. Air Force is too. Kronberg's city is growing at a rapid rate with high tech companies. They can live within 2.5-percent revenue increase caps. Out here in San Angelo, where we have sparse commercial and industrial development in comparison, the cap is bondage to local government.
But west Texans also bristle under the prospect of rapidly increasing land valuations, and the increasing gross amount of taxes those property valuation increases bring with them. That is likely why the San Angelo ISD and Christoval ISD school bonds failed to pass here.
Our State Rep. Drew Darby was pretty close to winning the speakership when Rep. Dennis Bonnen (R, Angleton) pulled a surprise maneuver. During a year of declaring he wasn't interested in the speakership, Bonnen met with individual members to feel them out. Then, in a series of moves, suddenly Bonnen emerged as a candidate for speaker with more than 75 members pledging support. Rumors are that the weekend before Bonnen's announcement that he had the votes, Darby was holding onto 70 pledges—35 Republicans and 35 Democrats. Kronberg said he saw a list with about 60 pledges to Darby. To become speaker, a candidate needed 75.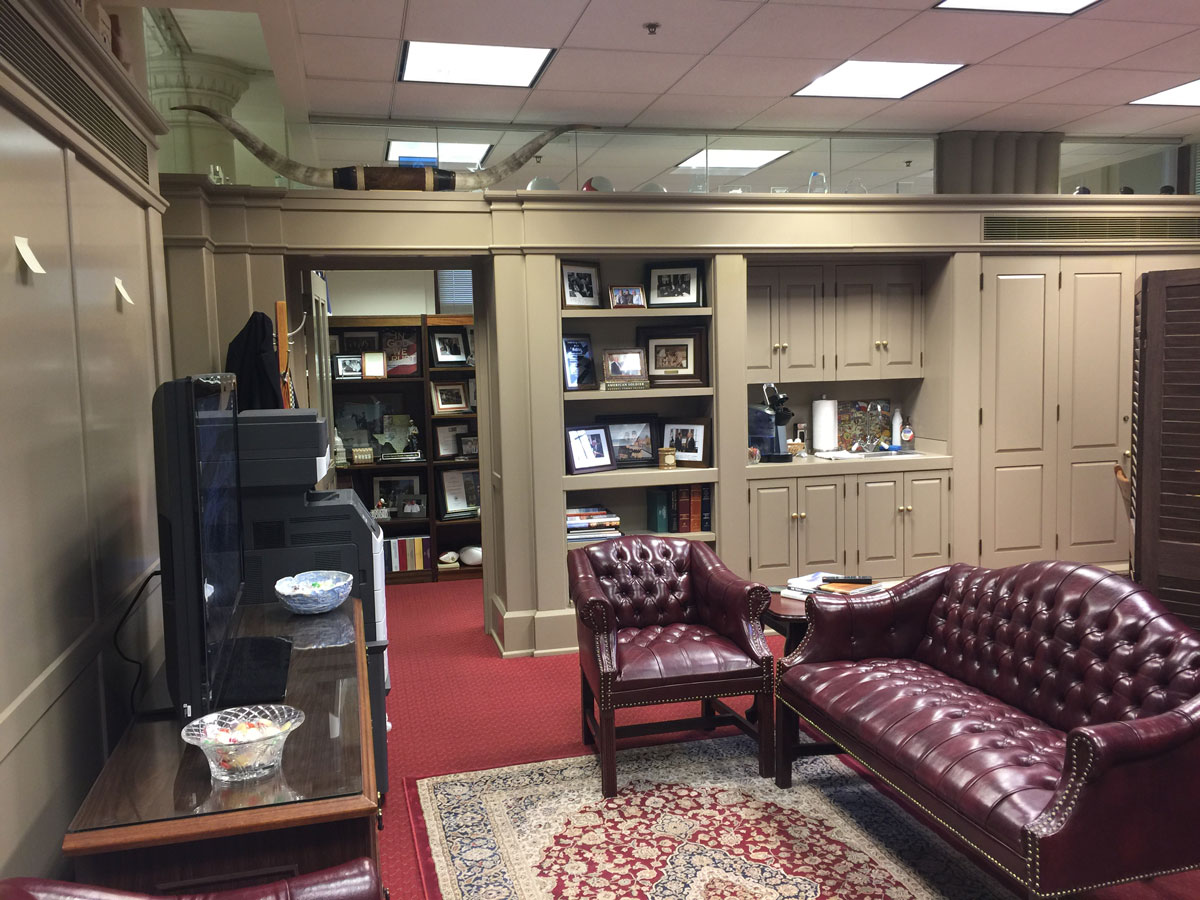 Above: The offices of State Rep. Drew Darby at the State Capitol. (LIVE! Photo/Yantis Green)
Kronberg is certain Bonnen's maneuvering wasn't just the Angleton rep's effort. "Someone was pushing this along," Kronberg said.
One possible reason? Rep. Drew Darby, who represents rural counties, towns, and school districts in west Texas, couldn't go along with Abbott's 2.5-percent plan.
The morning before Bonnen's press conference where he announced he had the votes, a group of 10 Republican lawmakers broke away from Darby. Darby texted me. "It's over," he said.
What is notable about this session before it really begins is that the conservative Lt. Gov. Dan Patrick, who runs the Senate; the moderate Speaker Dennis Bonnen in the House; and Gov. Abbott have announced their intentions to prioritize school finance reform with property tax relief.
Today, Gov. Abbott and Lt. Gov. Patrick were sworn in to their respective offices. What comes next is Abbott's State of the State address currently scheduled for Feb. 5.
Kronberg said to watch for Abbott to ask for an emergency session to address school finance. That will remove the 60-day moratorium on voting on legislation.
"The governor has to be worried about lawmakers sitting around in Austin idle for 60 days with all of the new bars in town," he said.
To keep up with the 86th Legislative Session, subscribe to Kronberg's Quorum Report.
Get more stories like this by signing up for our daily newsletter, The LIVE! Daily.