Local Republicans Elected in November Sworn In on New Years Day
SAN ANGELO, TX -- Several local officer holders who were elected in the November general election were sworn in New Years Day in the Tom Green County Commissioners Court meeting room in the Keyes Building. 
All the officials elected to office are Republicans and will serve four year terms.  
See the photos above. 
There were three contested races in the 2018 election cycle.  Pct. 1 Justice of the Peace Susan Werner defeated Democrat Sally Ayana in the November general election. 
Pct. 2 Justice of the Peace John McGuire swore in Werner.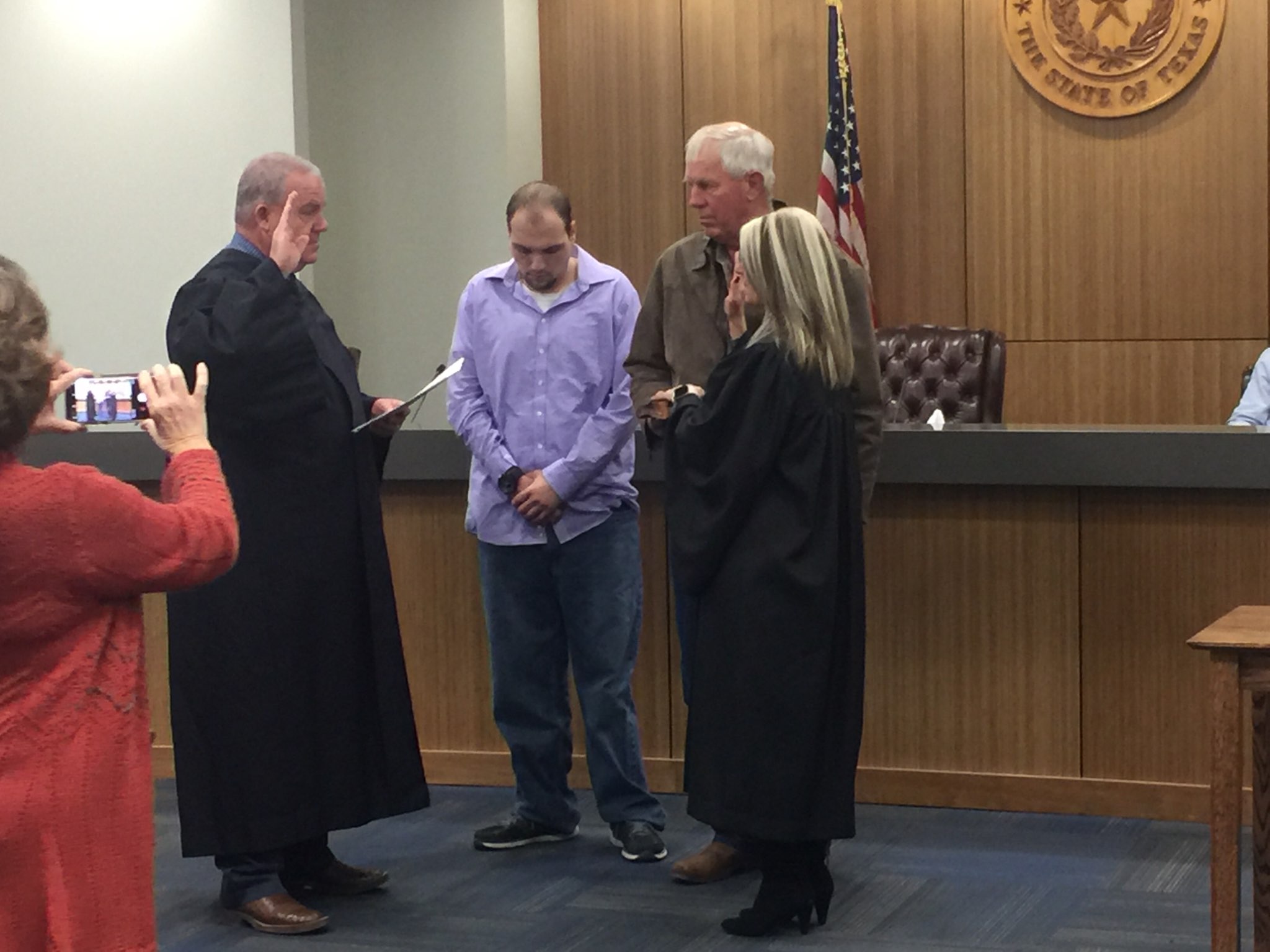 Sammy Farmer out polled Tana Sue Pyssen for Tom Green County Commissioner Pct. 2 in the March Republican Primary.  He was uncontested in the general elected. Farmer replaces Aubrey DeCordova who retired.  
Newly appointed 51st District Judge Carmen Dusek swore in Tom Green County Clerk Liz McGill.
District Clerk Sheri Woodfin was sworn in by District Judge Jay Weatherby who also swore in County Court-At-Law Judge Ben Nolen. 
Pct. 3 Justice of the Peace Fred Buck swore in County Judge Steve Floyd then Judge Floyd swore in Justice Buck. 
Judge Floyd also sworn in Sammy Farmer. 
Pct. 4 County Commissioner Bill Ford was challenged by last minute write in candidate Gilbert Gallegos.  Ford won reelection with almost 90 percent of the votes cast. 
Senior District Judge Barbara Walther swore in Ford.  
Pct. 1 Justice of the Peace Susan Werner swore in Pct. 2 Justice of the Peace John McGuire. 
The only two elected officials not present Tuesday were County Court-At-Law Judge Penny Roberts and County Treasurer Diana Spieker.  They will be sworn in at a later date 
The November general election solidified the Republican party hold on local elections.  Every elected official in Tom Green County government is a Republican.  
Get more stories like this by signing up for our daily newsletter, The LIVE! Daily.