Conaway Gets San Angelo and Midland on the I-14 Routing With Introduced Legislation
Press Release
WASHINGTON, D.C. — Congressman Mike Conaway introduced legislation that will keep San Angelo and Midland/Odessa relevant in the effort to build the I-14 interstate highway from the Killeen area through west Texas.  H.R. 4823, entitled "Connecting the Rest to the West," would connect Brady and Junction, Texas, through San Angelo to Midland.
I-14 is proposed to follow the U.S. 190 highway, joining I-10 near Fort Stockton in Pecos County. The primary route appeared to bypass San Angelo and Midland/Odessa in favor of Brady, Menard, and Eldorado until Conaway announced his legislation today.
A new map, one that Conaway's office supplied with a press release, defines the I-14 project as the "I-14 Strategic Highway System" and includes an adjacent interstate highway that will extend from Junction, up U.S. 83 through Eden, and then via U.S. 87 through San Angelo to Sterling City. There the bill designates I-14 to follow TX 158 through Garden City to join I-10 in Midland. The main east-west corridor will still be along the southern route, tracing U.S. 190.
Originally, with just the southern route, I-14 by-passed most of Conaway's Congressional District 11 (see map).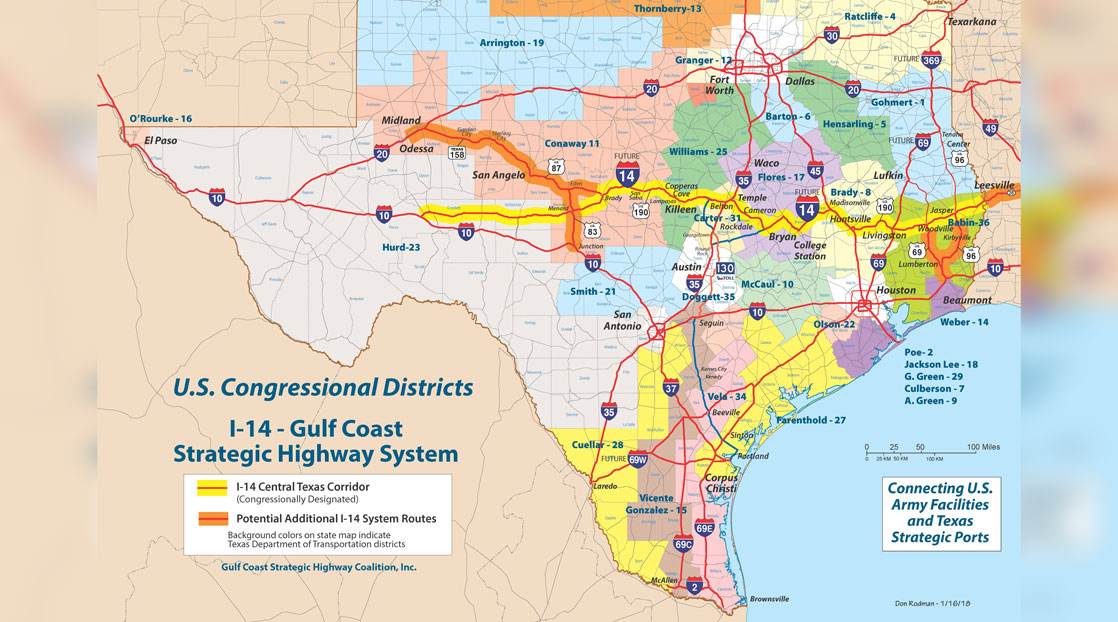 Above: The I-14 Interstate Highway System.
"San Angelo is one the largest cities in the nation without an interstate running through it and expanding I-14 through this area just makes sense," Conaway said in a statement.
Conaway continued, "This expansion through San Angelo to Midland will not only provide a safer route for travelers and economic boon in the area, but will also directly connect the Permian Basin – one of the top oil and gas producing regions in the world – with one on the largest ports in the country. Allowing our producers to more quickly and safely move their products to market will further shore up our nation's energy independence."
The designated I-14 route begins in South Carolina and runs to Natchez, Mississippi. In 2015, Congress extended the interstate into central Texas. Last year, I-14 was completed through the Fort Hood area and ended in Copperas Cove. I-14 signs were installed there starting in April 2017.
Conaway's bill isn't the only proposal to connect distant cities like San Angelo and Midland/Odessa to the new east-west interstate system. A similar plan was proposed to connect the I-14 system to I-10 near Beaumont in east Texas.
"In addition to the economic benefits felt in West Texas, the route will also provide our military with a clear route connecting larger military installations in Texas, including to Fort Bliss and Fort Hood, to the strategic seaports on the Gulf Coast. I'm hopeful that this legislation will provide our growing district and country with the infrastructure it needs to continue to prosper," Conaway stated.
Get more stories like this by
signing up for our daily newsletter, The LIVE! Daily
.