Beto O'Rourke Draws Large Crowd in San Angelo
SAN ANGELO, TX — The underdog may have legs. That would be the casual observation from seeing the large crowd that showed up to see Beto O'Rourke speak at Fuentes Downtown Café in San Angelo Saturday night. As he was waiting to be introduced to the standing room only room of around 180 people, I leaned over and asked him if the crowd was what he expected.
"It's very good. Very good," O'Rourke answered.
More than you see in other towns around here like Abilene?
"Yes, it's more. This is a big turnout," he said.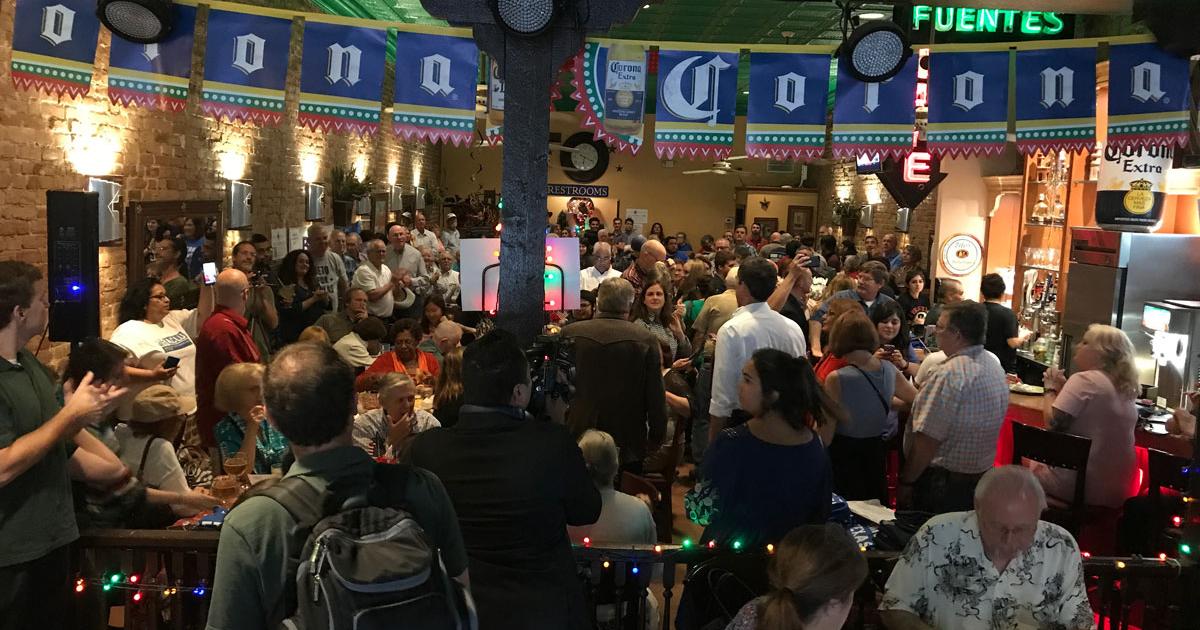 Above: The standing room only crowd to see Beto O'Rourke in San Angelo on Aug. 26, 2017. (LIVE! Photo/Joe Hyde)
Packing a popular Mexican restaurant on a Saturday night in a city that voted 72 percent for Donald Trump in the last presidential election is the kind of event that proves the success of how O'Rourke is positioning his campaign. He believes there is a middle ground in American politics, and even though Texas is solidly a red state, especially in west Texas, O'Rourke's assumption is there is a majority of Texans who want the polarized sides to come together and solve problems.
His Republican opponent for the 2018 U.S. Senate race is Ted Cruz, a Senator and Republican presidential candidate not known for bringing polarized sides together. "One senator, the junior senator for the state of Texas, shut down the government because he didn't believe every American had a fundamental right to healthcare," he jabbed at Cruz during his stump speech.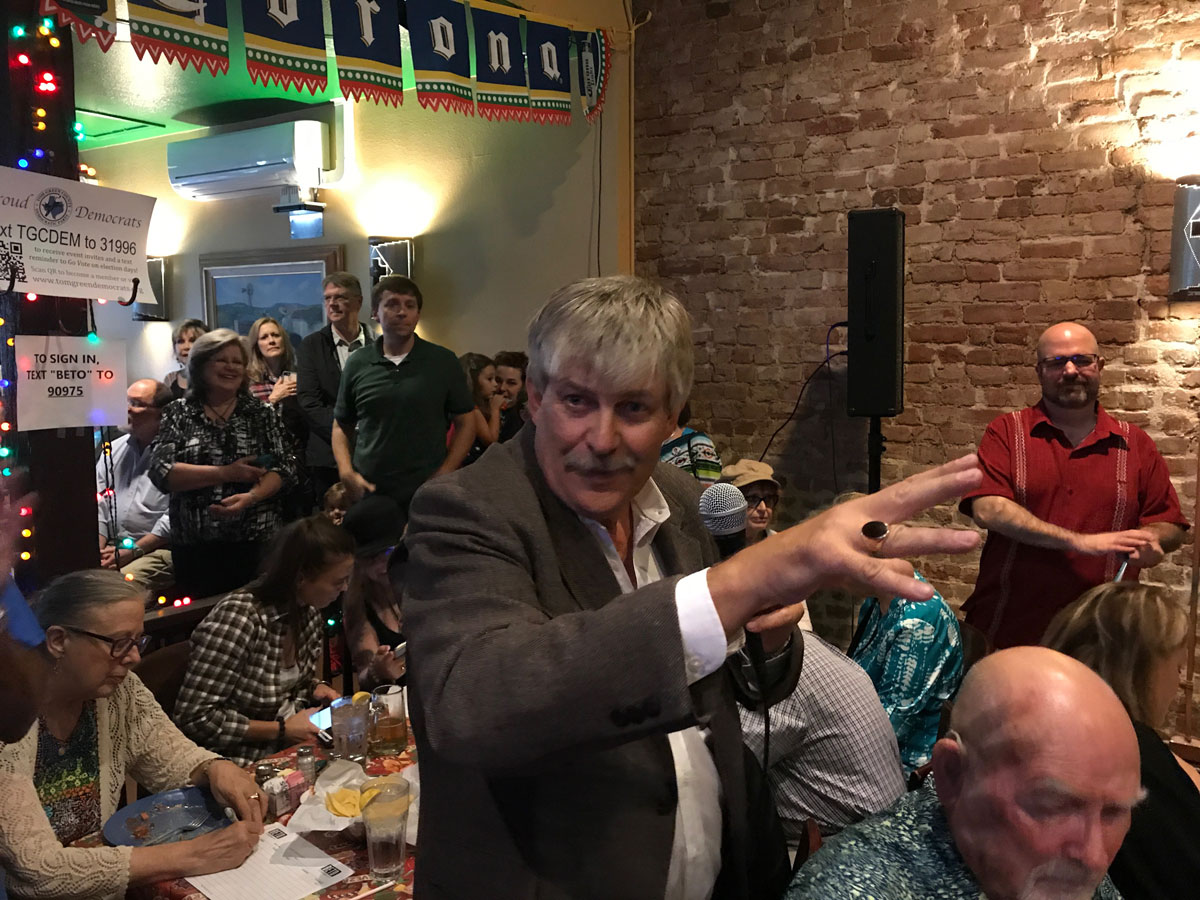 Above: Tom Green County Democratic Party Chairman David Currie was pleased with the turnout. (LIVE! Photo/Joe Hyde)
O'Rourke, at 44, is tall and handsome. He still fits into his skinny jeans. He has that smile, too. He has the gift to connect with individuals in the audience. Usually, his technique involves relating an issue with a concern previously voiced to him in another city at a previous stop along his tour.
"I was in La Grange last week. And you know the folks there told me this was the first time candidate for U.S. Senate has visited there in 40 years?" he said.
Above: Beto O'Rourke getting an interview for local TV in San Angelo on Aug. 26, 2017. (LIVE! Photo/Joe Hyde)
When someone in the audience asks a question, he carefully listens, and then repeats the question, expressing the question in terms of a simple policy statement that enhances the questioner's expressed concerns. If he doesn't feel their pain, he lets them know that he understands it.
Saturday night, one man in the audience asked about energy. The questioner wanted to know if his oil field job was safe with Beto in the senate. "The question is about energy in the Concho Valley, energy in Texas," he restated the concern
He then launched into a concise discussion about how he supports energy independence that is happening because of the technology and innovation being developed to produce more oil in the Permian Basin. Then he expanded his support to include solar and wind energy. O'Rourke covered all bases. The result was the man who asked the question could be assured his energy job is safe.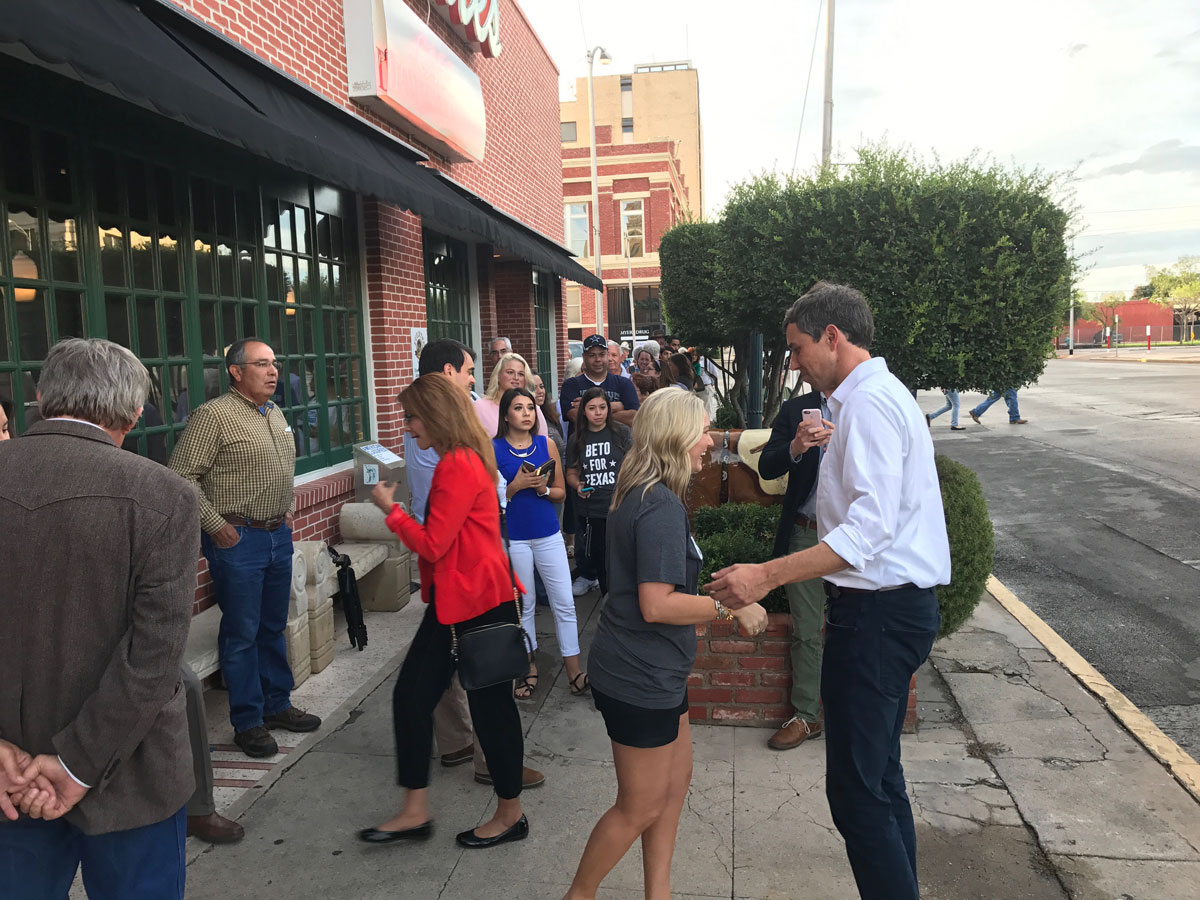 Above: About 100 people greeted Beto O'Rourke and posed in selfies with him after his stump speech at Fuentes Cafe Downtown in San Angelo on Aug. 26, 2017. (LIVE! Photo/Joe Hyde)
After his speech, he spent two hours personally greeting every person who attended the rally. He posed for about 100 "selfies" with admirers and even some Republicans.
We caught him just before leaving and asked pointed questions about the issue that won Trump the election: Immigration.
Q. You say current statistics are not indicating that the border, particularly the southern border, is insecure. But the perception up here, in San Angelo, with many voters is that the border is wide open and, as Trump said on the campaign trail, we don't really have a country without border security. Please explain.
A. "The border has never had a lower level of northbound apprehensions, meaning capture and detained by border patrol agents, [and] we've never had [a greater] number of border patrol agents. I mean, 17,000 pairs of boots on the ground on the U.S.-Mexico border. It's almost three times the number we had during the beginning of the George W. Bush administration. We have 400 miles plus of walls already, paid for with the Secure Fence Act in 2005. We're using Aerostat blimps, we're using drones," he said.
But O'Rourke is careful to admit there are threats still existing at the border.
"There's still people being smuggled across our border. There's still slavery in this country, with people bringing across those who will never know a day of freedom in their lives. There are still illegal drugs, including cocaine, methamphetamines, and heroin that are killing people in this country," he said.
Instead of a wall, O'Rourke proposes more support for border patrol agents, and to be smart about how the federal government spends money on border security.
He doesn't want Trump's wall. "If we build a 30-foot, all concrete 2,000-mile long wall, that won't get the job done. Most of those humans who are smuggled, most of those drugs, are coming through our ports of entry," he said.
With a nod towards working with Republican opponents, he said he worked with the senior U.S. Senator from Texas John Cornyn to obtain more funding for better staffing of the customs offices along the border.
Q. We may spend a ton of money on border security, but the laws currently on the books don't support the border patrol. We've had policies like catch and release, for example, where we apprehend an illegal alien and then let them go. What about the immigration laws?
A. "[These immigration issues today] are a great opportunity to work with Republicans to rewrite the U.S. immigration laws so that they match our values, our interests. For example, I was standing in a cotton field in Quanah, Texas with a cotton farmer who is no longer able to find the labor to work those fields," he said. "The current laws do not easily allow those temporary laborers to work for that Quanah cotton farmer." (See H2-A "Temporary Agricultural Employment of Foreign Workers" where farmers must post classified ads for U.S. citizen laborers before hiring foreign workers, for example).
"It's those same cotton growers, who may even be Republicans, who want to make sure we still have a connection with Mexico, not just for labor, but also for markets. And they're worried about withdrawing from NAFTA," he said.
Q. Republicans are worried that you Democrats are just recruiting more voters with your laissez faire immigration policies. Some feel you are diluting the ballot box with recent immigrants (and perhaps even illegal immigrants) who will always vote for a Democrat, not a Republican, and that they'll lose all representation in government. You want to be the crossover candidate, how do you calm their fears?
A. "I think Republicans can be somewhat reassured by the fact that there's been this demographic promise for Democrats in Texas for decades now. If you just have enough Mexican-American and Hispanic voters in Texas, it's going to magically turn blue. But of course that hasn't happened because no American is part of a group other than being an American," he said.
Disavowing identity politics, he said being an American comes before any other identity. He mentioned the same anxiety over voting dilution with Irish Americans near the turn of the 20th Century. They did not subvert our democratic system and O'Rourke doesn't believe a surge of immigration from Mexico or anywhere else will either. "We have successfully assimilated people from the world over and made them Americans more than they are anything else," he said.
As proof, he pointed out that 30 percent of Hispanic voters in Texas voted for Trump in the 2016 presidential election.
"What that shows is that folks are voting on their interests for their families, themselves, their values and what they believe in. [They are not voting] based upon their ethnicity or their heritage of national origin," he said.
"Let's trust in America. We as a country do a great job of making Americans, wherever they come from," he said.
The O'Rourke campaign is a bootstrapped endeavor, though his road manager admitted they are now driving around Texas in a four-month-old Toyota Tundra.
Four staffers accompany O'Rourke on his tour with stops penciled in about two weeks in advance with flexibility to change on a moment's notice if a speaking opportunity arises elsewhere. He said he is reengineering the traditional Democratic Party of Texas campaign book by not ignoring the rural areas while maintaining focus on the voter-rich urban areas.
This past quarter, the O'Rourke campaign claims it raised more money than the Ted Cruz campaign, over $2.3 million. O'Rourke said he will not accept corporate or PAC money. Everything coming into his coffers is from small donors.
Get more stories like this by
signing up for our daily newsletter, The LIVE! Daily
.