Former SMD1 Councilman Ready to Help Take Down Bad Bill
SAN ANGELO, TX – Since Sunday night, City Councilman Bill Richardson, or rather, William Alan Richardson, has the City of San Angelo in an uproar over his recent social media posts many people deem "racist."
One such person, Rodney Fleming, SMD 1's prior councilman, said that word is used too much these days; however, in this case, he maintains the description is appropriate.
Fleming called Richardson's words inflammatory and said they're meant to inspire racial tensions, which is not a good thing for a man of Richardson's position. San Angelo is a city where more than 40 percent of the population is Hispanic, and Richardson is a representative of that demographic within his own district, just as Fleming once was.
However, Richardson's behavior is not new, which is why Fleming said he reached out to The San Angelo Police Department Spouses Association yesterday. They discussed following through on the promise to have Richardson removed should he not resign his post (see our previous stories here and here).
In fact, Fleming posted this on his Facebook page today.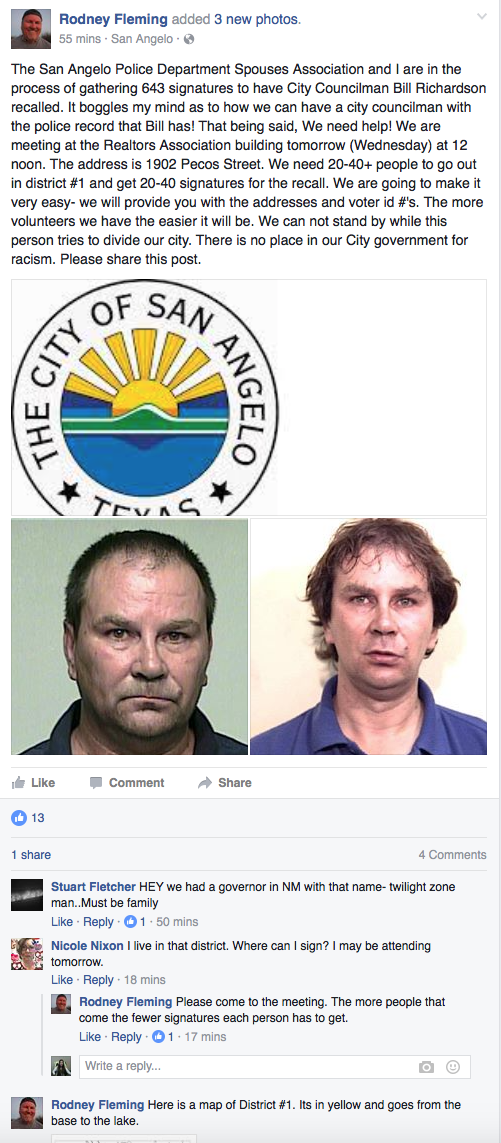 Fleming said he hopes many volunteers will show up tomorrow at the Realtors Association, 1902 Pecos St., because "it'll make it a lot easier to collect the signatures."
"We actually need 643 signatures, but we would like to get around 800," he noted.
He added that these signatures are very important. Overall, as a former councilman, Fleming is "disheartened" about Richardson's actions since he took over SMD 1.
Fleming said he ran against Richardson during two prior elections.
"He had threatened me and my family during both the elections," he recalled. "So I knew what type of person he was, and I also knew that certain times of the day and night, usually at night, he would be very drunk."
In the last election, Fleming said he didn't get involved because he figured his opponent, Trinidad Aguirre, would come forward with Richardson's police records.
According to Tom Green County records, Richardson, on July 26, 1997, was arrested for Assault Causes Bodily Injury and Evading Arrest Detention. On Sept. 6, 2007, Richardson was arrested for Interfering with Public Duties.
In regards to these cases, Fleming said this is proof that Richardson has no respect for police officers.
"The guy has no respect for police authority," Fleming continued. "On top of that, he's racist. I don't like using that word because I do think that word is used too often nowadays. But I think in this case it is warranted."
He added, "His erratic behavior on social media—he used to go by 'steppenwolf.' They had to do a Cease and Desist on him [during] one of my elections," said Fleming.
LIVE! is waiting for more information on this order from the San Angelo Fire Fighters Association.
Fleming said he contacted the Spouses Association yesterday and offered to help them because he knows the steps that need to be taken to remove Richardson from his post.
"I do know all the procedures. I will get all the paperwork needed for us, and help facilitate a place to meet and do everything just to make sure this gets going," Fleming told the organization.
Fleming mentioned that two groups said previously that they were going to take action against Richardson, and neither one went to the next step.
That's when Fleming decided, "I'm not going to let this drop this time. I counted on those groups in the past and they didn't do it. It's going to get done this time, one way or the other."
Fleming said the last thing San Angelo needs at this time is racial division.
"You can't divide people like that," he said. "We're all the same."
Fleming reiterated his hope for people to come out to support this endeavor. He said many people go on social media and talk big, but don't take action. Many people said they would attend this morning's meeting, but Fleming said he was disappointed in the number of people who actually showed.
"I don't think there was enough [people] for what he had done," he said.
Fleming also said he feels bad for the neighbor after hearing the woman's sister talk about what the family has had to face with Richardson. The woman's children have a right to play basketball. In fact, it's better than "playing a video game."
Fleming's Statements at City Council This Morning
In regards to Fleming's statements, they come after this morning's city council meeting, which LIVE! streamed on Facebook.
Fleming told council members, "I am a member of SMD 1. I am horrified about my representative. When I see the things that he says and does on social media, it drives me totally nuts."
Fleming also told the council that he believes if no one stands up to stop Richardson, he is going to "divide this city and make it much worse than it is now."
"We live in, kind of like, a bubble here in San Angelo," he continued. "It's really one of the best cities in the country, I think, as far as police relations and neighborhood relations. And so, I don't want that to be destroyed."
He also mentioned his discussion with the San Angelo Spouses Law Enforcement Association about the plans to remove Richardson.
"First of all, I would like to formally ask council for his resignation. I know he's not going to do that because he's not even man enough to be here for this. So now we are going to go forward with getting the signatures. We are getting together as a group, tomorrow at noon, at San Angelo Relators Association. And we'll have a meeting for about an hour or two, trying to put together a game plan on getting 20-40 volunteers to collect 20-40 signatures. It'll be very easy to do that. I've already collected well over 100. I'll have their voter ID numbers, paperwork …"
Fleming pointed out that he's not interested in anything political. He's doing this for the people.
He concluded, "We are going to get it done. If the public has any questions, please contact Michelle with SALESA, or contact me on social media."
Maura Ballard contributed to this article.
Get more stories like this by
signing up for our daily newsletter, The LIVE! Daily
.