SAPD Chiefs Face Off With City Council Over Communications Technology Upgrade
Chief Tim Vasquez and Assistant Chief Jeff Fant faced off with members of the San Angelo City Council at the Strategic Planning & Priority Setting Workshop this week over the funding for a Record Management System Upgrade and Communications Technology Upgrade, both projects in the 2016-2021 Capital Improvement Plan (CIP). These projects come to $7,870,273 over the five-year period.
For Chief Vasquez and Assistant Chief Fant, this price tag is necessary to keep their network up-to-date. Not to mention, Fire Chief Brian Dunn said it will help his firefighters determine and route calls of service more effectively.
However, for City Council members, they must explain to taxpaying citizens where their money is going, and these projects come with a high price tag. Not to mention, City Council members feel an expensive mistake was made because Fant failed to effectively communicate with Dunn and Judge Allen Gilbert at the City Municipal Court during negotiations. Additionally, the council members needed clarification on how these projects work with other first responder agencies in the area.
The Cost to Upgrade
On the Summary of Projects page provided to council members at the workshop, the Record Management System Upgrade showed the cost at $990,273, and, for the current year, it comes out to $1.5 million. The future projected cost comes in at $2 million for a total of $4.5 million overall.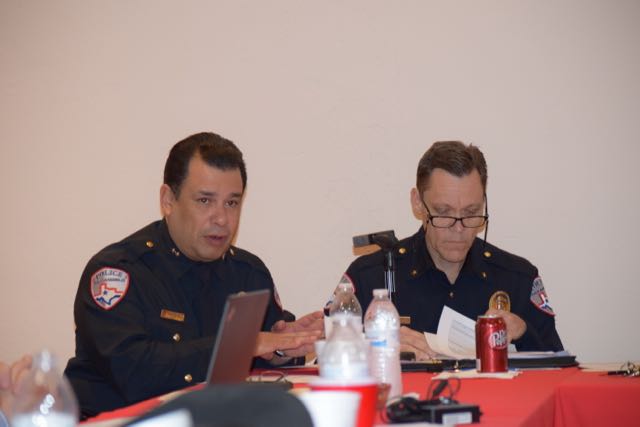 At the same time, the Communications Technology Upgrade in prior years came out to $1.5 million, and the cost over the five-year period will occur as follows:
2016/2017: $200,000
2017/2018: $170,000
2018/2019: 170,000
2019/2020: 170,000
2020/2021: 170,000
Future: 1,000,000
Councilman Rodney Fleming, SMD 1, said the Capital Improvement plan showed higher than the original $1.5 million stated previously for the entire project.
"It shows that it's $1.8 more," stated Councilman Mary Self, SMD 2.
Councilwoman Charlotte Farmer, SMD 6, asked what the additional amounts over the years pertain to, and Budget Manager Morgan Chegwidden said the costs are associated with software maintenance, which is $170,000.
"Well, one of them says $1 million, and that's not software maintenance," said Self. "If it is, it's a high-dollar software."
When totaled, the CTU upgrade comes to $3.38 million, Fleming pointed out.
Chegwidden said that would be more than a 25 percent increase, and will be re-reviewed. Although it's listed as funded, Chegwidden maintained that's not the case.
"I don't think the numbers we got at the last meeting included what it would take to fix that system," explained Assistant Chief Fant.
Additionally, after the debate with City Council, Vasquez said he and Fant were confused on some of the numbers listed on the CIP Summary. They said the numbers showed incorrect.
"It said it was a $2-million-dollar project, but it's not," Vasquez said about the price listed under "Future." "It's saying we already spent $1.5 million and we haven't."
Vasquez said there are a few issues on the summary they're looking at, so he's sending it back "to be cleaned up."
"I don't know where those numbers in there came up," he added. "Some of them don't make any sense."
Fant noted that he's spent less than a million so far. He expects to have about $70,000 leftover when all is said and done, but he hopes they can buy more hardware with that like tablets for the officers.
"They're directly related to these projects," Fant said. Vasquez also said the company they're going through, Spillman Technologies & New World Systems, is providing many upgrades for free because of long-term negotiations, and that's saving the city money.
The Upgrades and Process
Fant explained the upgrades that will take place will affect the Computer Assisted Dispatching (CAD), which is the basic dispatching software suite that public safety communications use to dispatch all first responders. What's at stake is the CAD/RNS Mobile Commuting Solutions. Fant explained that their current system is working with an old operating system that current hardware will not support.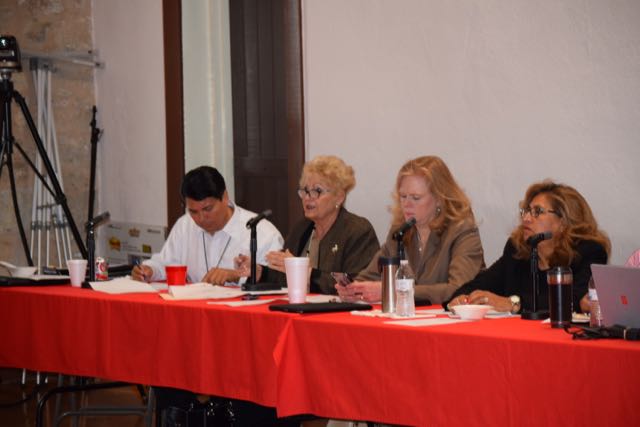 The RMS, or Records Management System, is the computerized records management system used by the police department for all aspects of police reporting, including but not limited to incident reports, accident reports, criminal case management, crime analysis and equipment.
"These are the systems that need upgrading," said Fant. "Mobile computing is the portion of the software system operated by officers from the vehicle that allows them to receive calls, send messages, and write reports."
Their current system, Intergraph, was installed originally in 1999, but the project began in 1995 with assistance for RAM Communications Consultants. Unfortunately, the system was never made to SAPD's satisfaction. It took six years, and lots of dollars, for the consultants to come up with a plan that didn't work, said Fant.
Therefore, in 2012, SAPD began searching for solutions and underwent a long process that included reviewing vendors, systems and standards. They settled with Spillman because the company offered the best deal and met the standards and best practices Fant and his group of reviewers established.
The Breakdown in Communication
However, Fant said, although he talked to Fire Chief Dunn about certain things, he made a mistake.
"Unfortunately, I did not think to ask him, 'What other systems do you need me to upgrade for you?' So that was something I thought I was doing right, and if I missed something, I'm sorry. It's a big project. This is a huge deal for us."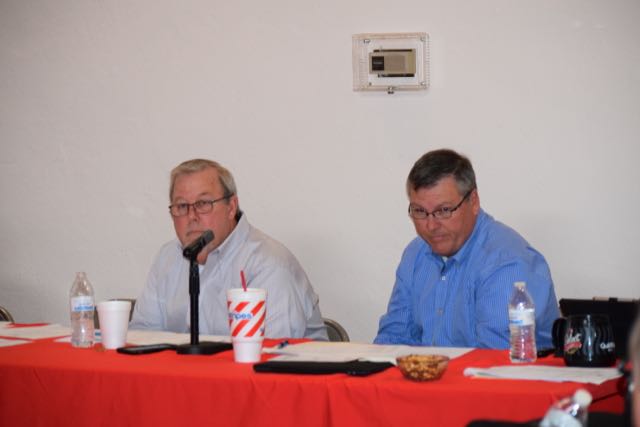 As a result of not talking, there were interface communication issues because SAFD upgraded their CAD system, and because SAPD's system is so outdated, there are issues that have to be resolved for SAFD's upgrades to work effectively.
Additionally, Fant and Spillman worked out a selection for an e-citation module that will allow all officers to write a citation from their vehicle.
"My bad. I'll tell you that right now because I looked at that and said, 'You know what? Police officers will be able to sit in their car, type out a citation and print it out after running a DL. All of that information is automatically transferred in the system. They'll be able to write the citation and copy that citation and be on their merry way.'"
Fant added that citations would be up; they would be readable and cut down on the work flow because officers wouldn't have to manually enter the citation off of the paper one.
"Unfortunately, my bad again. I didn't call Judge Gilbert, and forgot to ask, 'What do you think?' Fant said.
The problem Fant said is Judge Gilbert uses the citations as an official court document, so they need to have a signature on the bottom of each citation. The court also needs photo capture on that document.
However, Spillman representatives said the company will develop a citation module that meets the needs of San Angelo at no additional cost. Fant said the module is scheduled to go online in June of this year.
"This is something every officer is going to be able to do, and that's something we don't have right now," Fant said.
The Confusion Over the Upgrades
Part of the issue with City Council members had to do with understanding the difference between the CAD system and the radio system, said Vasquez and Fant.
Farmer said when this was originally brought to them way back when, the goal of the project was to bring San Angelo into the 21st century, and they can do that more effectively if all the first responders in the area can interface.
"That's the radio system, not this system," Vasquez clarified.
However, Farmer wanted to know how the upgraded system would work with other agencies.
"Each agency has their own system." Fant responded.
The system will interface with the Fire Department's, however. When a call comes in, Dispatch will send out an alert to each station in varied tones that will indicate whether it's an ambulance or fire call.
"I just need them to get the dispatch part of it running," said Dunn about the system. "The Zetron alerts the stations as far as fire needs, and that needs to be worked on. We have a certain timeframe to get out the door to provide a timely response."
Vasquez also said Fire doesn't have a redundant, or backup program, and they haven't had one.
"Their system is so outdated, no one supports it," he said. "And we're bringing in top-of-the-line equipment. It's like if you go in to find something else is broken when it's opened. We don't have a backup plan right now. It's something you will find throughout our city. We have so many things that are outdated. The Council is doing a good job at getting us up to date, and they just want real numbers. I can tell you from experience. Jeff can tell you from experience. We've asked for things for many many years, and we're always told no. So when we ask for something now, we try to ask for the minimum amount. We would love to have those other items that would help with functionality, but we know we're probably going to get told no. So here's the minimum that we can deal with."
The Council's Concerns
Councilwoman Elizabeth Grindstaff, SMD 5, said in the future, when SAPD is looking at upgrading technology, to include more than just people within the PD, and to involve the public. She also said she appreciates Fant's apology at not having communicated better with the Fire Chief and the municipal court.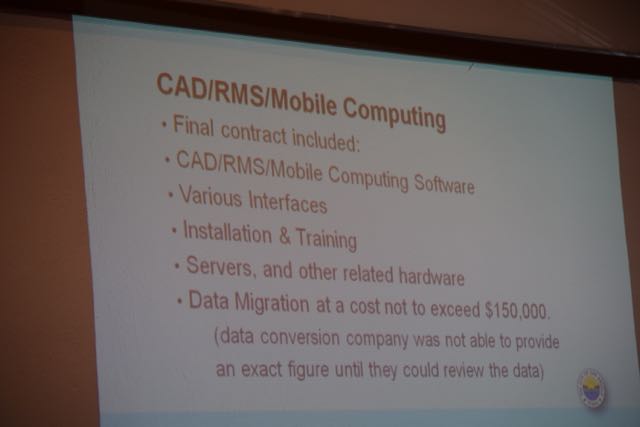 "We all make mistakes, but those are expensive mistakes, and we're having to fix things after the fact," she said. "It would have been helpful if we had better understanding of the total package."
Farmer told Fant, "When something is brought to the council, we need the total project. To me, it has to be broken down up front."
Fleming said the City "really screwed up" not using consultants to line these things all together.
"In the future, I hate using consultants, but this is such a major thing, and there are so many components involved in this and compartments," Fleming told Fant. "I hope if we don't learn anything else from this, and I won't be here to complain about it, is that we have to have consultants or experts. You're not experts. I don't expect you to be an expert. That's not your job. This wasn't your job. And I'm not holding you responsible for this, but I'm getting people coming to me and saying we're not being good stewards with their money. When we're talking about spending $3.38 million dollars on a system that we're still not 100 percent sure is still going to work with all the components that are involved, well then it becomes a problem for all of us—for everyone who works in the city and the residents. So, I really almost think we should get a consultant at this point and figure this out, and make sure we're going to get it fixed to the best of our ability."
Fant, however, said he and his team have been better stewards for the city by doing it themselves rather than hiring someone who doesn't know San Angelo. He was referring to the consultants who spent so many years previously attempting to get things accomplished but failed.
"I think we did a very good job with this," maintained Fant. "We missed a relatively small problem."
The Public's Say
Chegwidden said the residents in the city still have time to have their say on these Capital Improvement Plan projects. There are more forums scheduled, and people can take an online survey. To have a say and learn, visit the city's website here.
Get more stories like this by signing up for our daily newsletter, The LIVE! Daily.