SAN ANGELO – The drought in West Central Texas is deepening and widening with the continued lack of rainfall as the month of April closed out with less than half the average rainfall for the year and just .2 for the month.  
According to information from the National Weather Service office in San Angelo, Mathis Field recorded  .2 inches of rain in April, -1.27 below normal for the month.  For 2023, San Angelo has received 2.23 inches of precipitation which is -2.84 inches below normal.  
The long range forecast shows below normal rainfall with slightly above normal temperatures.  
It only rained three times in April 2023 at the airport; .18 on 4/10, a trace on 4/18 and .02 on 4/22.  
See the NWS chart below: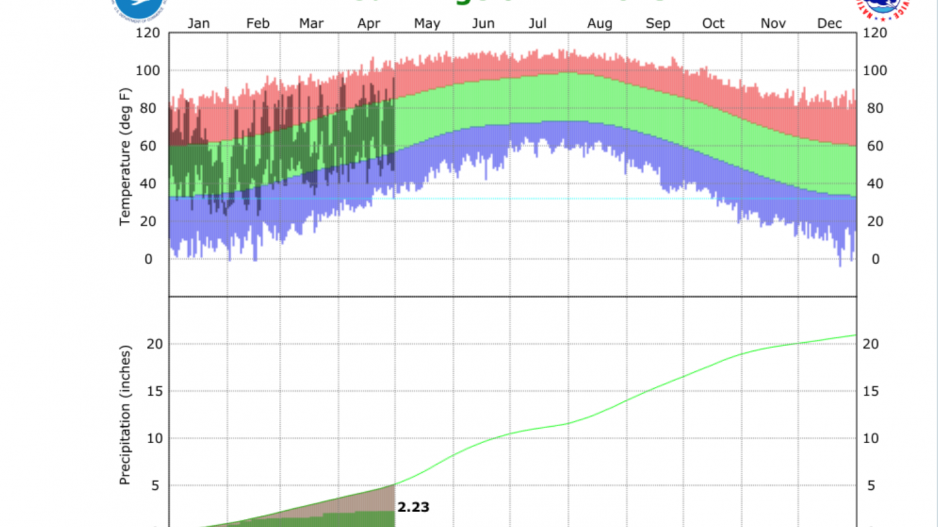 The chart shows that temperatures are well within the normal range but precipitation is less than half the normal amount.  
At this rate, the drought will deepen as indicated by the dry N. Concho River.  O.C. Fisher Reservoir in the San Angelo State Park is only 2.7% full and dropping with the lack of rainfall.  Conservation storage in O.C. Fisher is 115,742 acre-feet,  currently, there is 3,069 acre-feet in the basin.   
Evaporation continues unabated even with average temperatures because of the severe lack of rainfall on area watersheds.  
While O.C. Fisher is almost empty and could dry up this summer, the City of San Angelo has ample water supplies in its other surface and groundwater sources including Twin Buttes Reservoir, Lake Nasworthy, O.H. Ivie Reservoir, and the Hickory Underground Aquifer.   
Most Recent Videos