BALLINGER, – O.H. Ivie Reservoir last week yielded two more largemouth bass topping 13 pounds.
Dalton Smith and Caden Cowan landed bass weighing 14.76 pounds and 13.31 pounds, respectively.
"Do not adjust your screens, you are seeing double double-digits bass!" the Toyota ShareLunker Program boasted Thursday via social media.
The "Legacy Lunkers" were donated to the state's ShareLunker hatchery program to be used as spawners for Texas Parks and Wildlife Department stocking programs.
Legacy bass must weigh at least 13 pounds. The bass caught by Smith is the largest of four Legacy bass caught since the program began its 37th season on Jan. 1.
O.H. Ivie, on the Colorado and Concho rivers, has produced four of the five catches; the other was that of a 13.51-pound largemouth bass by Jack York at Lake Nacogdoches.
The ShareLunker Program, which runs through March, is off to another impressive start.
Last year, 24 Legacy bass were caught from nine water bodies and collected for hatchery spawning. That was the most since 27 were caught in 1995.
Since the program began, 75 Texas water bodies have yielded Legacy bass.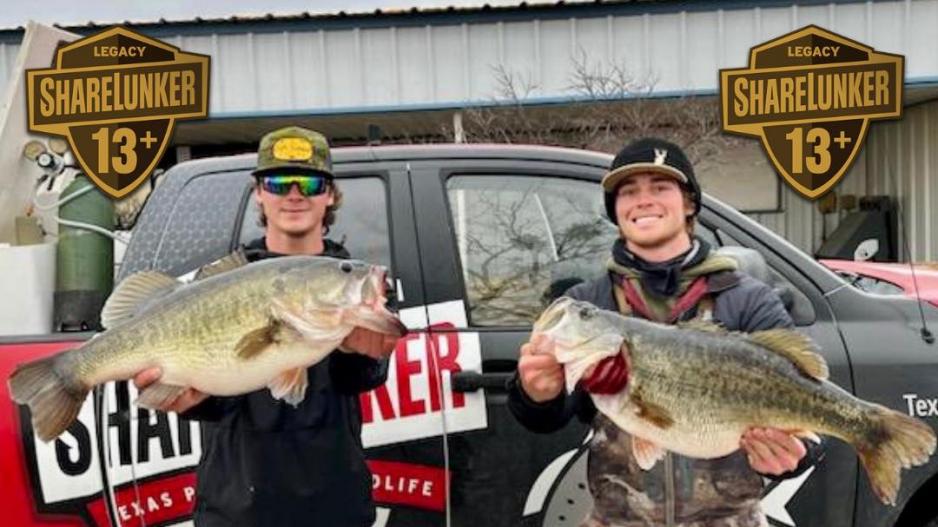 Most Recent Videos