GRAFORD, TX – Firefighters continue suppression operations on the Dempsey Fire, burning south of Graford, in Palo Pinto County. 
Increased humidity levels Sunday morning allowed crews the opportunity to make progress in containment as well as address areas of concern in anticipation of the wind shift. 
At last report, the wildfire had burned almost 12,000 acres and was 27% contained Monday morning. 
On June 23, 2022 at approximately 2:30 pm the Texas A&M Forest Service responded to a request for assistance on a wildfire in Palo Pinto County. The Dempsey fire is located approximately 10 miles south of Graford, TX. Departments from Palo Pinto, Parker, and Erath counties have been on scene to assist with suppression efforts. Texas A&M Forest Service is working in unified command with local jurisdiction. A temporary flight restriction (TFR) has been put in place over the fire until June 27th due to aircraft being used in suppression efforts.
The expected wind shift from the northeast caused some increased fire activity in pockets of vegetation interior to containment lines. Many of these interior hotspots continued to emerge throughout the day, but aviation resources and engine crews were able to mitigate them quickly. Ground resources continue to patrol and conduct mop up operations across the fire area, while dozers work to improve control lines. 
More than 130 state and local fire resources continue to focus on life safety of both the public and first responders, the protection of critical infrastructure and suppression actions.
FM Road 4 is now open. The town of Graford has not issued any evacuations at this time.
There is a Temporary Flight Restriction (TFR) in place for the area over the Dempsey Fire [NOTAM: FDC 2/4091, https://bit.ly/3xVsfGf]. Please avoid the area to provide a safe environment for firefighting aircraft.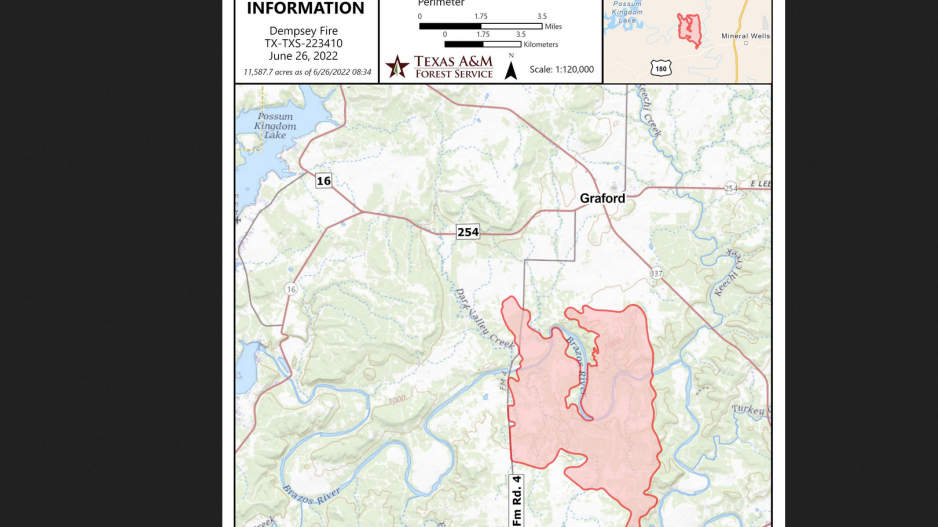 Most Recent Videos