Aggressive Grass Fire Threatens Horseshoe Bay Subdivisions
 Horseshoe Bay, TX – A 400-acre grass fire prompted evacuations throughout Horseshoe Bay Thursday afternoon.
Horseshoe Bay officials posted on a community website that there was a "major brush fire" endangering the Trails and Blue Lake Subdivisions, which are located on the western edge of the bay. 
Just before 11 p.m., the Texas A&M Forest Service reported the fire was approximately 50% contained.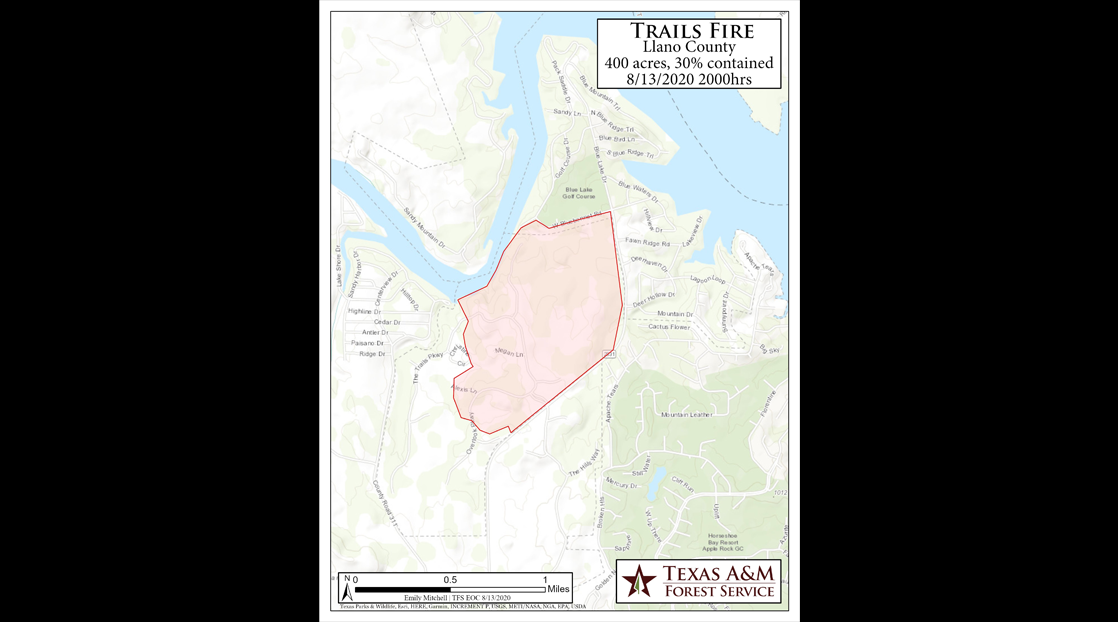 Although no one was hurt, many homes were threatened as the flames tore through the area, however it was reported that only one building was destroyed in the fire.
One of the endangered homes belonged to Horseshoe Bay resident Scott Jones who says he received a text alert around 3:30 p.m. about a massive fire that was approaching his neighborhood. 
"It's a little frightening as you're riding up, and the smoke was just so large, and the flames were still visible, and you just start checking the wind real quick," Jones says. 
As the flames engulfed his neighborhood the worry set in. 
Residents were forced from their homes for hours as crews battled to contain the grass fire in the two separate neighborhoods. 
Horseshoe Bay City Manager Stan Farmer said, "There were no structures damaged in the Trails behind me, they were all threatened, but none were damaged, no structure fires, so that's good news. In Blue Lake there was one structure fire, a loss of a house, and a couple of other houses that were affected, but not lost completely."
Although evacuations were lifted sometime late Thursday evening, one group of local churches was prepared to take in potential evacuees as they offered to set up Camp Peniel in Marble Falls to host evacuees.
"Here it's a family community, and so there are neighbors are helping neighbors, and so they're probably going to their own homes, to a friend's house, but we're just prepared for those that are in need," said Norman Flowers with the Highland Lakes Crisis Network.
Flowers noted that volunteers would be stationed at the camp overnight, just in case any evacuees arrive, and also added that the crisis network had additional volunteers posted at the staging area to help feed firefighters. 
Additionally, STAR Flight was also dispatched to the area to assist with the fire, and shortly after the Texas A&M Forest Service was called in at approximately 4:30 p.m.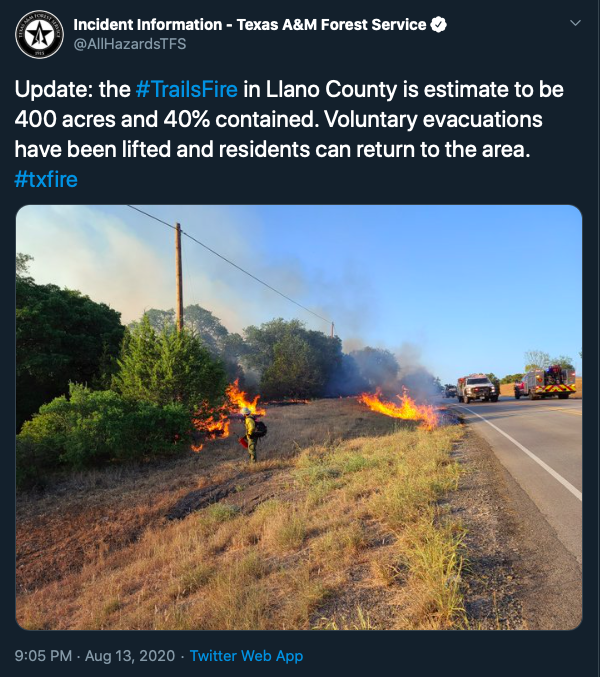 Matt Ford with the Texas A&M Forest Service says the 400 acres consists of mostly dark ash with some smoldering/hot spots. He says the main concern is the weather as it's expected to shift in the morning, adding heavy winds and very high heat, which could potentially re-ignite the fire, however as of Thursday night, residents were given the green light to safely to return to their homes.
Get more stories like this by signing up for our daily newsletter, The LIVE! Daily.