DEMING, NM – New details have been released in the routine traffic stop that resulted in the death of a New Mexico state police officer back in February.
According to authorities, Officer Darian Jarrott conducted a traffic stop on a white pickup traveling east on I-10, just east on Deming. 
The extremely graphic video shows Officer Jarrott speaking with 39-year-old Omar Felix Cueva as he attempted to identify the suspect.
After a couple of minutes, the officer asks Cueva to exit the vehicle to walk back to his police cruiser.
As Cueva exits the vehicle, Officer Jarrott spots a firearm and questions Cueva.
Cueva then fires an AR-15-style rifle at Jarrott as he walks to the rear of the pickup.
Officer Jarrot is then struck multiple times, including point-blank to the back of the head. Cueva then runs around the vehicle, fires more rounds, and then flees the scene.
Officer Jarrot would, unfortunately, succumb to his injuries at the scene.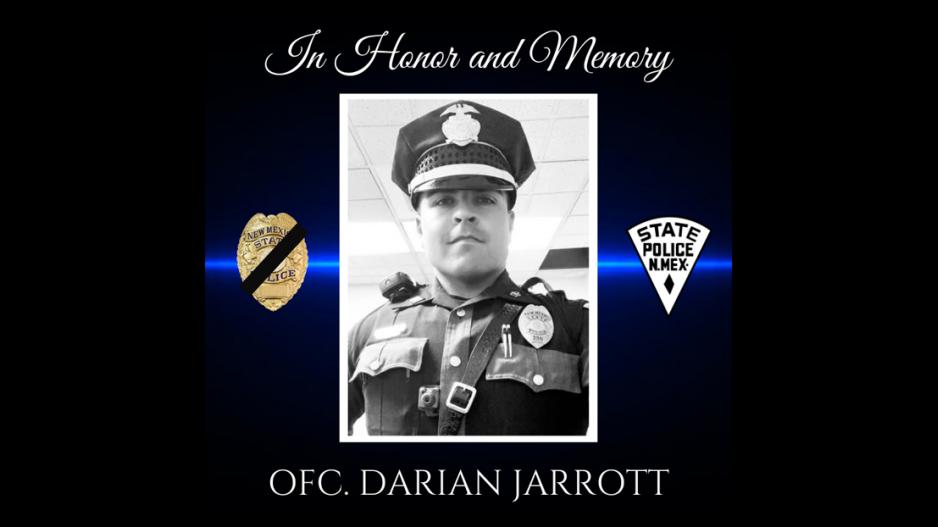 Officers soon locate Cueva traveling on I-10. He initially pulls over and fires at officers before taking off.
Las Cruces PD, Dona Ana County Sheriff's Office, and U.S. Border Patrol agents began chasing the suspect down the interstate.
As the chase continued officers deployed tire deflation devices near the Picacho exit. Cueva continued traveling east and exchanging gunfire with law enforcement.
The white pickup was eventually stopped after a PIT maneuver was used. Cueva would then exit the vehicle and began firing his firearm at officers and deputies.
The officers returned the gunfire and the suspect was struck multiple times. Cueva would also die at the scene.
Before succumbing to his injuries the suspect injured a Las Cruces officer who was airlifted to a trauma hospital in Texas to be treated for non-life-threatening injuries.
Officer Jarrot began his law enforcement career in December of 2014 when he became certified. In July of the following year, he was sworn in as a state police officer.
Officer Jarrot is survived by his three small children and his wife who is pregnant with the couple's fourth baby.
"We appreciate the public's support during this difficult time," said Robert Thornton Chief of the New Mexico State Police. "We will honor Officer Jarrott's sacrifice by continuing to serve and protect the citizens of New Mexico."

WARNING: VIDEO IS EXTREMELY GRAPHIC 
Most Recent Videos