SAN ANGELO – San Angelo Roman Catholic Diocese Bishop Michael Sis led area faithful in an Act of Consecration Friday at the direction of Pope Francis to pray for the people in war torn Ukraine and Russia.  
The Act of Consecration to Mary came at the end of the annual Mass of the Annunciation at Sacred Heart Cathedral in downtown San Angelo.  
The Act of Consecration was instructed by the Pope to be held at 12:30 local time Friday worldwide. 
Pope Francis presided over the annual "24 Hours for the Lord" Lenten penitential service in St. Peter's Basilica on Friday evening, as the Church marked the feast of the Annunciation.
Toward the end of the liturgy, the Pope prayed the Act of Consecration of humanity, especially of Russia and Ukraine, to the Immaculate Heart of Mary.
He prayed the Act in communion with all Catholic Bishops across the globe, as the Papal Almoner, Cardinal Konrad Krajewski, did the same at the Shrine of Our Lady of Fatima, in Portugal.
The Pope's renewal of the Consecration came in response to the war in Ukraine and at the request of the Blessed Virgin Mary made in an apparition at Fatima on 13 July 1917 according to Vatican News.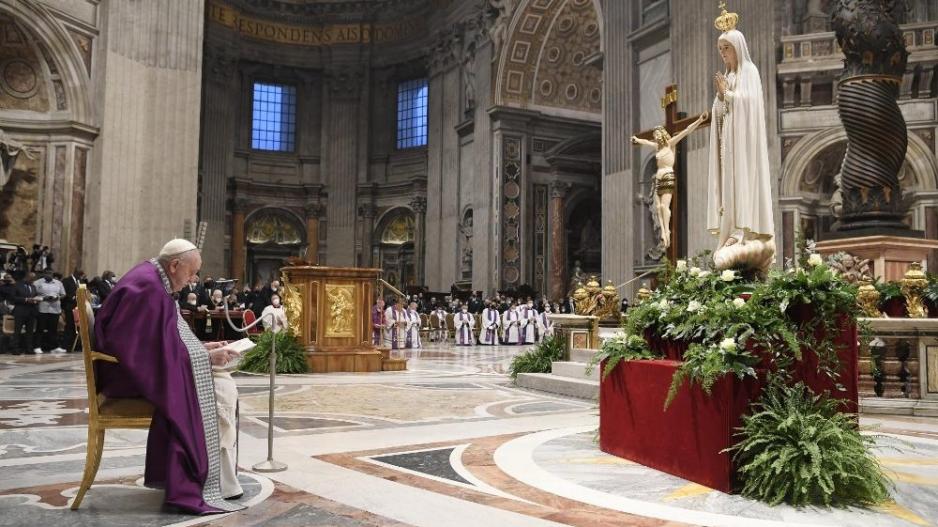 The Consecration of Ukraine, Russia and the whole world to Mary consisted of a prayer which was recited in English and Spanish at Sacred Heart Cathedral in downtown San Angelo Friday.  
The prayer in part read, "...we have strayed from that path of peace.  We have forgotten the lesson learned from the tragedies of the last century, the sacrifice of the millions who fell in two world wars."
"Holy Mother, amid the misery of our sinfulness, amid our struggles weaknesses, amid the mystery of iniquity that is evil and war, you remind us that God never abandons us, but continues to look upon us with love, ever ready to forgive us and raise us up to new life."
"Therefore Mother of God and our Mother, to your Immaculate Heart we solemnly entrust and consecrate ourselves, the Church and all humanity, especially Russia and Ukraine.  Accept this act that we carry out with confidence and love.  Grant that war may end and peace spread throughout the world."
Most Recent Videos