SAN ANGELO, TX – The Texas Alcoholic Beverage Commission (TABC) can begin enforcing closing bars in San Angelo as early as Saturday.  
According to Governor Greg Abbott's Executive Order GA-32, seven consecutive days of meeting the 15 percent threshold of hospitalized patients for COVID-19 as a percentage of total hospital capacity in a specific Trauma Service Area would mean restrictions or closures to combat the COVID-19 outbreak.
County Judge Steve Floyd said once the 7 days above 15 percent COVID-19 hospitalizations happen, his authority is ceded to the State where Local Health Authority Dr. James Vretis has the power to enforce social distancing, disapprove events and gatherings, and oversee the shutdown of bars and restrictions on restaurants, as prescribed in Governor Abbott's executive order county-wide.
The only enforcement mechanism used by the State has been the threat of the suspension of State liquor license if a bar refuses to shutdown. 
As of Wednesday, Dec. 2, TSA K has experienced four consecutive days where COVID-19 hospitalizations have exceeded 15 percent. If the trend continues, the seventh day is Saturday. However, if any day between now and Saturday is below 15 percent, the 7-day clock is reset. After the 7-day rule is tripped GA-32 states that the TSA K will need to report 7 days where hospitalizations are less than 15 percent before bars can open back up and restaurants can increase patronage to 75 percent capacity.
The 15 percent calculation is made with shifting variables. The hospitals can open up more beds by obtaining more staffing, decreasing the percentage. Sadly, beds can also be opened up, and the percentage decreased, when COVID-19 patients pass away.
According to information from the City of San Angelo in mid-November, "If our region continues to maintain or exceed the 15% threshold, the changes that follow will be implemented by the state and the Texas Alcoholic Beverage Commission (TABC). The TABC will require bars that were opened per executive order (EO) 32 to close and businesses with occupancy rates that were increased to 75% will be reduced back to 50%. The occupancy reduction will primarily impact restaurants, libraries, event centers and other businesses not listed under the CISA guidance or covered by other exemptions contained in EO 32. "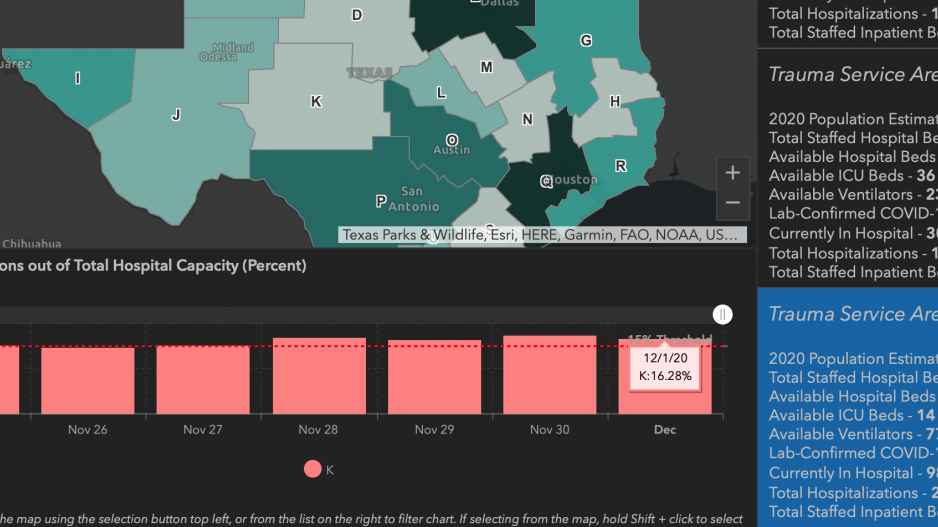 As we reported earlier, "The county judge is in charge of COVID-19 restrictions in Tom Green County. This role is currently limited by the governor's executive orders. The county judge and mayor do not have the authority to close businesses. The local health authority supersedes all authority in the county except for the governor. The local health authority can cancel events and close businesses."
Most Recent Original Videos