SAN ANGELO, TX – The coronavirus spike in San Angelo seems to be fading as the hospitalization rate dropped below 15 percent Friday.
The San Angelo Health Department reported 161 new positive cases of coronavirus in Tom Green County on Nov. 20. Although this number is still high, the daily positive graph shows the spike may be coming to an end.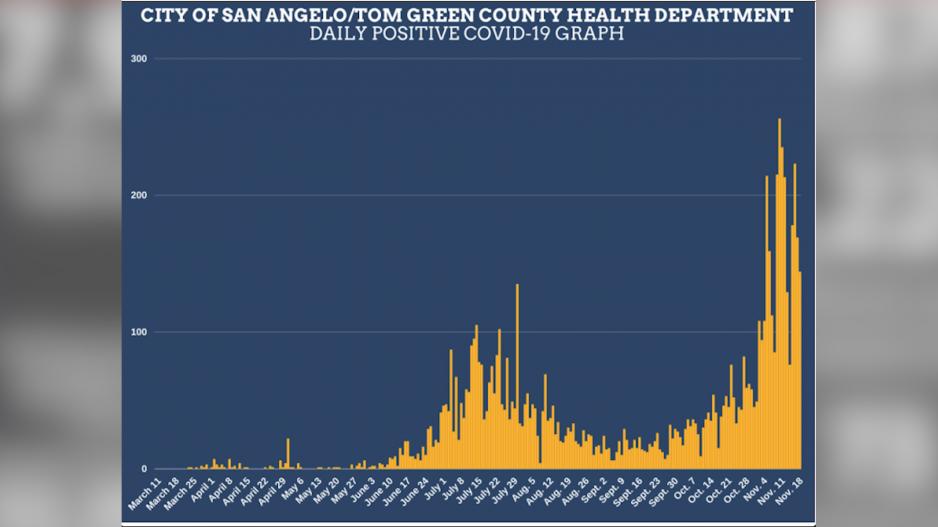 The hospitalization rate in Tom Green County in also dropping. There are currently 80 patients in the hospital in Tom Green County.
Trauma Service Area K dropped below 15 percent yesterday for the first time in two days.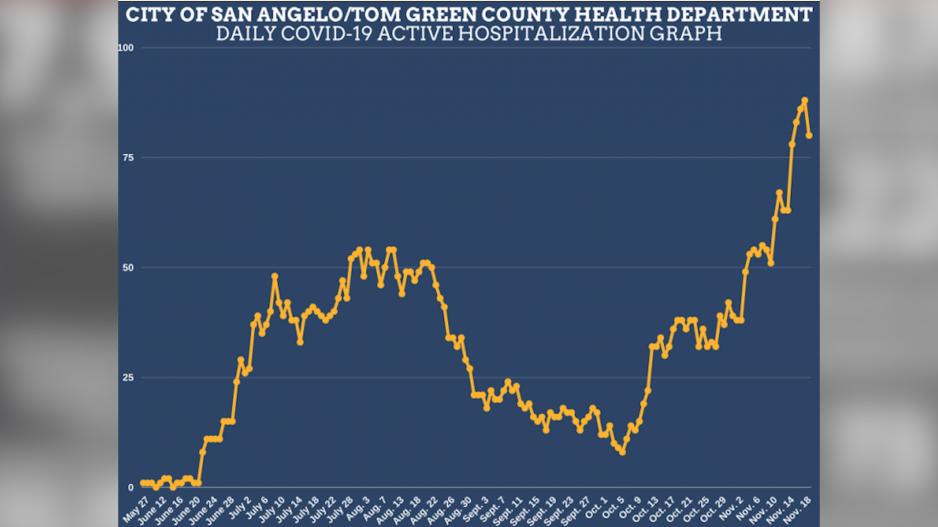 Since the beginning of the pandemic there have been 120 COVID-19 deaths in Tom Green County.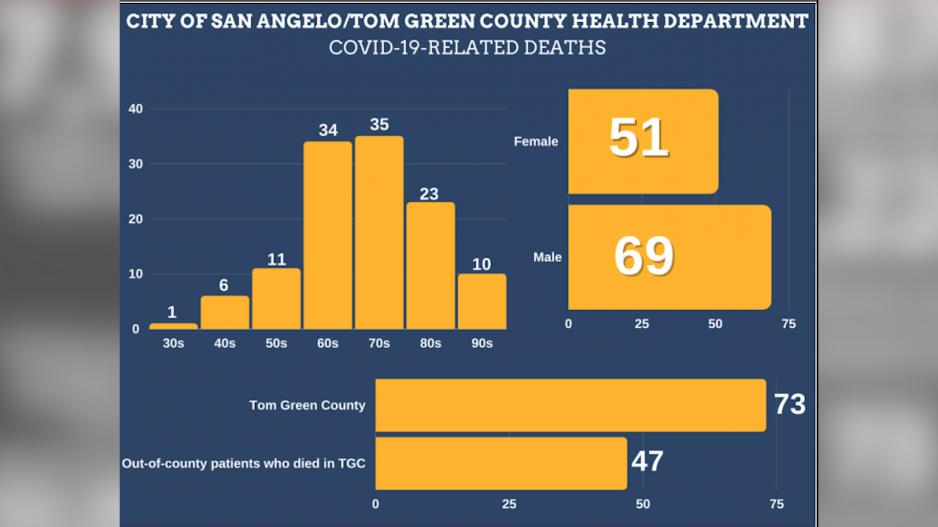 | | | | | |
| --- | --- | --- | --- | --- |
| Gender | Age | Race/ethnicity | County of Residence | Type of Test |
| Male | 5 months | Hispanic | Reagan | PCR |
| Male | 37 | White | Out of state | PCR |
| Male | 58 | White | Coke | PCR |
| Male | 61 | White | Menard | PCR |
| Female | 34 | Hispanic | Runnels | PCR |
| Male | 67 | Hispanic | Sutton | PCR |
| Male | 79 | White | Mitchell | PCR |
| Female | 34 | Unknown | TGC | PCR |
| Female | 37 | Unknown | TGC | PCR |
| Male | 61 | Hispanic | TGC | PCR |
| Male | 23 | Hispanic | TGC | PCR |
| Female | 26 | White | TGC | PCR |
| Female | 78 | White | TGC | PCR |
| Female | 36 | White | TGC | PCR |
| Female | 37 | White | TGC | PCR |
| Male | 68 | Hispanic | TGC | PCR |
| Female | 31 | Hispanic | TGC | PCR |
| Male | 35 | White | TGC | PCR |
| Male | 62 | White | TGC | PCR |
| Male | 31 | Other | TGC | PCR |
| Female | 54 | Hispanic | TGC | PCR |
| Female | 21 | Hispanic | TGC | PCR |
| Female | 46 | Hispanic | TGC | PCR |
| Female | 22 | White | TGC | PCR |
| Male | 43 | White | TGC | PCR |
| Female | 51 | Hispanic | TGC | PCR |
| Female | 38 | White | TGC | PCR |
| Female | 64 | Hispanic | TGC | PCR |
| Female | 16 | White | TGC | PCR |
| Female | 53 | White | TGC | PCR |
| Female | 27 | Hispanic | TGC | PCR |
| Female | 78 | Unknown | TGC | PCR |
| Male | 60 | White | TGC | PCR |
| Female | 27 | White | TGC | PCR |
| Female | 49 | Unknown | TGC | PCR |
| Male | 55 | White | TGC | PCR |
| Female | 84 | Black | TGC | PCR |
| Female | 89 | Hispanic | TGC | PCR |
| Female | 30 | Hispanic | TGC | PCR |
| Female | 22 | Hispanic | TGC | PCR |
| Female | 79 | Hispanic | TGC | PCR |
| Male | 92 | White | TGC | PCR |
| Female | 54 | Hispanic | TGC | PCR |
| Female | 84 | White | TGC | PCR |
| Female | 40 | Hispanic | TGC | PCR |
| Female | 43 | Asian | TGC | PCR |
| Female | 35 | Unknown | TGC | PCR |
| Male | 78 | Hispanic | Sutton | Antigen |
| Male | 77 | Hispanic | TGC | Antigen |
| Female | 29 | Hispanic | TGC | Antigen |
| Female | 18 | Unknown | Coke | Antigen |
| Male | 17 | Black | TGC | Antigen |
| Male | 89 | Hispanic | TGC | Antigen |
| Female | 22 | Hispanic | TGC | Antigen |
| Male | 43 | Unknown | TGC | Antigen |
| Female | 27 | Unknown | Concho | Antigen |
| Female | 46 | White | TGC | Antigen |
| Male | 53 | Unknown | TGC | Antigen |
| Female | 19 | Unknown | Ochiltree | Antigen |
| Male | 55 | White | TGC | Antigen |
| Female | 25 | White | Out of state | Antigen |
| Female | 59 | Hispanic | TGC | Antigen |
| Male | 17 | Hispanic | TGC | Antigen |
| Female | 52 | Hispanic | TGC | Antigen |
| Female | 65 | White | TGC | Antigen |
| Female | 42 | White | TGC | Antigen |
| Female | 60 | Unknown | TGC | Antigen |
| Female | 36 | White | TGC | Antigen |
| Male | 19 | White | Runnels | Antigen |
| Female | 79 | Hispanic | TGC | Antigen |
| Female | 23 | White | TGC | Antigen |
| Female | 48 | Hispanic | Schleicher | Antigen |
| Female | 69 | White | TGC | Antigen |
| Female | 46 | Hispanic | TGC | Antigen |
| Male | 53 | Unknown | TGC | Antigen |
| Female | 47 | White | Coke | Antigen |
| Male | 54 | White | Coke | Antigen |
| Female | 21 | Hispanic | TGC | Antigen |
| Male | 33 | White | TGC | Antigen |
| Female | 41 | White | TGC | Antigen |
| Male | 72 | Asian-Indian | TGC | Antigen |
| Female | 43 | White | TGC | Antigen |
| Female | 64 | White | TGC | Antigen |
| Male | 72 | Hispanic | TGC | Antigen |
| Female | 77 | Hispanic | TGC | Antigen |
| Female | 57 | Hispanic | TGC | Antigen |
| Male | 20 | Hispanic | TGC | Antigen |
| Female | 19 | Hispanic | Reeves | Antigen |
| Female | 59 | Hispanic | TGC | Antigen |
| Female | 54 | White | Out of state | Antigen |
| Male | 21 | Hispanic | TGC | Antigen |
| Female | 63 | Hispanic | TGC | Antigen |
| Male | 62 | Hispanic | TGC | Antigen |
| Female | 72 | Hispanic | TGC | Antigen |
| Male | 34 | White | TGC | Antigen |
| Female | 87 | White | TGC | Antigen |
| Male | 43 | Unknown | TGC | Antigen |
| Female | 79 | White | TGC | Antigen |
| Female | 13 | Hispanic | TGC | Antigen |
| Female | 68 | White | TGC | Antigen |
| Female | 35 | White | TGC | Antigen |
| Male | 38 | White | TGC | Antigen |
| Female | 69 | White | TGC | Antigen |
| Male | 73 | White | TGC | Antigen |
| Female | 58 | White | TGC | Antigen |
| Female | 20 | Hispanic | TGC | Antigen |
| Female | 66 | White | TGC | Antigen |
| Female | 48 | Hispanic | TGC | Antigen |
| Female | 25 | Hispanic | TGC | Antigen |
| Male | 8 | Hispanic | TGC | Antigen |
| Male | 13 | Hispanic | TGC | Antigen |
| Female | 15 | Hispanic | TGC | Antigen |
| Male | 33 | Hispanic | TGC | Antigen |
| Female | 67 | Hispanic | TGC | Antigen |
| Female | 63 | Hispanic | TGC | Antigen |
| Female | 20 | Hispanic | TGC | Antigen |
| Male | 29 | White | Runnels | Antigen |
| Male | 69 | White | TGC | Antigen |
| Female | 56 | White | TGC | Antigen |
| Male | 64 | Hispanic | TGC | Antigen |
| Male | 36 | Unknown | Scurry | Antigen |
| Male | 14 | Hispanic | TGC | Antigen |
| Male | 5 | White | Runnels | Antigen |
| Male | 74 | Hispanic | TGC | Antigen |
| Female | 11 | White | Crockett | Antigen |
| Male | 62 | Hispanic | TGC | Antigen |
| Female | 30 | Hispanic | TGC | Antigen |
| Male | 26 | Hispanic | TGC | Antigen |
| Male | 43 | White | TGC | Antigen |
| Female | 35 | Unknown | TGC | Antigen |
| Female | 31 | Hispanic | TGC | Antigen |
| Male | 59 | Hispanic | TGC | Antigen |
| Male | 42 | White | TGC | Antigen |
| Female | 17 | White | TGC | Antigen |
| Male | 38 | White | TGC | Antigen |
| Female | 73 | Hispanic | TGC | Antigen |
| Male | 46 | White | TGC | Antigen |
| Female | 38 | Hispanic | TGC | Antigen |
| Male | 55 | Hispanic | Sutton | Antigen |
| Male | 54 | Hispanic | TGC | Antigen |
| Male | 38 | Hispanic | TGC | Antigen |
| Male | 54 | Hispanic | TGC | Antigen |
| Male | 43 | Hispanic | TGC | Antigen |
| Male | 33 | Unknown | TGC | Antigen |
| Female | 25 | White | TGC | Antigen |
| Female | 71 | White | TGC | Antigen |
| Female | 16 | White | TGC | Antigen |
| Male | 57 | White | TGC | Antigen |
| Female | 58 | White | TGC | Antigen |
| Male | 60 | Hispanic | TGC | Antigen |
| Male | 19 | Unknown | TGC | Antigen |
| Female | 19 | Other | TGC | Antigen |
| Male | 73 | White | TGC | Antigen |
| Female | 67 | White | Runnels | Antigen |
| Male | 53 | White | Sterling | Antigen |
| Male | 76 | White | TGC | Antigen |
| Male | 59 | White | TGC | Antigen |
| Male | 22 | Unknown | TGC | Antigen |
| Male | 30 | Unknown | TGC | Antigen |
| Female | 40 | Unknown | TGC | Antigen |
| Male | 11 | Unknown | TGC | Antigen |
Most Recent Original Videos