SAN ANGELO, TX – The San Angelo Health Department confirmed another 221 new positive cases of coronavirus on Friday. 
This brings the total positive cases in Tom Green County since March to 6,883.
There are currently 63 patients in the hospital with coronavirus. 
The tests reported on Monday, Nov. 13, 2020 were 50 PCR tests and 171 antigen tests.
13 de noviembre de 2020
Total de casos positivos: 6,883
Actualmente hospitalizado: 63
Hay 221 nuevos casos positivos de COVID-19 para informar hoy: 50 casos PCR y 171 casos de antígeno.
The following is the DSHS's last report for Trauma Service K.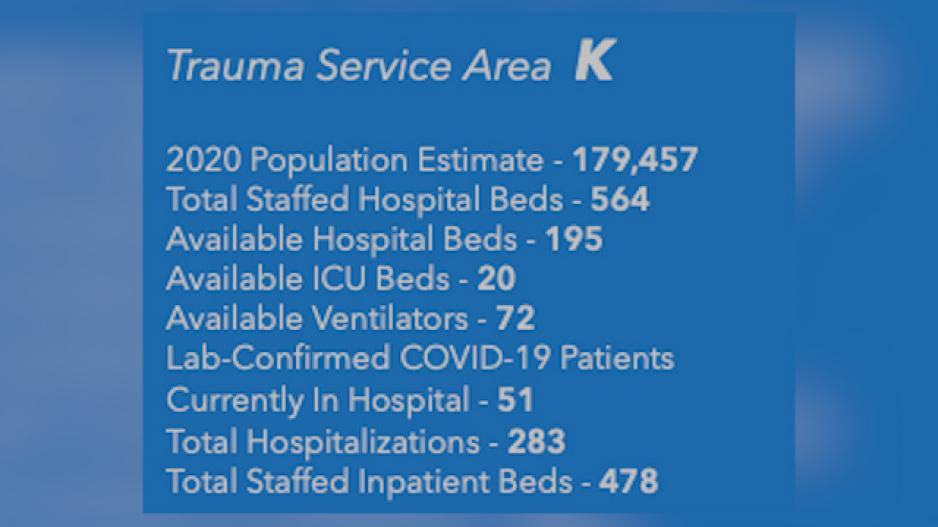 Trauma Service K has a hospitalization rate of 9.04 percent.
More information will be released later today.
| | | | | |
| --- | --- | --- | --- | --- |
| Gender | Age | Race/ethnicity | County of Residence | Type of Test |
| Male | 48 | Hispanic | Reagan | PCR |
| Male | 48 | White | Taylor | PCR |
| Male | 65 | White | Howard | PCR |
| Male | 80 | White | Menard | PCR |
| Male | 72 | White | Menard | PCR |
| Male | 90 | White | TGC | PCR |
| Female | 77 | White | TGC | PCR |
| Female | 61 | Unknown | TGC | PCR |
| Female | 78 | Hispanic | TGC | PCR |
| Female | 50 | White | TGC | PCR |
| Female | 20 | Hispanic | TGC | PCR |
| Female | 51 | Unknown | TGC | PCR |
| Male | 13 | Hispanic | TGC | PCR |
| Male | 40 | Unknown | TGC | PCR |
| Male | 32 | Unknown | TGC | PCR |
| Female | 21 | Unknown | TGC | PCR |
| Male | 21 | Unknown | TGC | PCR |
| Female | 53 | Unknown | TGC | PCR |
| Male | 20 | Unknown | TGC | PCR |
| Male | 61 | Unknown | TGC | PCR |
| Female | 64 | Unknown | TGC | PCR |
| Female | 62 | White | TGC | PCR |
| Female | 36 | Hispanic | TGC | PCR |
| Female | 20 | White | TGC | PCR |
| Male | 47 | Hispanic | TGC | PCR |
| Male | 27 | Other | TGC | PCR |
| Male | 57 | Hispanic | TGC | PCR |
| Male | 37 | White | TGC | PCR |
| Male | 44 | Hispanic | TGC | PCR |
| Male | 59 | Hispanic | TGC | PCR |
| Female | 26 | Hispanic | TGC | PCR |
| Female | 45 | Hispanic | TGC | PCR |
| Female | 56 | Hispanic | TGC | PCR |
| Female | 101 | Unknown | TGC | PCR |
| Female | 73 | White | TGC | PCR |
| Male | 84 | White | TGC | PCR |
| Female | 79 | White | TGC | PCR |
| Female | 73 | White | TGC | PCR |
| Female | 24 | White | TGC | PCR |
| Female | 74 | Unknown | TGC | PCR |
| Male | 80 | Unknown | TGC | PCR |
| Male | 79 | Unknown | TGC | PCR |
| Female | 50 | White | TGC | PCR |
| Male | 25 | White | TGC | PCR |
| Female | 39 | White | TGC | PCR |
| Male | 25 | Hispanic | TGC | PCR |
| Female | 32 | Hispanic | TGC | PCR |
| Female | 49 | White | TGC | PCR |
| Male | 2 | White | TGC | PCR |
| Female | 25 | Hispanic | TGC | PCR |
| Female | 36 | Hispanic | TGC | Antigen |
| Female | 67 | Black | TGC | Antigen |
| Female | 21 | Hispanic | TGC | Antigen |
| Female | 65 | Hispanic | TGC | Antigen |
| Female | 21 | Hispanic | Schleicher | Antigen |
| Male | 88 | White | TGC | Antigen |
| Male | 65 | White | Jim Wells | Antigen |
| Female | 35 | White | TGC | Antigen |
| Male | 31 | White | TGC | Antigen |
| Male | 22 | Hispanic | TGC | Antigen |
| Male | 21 | Hispanic | Runnels | Antigen |
| Male | 49 | Hispanic | TGC | Antigen |
| Female | 45 | White | TGC | Antigen |
| Male | 18 | Hispanic | TGC | Antigen |
| Male | 85 | Hispanic | TGC | Antigen |
| Female | 44 | Unknown | TGC | Antigen |
| Female | 18 | White | TGC | Antigen |
| Male | 76 | Hispanic | Runnels | Antigen |
| Female | 48 | Hispanic | TGC | Antigen |
| Male | 18 | White | Runnels | Antigen |
| Female | 44 | White | TGC | Antigen |
| Male | 50 | Hispanic | TGC | Antigen |
| Female | 21 | Hispanic | TGC | Antigen |
| Female | 63 | Hispanic | TGC | Antigen |
| Female | 57 | White | TGC | Antigen |
| Male | 29 | Hispanic | TGC | Antigen |
| Female | 58 | Hispanic | TGC | Antigen |
| Male | 35 | Hispanic | TGC | Antigen |
| Female | 16 | Hispanic | TGC | Antigen |
| Female | 61 | Hispanic | TGC | Antigen |
| Female | 26 | White | Schleicher | Antigen |
| Male | 57 | White | Schleicher | Antigen |
| Male | 42 | White | TGC | Antigen |
| Male | 30 | Hispanic | TGC | Antigen |
| Male | 56 | Hispanic | Schleicher | Antigen |
| Female | 59 | Hispanic | Schleicher | Antigen |
| Male | 59 | Hispanic | TGC | Antigen |
| Male | 66 | Hispanic | TGC | Antigen |
| Male | 34 | Hispanic | Irion | Antigen |
| Female | 21 | Hispanic | Williamson | Antigen |
| Female | 80 | White | TGC | Antigen |
| Male | 73 | White | TGC | Antigen |
| Female | 60 | White | TGC | Antigen |
| Male | 39 | White | TGC | Antigen |
| Female | 73 | Hispanic | TGC | Antigen |
| Female | 25 | Hispanic | TGC | Antigen |
| Male | 25 | Hispanic | TGC | Antigen |
| Female | 10 | Hispanic | TGC | Antigen |
| Male | 34 | Unknown | TGC | Antigen |
| Male | 40 | White | TGC | Antigen |
| Female | 46 | Hispanic | TGC | Antigen |
| Male | 64 | White | TGC | Antigen |
| Male | 32 | White | TGC | Antigen |
| Male | 44 | Hispanic | TGC | Antigen |
| Female | 20 | White | TGC | Antigen |
| Male | 22 | Hispanic | TGC | Antigen |
| Female | 34 | Hispanic | Crockett | Antigen |
| Female | 31 | Hispanic | TGC | Antigen |
| Male | 17 | White | TGC | Antigen |
| Female | 31 | White | TGC | Antigen |
| Male | 54 | White | TGC | Antigen |
| Female | 66 | Hispanic | TGC | Antigen |
| Male | 29 | Hispanic | TGC | Antigen |
| Male | 20 | Unknown | TGC | Antigen |
| Female | 49 | White | TGC | Antigen |
| Male | 60 | White | TGC | Antigen |
| Male | 15 | Hispanic | TGC | Antigen |
| Female | 51 | White | TGC | Antigen |
| Male | 26 | White | TGC | Antigen |
| Male | 44 | White | TGC | Antigen |
| Male | 41 | Hispanic | TGC | Antigen |
| Female | 73 | White | TGC | Antigen |
| Male | 75 | White | Sutton | Antigen |
| Female | 73 | White | Sutton | Antigen |
| Female | 62 | Hispanic | TGC | Antigen |
| Female | 61 | Hispanic | TGC | Antigen |
| Male | 35 | White | TGC | Antigen |
| Female | 37 | Hispanic | TGC | Antigen |
| Male | 44 | Hispanic | TGC | Antigen |
| Male | 51 | Hispanic | TGC | Antigen |
| Male | 44 | White | TGC | Antigen |
| Male | 37 | White | TGC | Antigen |
| Female | 60 | White | TGC | Antigen |
| Female | 18 | Hispanic | TGC | Antigen |
| Female | 16 | Hispanic | TGC | Antigen |
| Male | 43 | Hispanic | TGC | Antigen |
| Male | 60 | Hispanic | TGC | Antigen |
| Female | 23 | Hispanic | TGC | Antigen |
| Male | 62 | Hispanic | TGC | Antigen |
| Female | 76 | White | Coke | Antigen |
| Female | 34 | Black | TGC | Antigen |
| Male | 73 | White | TGC | Antigen |
| Female | 75 | White | TGC | Antigen |
| Male | 37 | Unknown | TGC | Antigen |
| Female | 55 | Hispanic | TGC | Antigen |
| Male | 65 | Hispanic | TGC | Antigen |
| Female | 66 | Hispanic | TGC | Antigen |
| Female | 21 | White | TGC | Antigen |
| Male | 79 | Unknown | TGC | Antigen |
| Female | 77 | White | TGC | Antigen |
| Female | 57 | White | TGC | Antigen |
| Female | 6 months | White | TGC | Antigen |
| Female | 21 | Other | TGC | Antigen |
| Female | 26 | Hispanic | TGC | Antigen |
| Male | 57 | White | TGC | Antigen |
| Female | 31 | White | TGC | Antigen |
| Male | 21 | Hispanic | TGC | Antigen |
| Female | 10 | Hispanic | TGC | Antigen |
| Female | 58 | Hispanic | TGC | Antigen |
| Male | 60 | Hispanic | TGC | Antigen |
| Female | 51 | White | TGC | Antigen |
| Male | 81 | Hispanic | TGC | Antigen |
| Female | 70 | Hispanic | TGC | Antigen |
| Male | 72 | Hispanic | TGC | Antigen |
| Female | 33 | Black | TGC | Antigen |
| Female | 32 | White | TGC | Antigen |
| Female | 87 | Hispanic | TGC | Antigen |
| Female | 41 | Hispanic | TGC | Antigen |
| Male | 37 | Hispanic | TGC | Antigen |
| Male | 15 | Hispanic | TGC | Antigen |
| Female | 41 | Hispanic | TGC | Antigen |
| Male | 19 | Hispanic | Austin | Antigen |
| Female | 76 | Hispanic | TGC | Antigen |
| Female | 42 | White | TGC | Antigen |
| Male | 37 | White | TGC | Antigen |
| Male | 32 | Hispanic | TGC | Antigen |
| Female | 66 | Hispanic | TGC | Antigen |
| Male | 31 | Hispanic | TGC | Antigen |
| Female | 40 | White | TGC | Antigen |
| Male | 19 | Hispanic | TGC | Antigen |
| Male | 34 | White | TGC | Antigen |
| Male | 53 | Hispanic | TGC | Antigen |
| Male | 36 | Hispanic | TGC | Antigen |
| Female | 43 | White | TGC | Antigen |
| Male | 39 | Hispanic | Runnels | Antigen |
| Male | 57 | Hispanic | TGC | Antigen |
| Male | 61 | White | TGC | Antigen |
| Female | 17 | Hispanic | TGC | Antigen |
| Male | 15 | Hispanic | TGC | Antigen |
| Male | 69 | White | TGC | Antigen |
| Female | 40 | Hispanic | TGC | Antigen |
| Female | 92 | White | TGC | Antigen |
| Male | 27 | Other | TGC | Antigen |
| Female | 63 | Hispanic | TGC | Antigen |
| Male | 23 | Unknown | Sutton | Antigen |
| Male | 42 | White | TGC | Antigen |
| Female | 59 | Hispanic | TGC | Antigen |
| Female | 42 | Hispanic | TGC | Antigen |
| Male | 29 | Hispanic | TGC | Antigen |
| Male | 74 | Hispanic | TGC | Antigen |
| Female | 59 | Hispanic | TGC | Antigen |
| Female | 72 | Hispanic | TGC | Antigen |
| Male | 66 | Hispanic | TGC | Antigen |
| Female | 38 | White | TGC | Antigen |
| Male | 36 | White | TGC | Antigen |
| Male | 55 | Hispanic | TGC | Antigen |
| Female | 32 | Hispanic | TGC | Antigen |
| Male | 47 | Hispanic | TGC | Antigen |
| Female | 20 | White | TGC | Antigen |
| Female | 67 | Hispanic | TGC | Antigen |
| Male | 36 | Hispanic | TGC | Antigen |
| Female | 36 | Hispanic | TGC | Antigen |
| Female | 32 | White | TGC | Antigen |
| Male | 67 | Hispanic | TGC | Antigen |
| Female | 13 | Hispanic | Reagan | Antigen |
| Female | 62 | White | TGC | Antigen |
| Male | 69 | White | TGC | Antigen |
| Male | 49 | White | TGC | Antigen |
| Female | 22 | White | TGC | Antigen |
| Female | 25 | White | Runnels | Antigen |
| Male | 53 | White | TGC | Antigen |
Most Recent Original Videos