With First Confirmed COVID-19 Case, Abilene Mayor Stresses Transparency of Information
ABILENE, TX – The City of Abilene has confirmed its first case of confirmed Coronavirus. In a press conference, officials stated the patient is being treated at Hendrick Health System hospital.
The patient tested positive for the virus and admitted to the hospital. Hospital staff is working on tracing where the patient may have contracted the virus. The hospital assured the city will be notified if they believe certain groups are at a higher risk.
From a press conference at Hendrick Health Center in Abilene that ended at 10:35 a.m., City of Abilene City Manager Robert Hanna said, "This day has come we knew it would come eventually." The patient was admitted to Hendrick 24 hours ago and tested. A Hendrick doctor said the patient, revealed by the City only as a male in his 40s, was suffering from shortness of breath and had low oxygen saturation.
Abilene Mayor Anthony Williams stressed that the COVID-19 team in Taylor County and the City are being as transparent as possible. The test was administered 24 hours ago, we received the results back 2.5 hours ago, and now Abilene has released the information about the first coronavirus case, he said.
"We benefit no one by hiding information," Mayor Williams said. "Let's work together. Let's all work together so that we can be team Abilene and address this in a very transparent way."
Hendrick said the patient is in stable condition and not in ICU. 
Abilene officials said not to panic over the first case. "We have 29 in the region who are infected. To think that Abilene was not going to have to deal with this would be naive," Mayor Williams said. "We want you not to panic. Be wise. Follow guidelines. But we do not want you to panic."
Hendrick has deployed a different COVID-19 detection workflow than San Angelo. Instead of drive-through testing centers as are in place in San Angelo, Hendrick has an online screening system. If you believe you have COVID-19, Hendrick's procedure is for the patient to first text "covidhelp" to (325) 216-4824. You will receive via text the instructions to begin the screening tool. (See graphic below).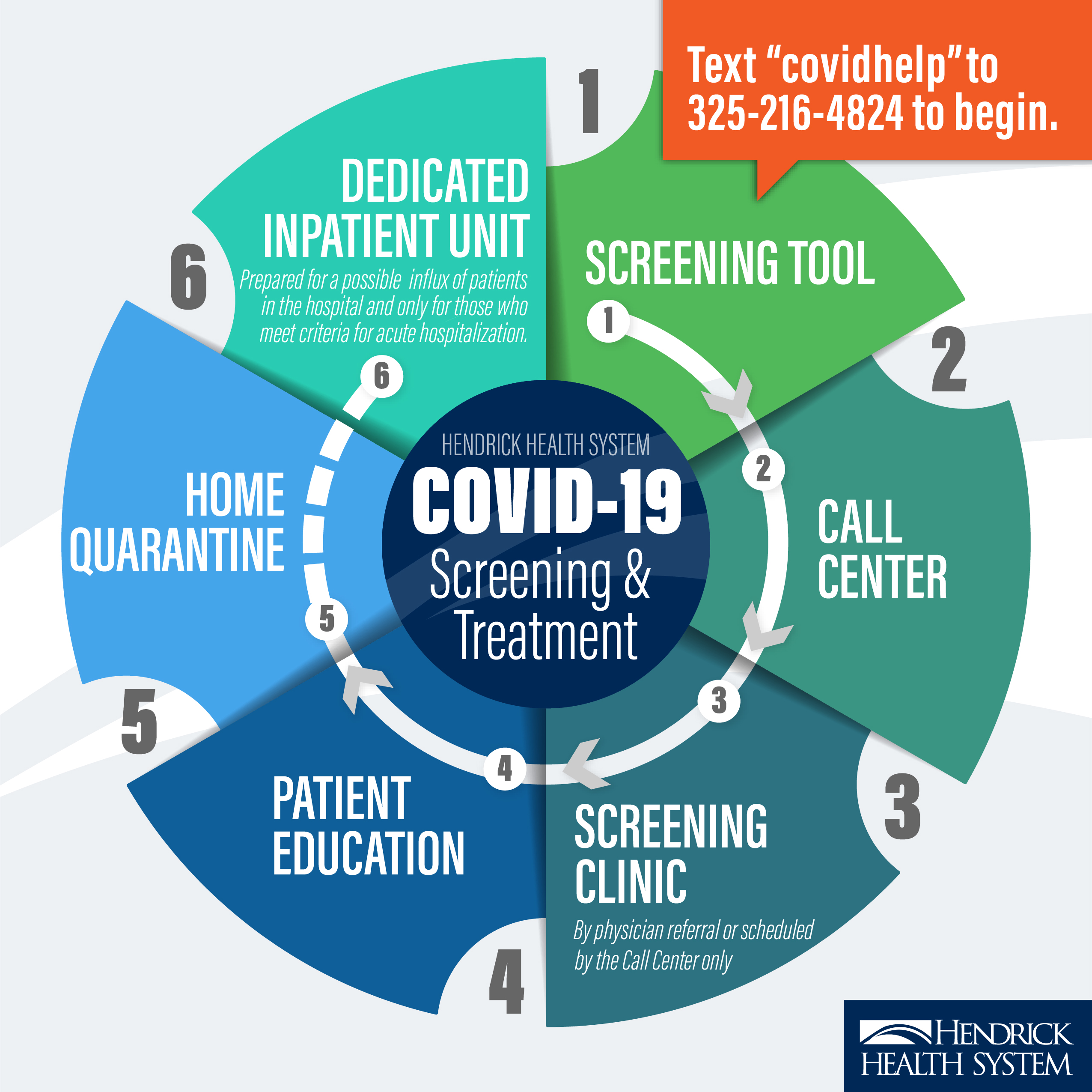 Hendrick said that currently five to eight patients are in the hospital that could possibly have COVID-19 at anytime. "That number will ebb and flow," a Hendrick doctor said.
Annette Lerna, Director, Abilene-Taylor County Health Department, said the City is struggling with obtaining test kits. They are working with a public lab and five private labs, she said. Abilene has a pending request through the State of Texas for a large number of test kits but so far have not heard back from State officials, Lerna said.
Hendrick Health System has "satisfactory levels" of protective equipment for health care providers, but are seeking additional stock to prepare for the worst, a Hendrick doctor said.
 
Get more stories like this by signing up for our daily newsletter, The LIVE! Daily.