In San Angelo, the Flu Season is Worse Than Last Year
SAN ANGELO, TX – During this time of the year flu season hits and it hits hard. Emergency room visits are at an all-time high as doctors work through what they are calling the worst flu season in four years.
Shannon Medical Center's Director of Marketing, Lyndy Stone, reported, "Our Emergency Department has been very busy with patients with flu and other respiratory illnesses."
Both hospitals were diverted last night from time to time because of the influx of patients suffering flu-like symptoms.
It's not just here in San Angelo. The Centers for Disease Control, or CDC, reports widespread outbreaks of the flu. In Alabama, a hospital declared it a crisis.
The CDC reported the type of flu most widespread is influenza A(H3). "The proportion of outpatient visits to a hospital for influenza-like illness (ILI) was 5.8%, which is above the national baseline of 2.2%."According to the CDC flu map, the outbreak in Texas began in December. The two states remaining with minimal flu cases are Maine and Montana.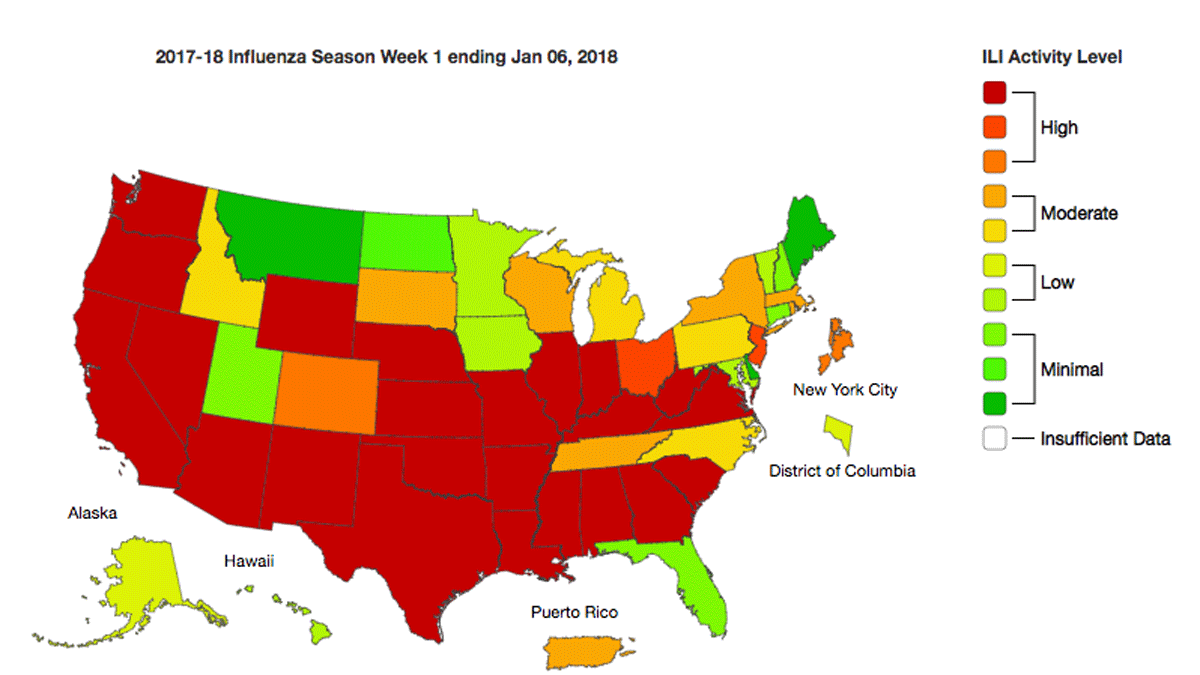 Above: Flu Map from the CDC on Jan. 6, 2018. (CDC)
Just like other reports from around the state and country, Stone said that overall Shannon is seeing more cases of the flu this year than last year. Flu outbreaks in some major cities around Texas have shut down schools for "flu days" because so many children are sick. San Angelo has not closed schools for the flu but the long weekend should be a good rest opportunity for any little ones under the weather. 
A Nurse Practitioner at San Angelo Community Medical Center, said, "About 50 percent of people that we are testing are testing positive for flu, but 50 percent of the people testing negative could still be positive for the flu." The tests used to check for flu can provide results within 10-15 minutes, but are not as accurate as other forms of testing. Therefore, you could still have the flu, even though your rapid test result is negative.
Symptoms of the flu include fever, chills, muscle aches, cough, congestion, runny nose, headaches, and fatigue. The flu is treated primarily with rest and fluid to let the body fight the infection on its own. Over-the-counter anti-inflammatory pain relievers may help with symptoms.
If symptoms worsen, seek help from medical professionals.
Shannon encourages people to take precaution from contracting or spreading the flu:
Avoid close contact with people who are sick.
Stay home when you are sick to prevent the spreading of illness.
Cover your mouth/nose when coughing or sneezing.
Practice good hand hygiene/wash your hands.
Avoid touching your eyes, nose, and mouth.
Get more stories like this by
signing up for our daily newsletter, The LIVE! Daily
.