Full Line-Up Announced for Sunday's Los Lonely Boys Concert
SAN ANGELO, TX — Local music stars Los Lonely Boys will headline a benefit concert Sunday at the Bill Aylor RiverStage in downtown San Angelo Sunday. The gates open at 6 p.m. and tickets are available for $10 ea. at Stubwire.
The 'Boys first hit single, "Heaven" reached number one on the Adult Contemporary Chart in 2004. At the 2005 Grammy Awards, the song won the Best Pop Performance by a Duo or Group with Vocal category. Two follow-up singles, "More Than Love" and "Onda" were nominated for Grammys in 2006. Since then, the 'Boys have released four more records, the latest is 2014's Revelation. The 'Boys tour extensively, usually more than 200 shows a year.
WATCH Los Lonely Boys "Fly Away" from their record Rockpango.
Opening for Los Lonely Boys will be T. Gozney Thornton and the Young Guns and Outlaws. Thornton shares a storyline with the Lonely Boys as he also recorded his first record in Willie Nelson's recording studio. Except Thornton's record was recorded two decades earlier, in the early 1980s. The record was never published. Thornton left the Austin music business before his record was completed.
Thornton married a San Angelo girl, Pam, and his wife's family wanted him to leave the uncertainty of the Austin music scene and settle down back home in San Angelo with a "real job." Thornton had a highly successful career developing cell phone towers across the south.
In 2007, Thornton found the tapes he made back in the early '80s in Willie's studio on a dusty shelf in a former Austin recording studio. The record was released a year later, re-mastered, and titled Legends Before the Fall. A single from that record, "Es Tu Vida," won a Grammy Award nomination in 2008.
WATCH T. Gozney Thornton "Es Tu Vida":
Thornton has continued to perform since the late 1980s around the region with his band. His sound is best described as "Tex Mex Country."
Thornton's band, Young Guns and Outlaws, includes Manuel Burciaga on drums, Ricky Dale Ramirez on vocals and keyboards, T. Gozney Thornton on lead vocals, guitar and harmonica, Ace Allen on vocals and lead guitar, and Dan Tucker on vocals and bass guitar.
Also performing Sunday night are the Tequila Brothers. This local band is known for performing the best covers of songs in west central Texas, said Sid Walker, who organized the line-up for the charity concert. The band includes Charles Reyes on Guitar, Roy Macareno on Bass, Danny Moya on drums, and Kory Rogers on keyboard.
A newcomer to the local music scene, comprised of veteran musicians, will perform their debut to the largest audience yet for the band. Boogie Town features two double-threat guitarists, Stephen McLaughlin and Kevin Collins. Kristi Hollowell leads with vocals. Other members include Bill Edgar on bass, Matthew Clark on keyboard, and Paul Schroeder on drums.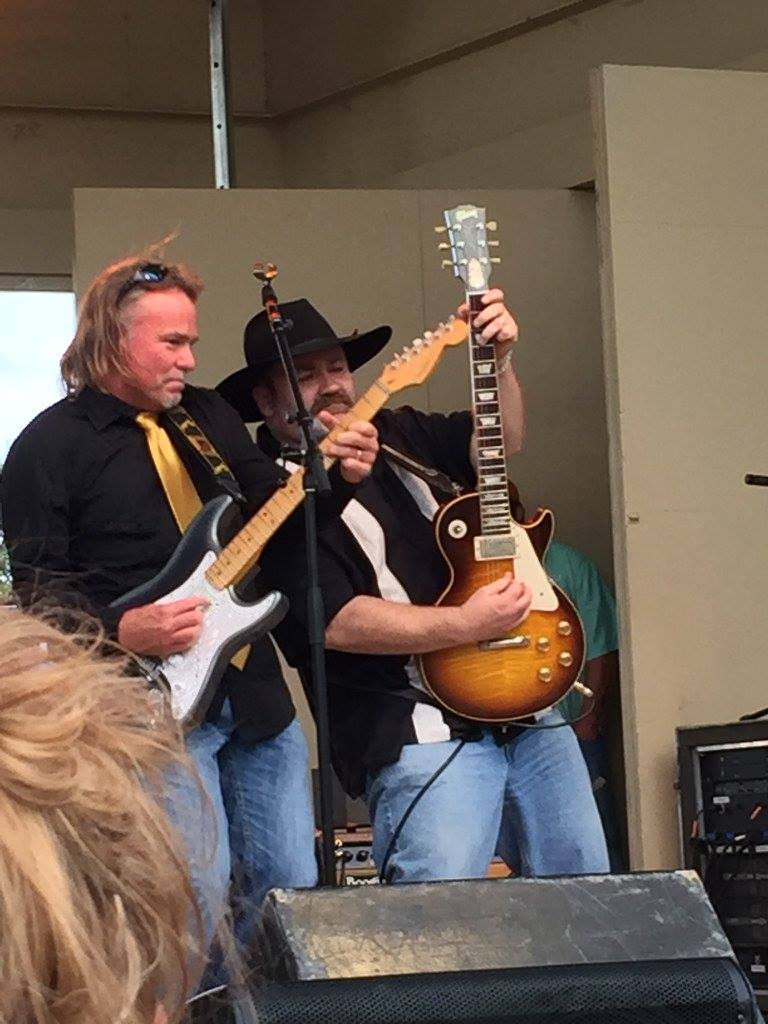 Above: Kevin Collins and Stephen McLaughlin, guitarists for Boogie Town. (Facebook)
All of the bands are donating their talent and time for this event.
All proceeds for the concert go to Robin's Heart, a Houston-based non-profit dedicated to relief for Hurricane Harvey. Tickets are $10 in advance or $10 at the door. There is no difference in price between purchasing prior online or at the gates. However, purchasing tickets online early allows you to proceed directly into the RiverStage without waiting in line to purchase tickets at the RiverStage box office. Purchase tickets online at Stubwire.
Here is the schedule for the Sunday, Oct. 8 Hurricane Benefit:
6 p.m. Gates Open
6:05 - 6:45 p.m. - Tequila Brothers
7:00 - 7:45 p.m.  – T. Gozney Thornton
8:00 - 8:45 p.m. - Boogie Town
9:00 - Until - Los Lonely Boys
Get more stories like this by
signing up for our daily newsletter, The LIVE! Daily
.