Johnny Hootrock Returns Saturday Night To Rock San Angelo's Deadhorse
SAN ANGELO, TX -- Ten years ago, an Austin, Texas couple relocated to San Angelo with hopes of opening their own nightclub downtown as a place to not only serve drinks and a good time, but to also become San Angelo's weekend-go-to location for live music. The goal of their new attraction was to bring the famous  "6th Street vibe" to San Angelo, with evening showcases of rock'n'roll bands and some international, as well as local, musical talent. 
The Deadhorse, located at 210 S. Chadbourne Street has brought in countless bands who have gained immense followings from the 80s MTV music show and tour, the Headbangers Ball. Artist including  L.A. Guns, Bang Tango, and Dangerous Toys, and a lot of local and underground Texas based bands and artists have graced the Deadhorse's stage. Many however, are just starting out or on the verge of a breakthrough. One of those bands is the Whitehouse, Texas based band Bibeau, who are scheduled to to drop their first album soon (click here).
​Owner and operator of the club, Rex Rogers said, "we just had our tenth anniversary party on April 15th, and it was great. TEN years-can you believe it? As a matter of fact, one of the first bands that ever played [in] our venue and has continued [to play] the bar, since we opened in 2007, will be back this Saturday May 13th. Johnny Hootrock is the name of the band and the lead singer/guitarist 'Clem' is super cool-he's originally from Norway."
The Norwegian, who is currently living in Austin,Texas, 'Clem Hoot' took a few minutes to chat with LIVE! saying, "we're really excited, every time we come back and play [at] The Deadhorse they've always been real good to us, and it's really a good time."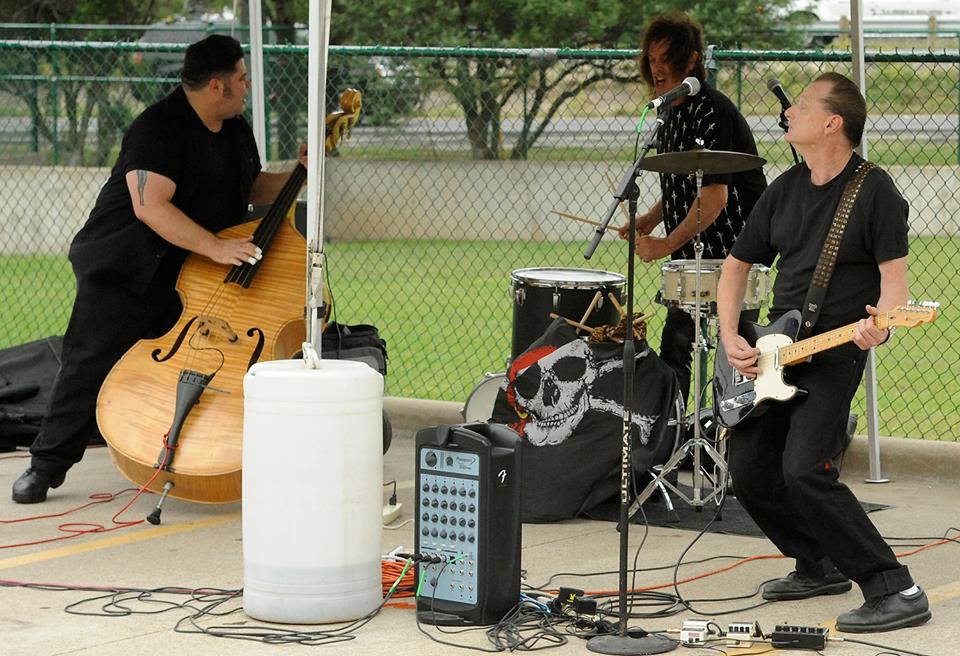 Many may imagine a Norwegian as a huge solemn Viking warrior, such as the characters in the Thirteenth Warrior, who have rugged jaw lines and incredibly unusual names. Though Hoot may still have a pretty noticeable accent, Hoot is just as laid back as they come - a cool, down to earth cat.  He said, "my real name is Ove Fiskaaen, but people tend to butcher that up pretty bad, so I just go by 'Clem Hoot.'"
Hoot moved from Norway to Waco, Texas back in 86-87 to attend Baylor University. "Even after graduating with a degree in Telecommunications," he recalled, "music was really my calling."
Reflecting on his musical career, Hoot said, "In 1989 I started a band called The Flametrick Subs, and we were together for 17 years." After that, Hoot relocated to Austin around 2006-2007 and started up his current band, Johnny Hootrock.  "It was originally a 2 piece band but then we added an Upright Bass player. People often ask what our genre is and I think of it as a kind of 'psycho garage-a-billy rock n' roll madness; kind of like Johnny Cash meeting The Ramones in the graveyard."
"Most bands go through drummers, but for some reason we go through bass players; [our current] one has been with us about half a year." Ironically, "all of the bass players we have had, have the word 'rock' in their name.  So, as for the name of the band, there is stand up drummer Johnny Cat, me-Hoot on lead guitar and vocal, and then Dee Dee Rock on bass, hence Johnny Hootrock."
(Above: Published on Jan 1, 2017, JOHNNY HOOTROCK at Bull McCabes in Austin, TX on NYE 2016)
Hoot added that some of his earliest influences were Jimi Hendrix and The Who, "those were two of the first cassette tapes I ever bought." Hoot added enthusiastically, "I like all kinds of music really, Johnny Cash, Waylon Jennings, I could go on and name a thousand artists." 
On some of the bands older You Tube videos, a go-go dancer named Ms. Andrea VonFrankenstein shimmies and shakes as fast as the band can play, alongside the band members, and is usually dressed in a fringed bikini. Hoot said, "she has joined us many times on stage for shows, even as far as Norway, but right now, she's recently married and happily expecting a child, so she won't be performing for awhile."
All in all, if you like gritty, in your face, hard, fast, rock, that makes you want to just cut loose while enjoying a few tasty beverages with friends, the Deadhorse is the place to be this Saturday night, at 10 p.m. Admission is free but be sure to check out the bands merchandise table, leave a few bucks in the tip jar, and support live music.
For more information on upcoming events at The Deadhorse or if you have a band stage ready, visit the Deadhorse's website at http://thedeadhorse.net. For more information on Johnny Hootrock check them out on Facebook or click here.  
Get more stories like this by
signing up for our daily newsletter, The LIVE! Daily
.