SAN ANGELO, TX - It's always nice when Christmas Eve and Day fall on a Saturday and Sunday, as many turn the holiday into a three or four-day weekend, while others continue the celebration throughout the next week.   
In continuation of the festivities, this evening, Holy Angels Catholic Church, located at  2202 Rutgers Street, will host its 6th Annual Music for Christmastide with the holiday concert set to start at 7 p.m.
San Angelo natives Joshua Thomas Diaz, Marco Antonio Melendez and Adam Torres will perform a variety of songs, including O Holy Night, Mary Did You Know, movements from Handel's Messiah and many more timeless classics.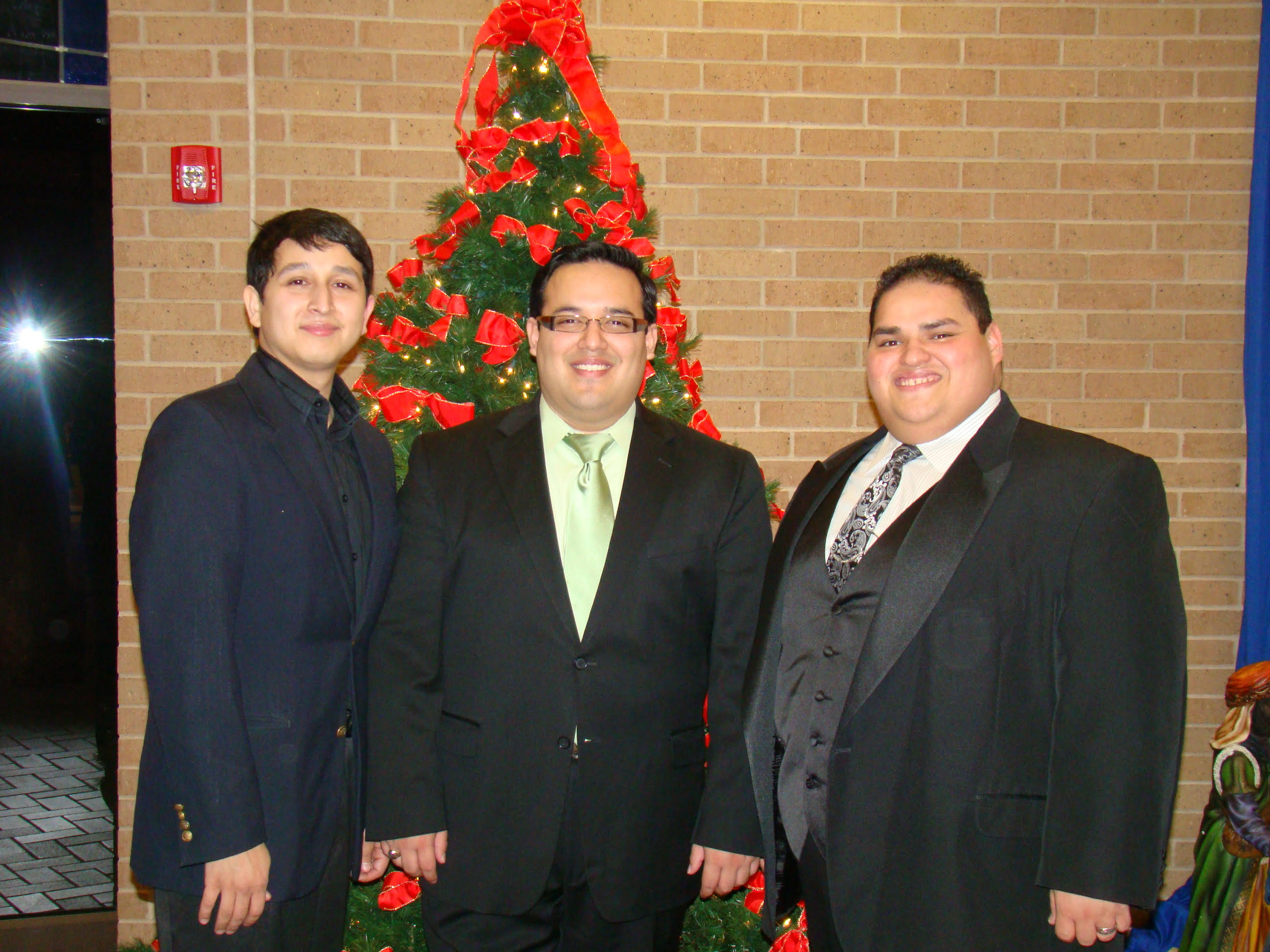 "This is a concert that we look forward to performing every year," said Melendez. "We began this annual tradition six years ago and are honored and thrilled by the amount of people who attend the performance each year. The three of us have received much of our foundational musical training right here in town. We all call San Angelo home, and this is just our little way of giving back to the city that continues to give us so much!"
Currently in his fifth season as artistic director of Milwaukee Children's Choir (click here), Melendez has performed throughout the nation as a choral conductor, clinician, soloist and church musician. He is a graduate of Westminster Choir College and Holy Names University.
"We've all grown up here (San Angelo), and have gone to Central and Lake View High Schools, but now have gone on to new careers in music and pursuing those avenues in the multitudes of university studies," said Melendez.
He added, "My father plays drums and has been a DJ, but my interest in classical singing stemmed from my experience with choirs being introduced to us in San Angelo through the San Angelo Singing Boys. I was introduced to a professional setting, with the American Boy Choir in the 6th grade at a Princeton New Jersey boarding school. Boys came from throughout the nation to audition to be part of that ensemble, and toured with quite literally the world's foremost orchestras and entertainers."
Melendez said he did that for 2 1/2 years, through middle school, came back to San Angelo, and then became music director of the San Angelo Singing Boys when he was 15 years old.  
"I've always known I was going to be a musician, so I started teaching and conducting at age 15 there and then at St. Marks Presbyterian at age 17, and things just kind of progressed from there," Melendez continued. "After that, I went on to college, majored in music and earned my master's degree." 
As for the group, each member has traveled and performed nationally, but not as a trio.
"We all live separate lives and have our own careers," said Melendez. "We all just came down to see our families, and we do this each year to help give back a little bit to the community that gave us so much of the foundation of our musical careers."
He added that he's looking forward to a very busy rest of the season with the Milwaukee Children's Choir.
"I quite literally just booked a collaborative concert, with the children's choir, with Motown's the Four Tops," Melendez said. "I've contracted them to come do a concert with us that will help benefit that ensemble and organization, and we will be looking forward to other touring and performance opportunities." 
As for his two associates, Joshua Thomas Diaz is currently a doctoral student at the University of Minnesota. He is also a graduate of the Peabody Conservatory of Music and the University of Notre Dame. Diaz has performed as a soloist with the San Angelo Symphony Orchestra and has also been a featured soloist and recitalist throughout the nation.
Adam A Torres is the Assistant Conductor of the Fort Collins Symphony Orchestra, Denver Young Artists Orchestra, and Assistant Professor of Music at Colorado State University. Torres has also been a featured musician with the San Angelo Symphony Orchestra, and is in high demand as an orchestra conductor and pianist throughout the nation.
Melendez concluded, "We're really looking forward to this event as last year there was an ice storm and the performance was postponed, but we expect anywhere from 150-250 attendees."
Admission is free though love offerings are accepted.
Most Recent Videos