Concho Christmas Celebration Rescheduled for Dec. 10 Due to Weather
SAN ANGELO, TX - A little over two decades ago, a San Angelo businessman came up with an idea for a Christmas event that would not only benefit the community financially, but reach out to the multitudes spreading holiday cheer.
The Concho Christmas Celebration was founded in 1994 to enhance the enjoyment of the Christmas Season by providing an annual light display. In a recent press conference, philanthropist Lee Pfluger highlighted how his vision of many years ago has grown to be such a great success.
He said, "One of the things you find, in terms of mental health, is during the holiday season, it can be a really stressful time for people who don't have family, or who have problems." Not only does this event help lift people's spirits, but, he continued, "It also enhances the economic vitality of the community. Our economic impact of CC is between 700 and 1,000 room nights which translates to around $200,000 a year."
Pfluger said over the last 23 years, several activities have morphed onto the event to make it what it is today. Some of these include the Run Rudolph Run, a run or walk that goes from Celebration Bridge and all along the river view, a live Nativity scene, and a bike ride through the lights. 
He added, "Tuba Christmas in early December as well as 'Santa Fe Christmas' over at the Railway Museum (click here), is also associated."
The soft opening of the CCC will start Friday, Dec. 2, with the official opening Saturday, Dec. 3.
On Saturday, at 5:15 p.m., we will have the Twin Mountain Tonesmen and the San Angelo Community Band, who will sing Christmas carols at the corner of Concho and Chadbourne Streets. At 6 p.m., we light the Community Christmas tree, which is a 40-foot tree; and then we will start our Lights of Christmas Parade, which has been going on for about 10 or 12 years," Pfluger explained.
Over the years, the Tour of Lights has grown into a 2.5 mile drive along the banks of the Concho River and features over three million lights. Pfluger also explained, regarding the set up and take down, "We have a (work) crew of 10 from the Department of Justice and a 'free world' person, for the last seven years, to drive the truck and oversee them." 
If you've never attended this event, the City of San Angelo has posted a video clip on YouTube called "Concho Light Tour Teaser" (click here).
Donna Donaldson, event coordinator said, "As of [Wednesday], we have 65 parade entries, 183 vehicles, and 908 people registered to participate in the parade. It's a beautiful parade; everybody has their vehicles, dogs and critters, and people light up; it's just a wonderful event."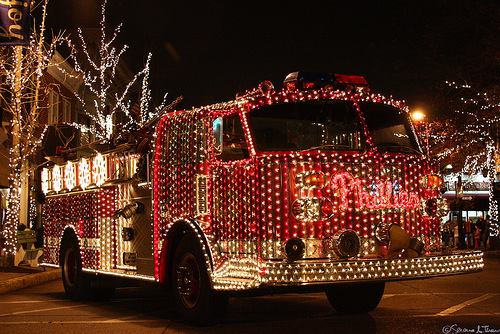 Donaldson also said she's had a lot of inquiries about the weather and wanted to let people know the show will go on. Early Wednesday morning, Donaldson posted on the Concho Christmas Celebration Facebook page, "The Community Tree Lighting Ceremony and the Lights of Christmas Parade will be held as scheduled on Saturday, December 3rd. I know you still have your rain slickers/ponchos from the epic Bobcat football game on Friday night. Bundle up and come enjoy the Concho Christmas Celebration festivities on Saturday."
She concluded, "We have a suggested $5 per vehicle donation, and oftentimes have people who pay it forward by paying for the car behind them; it's just a very giving and loving experience; the community is wonderful. All of the proceeds will go back into the Concho Christmas Celebration, a non-profit organization funded through the generosity of our sponsors and the donations we receive throughout the year." 
Weather.com predicts the forecast to be 50 degrees on this momentous occasion with a 100 percent chance of rain, so bring your own snacks, coffee, and cocoa just in case it's a cold one. There will be no concessionaires at the event.
For more information and updates, visit Concho Christmas Celebration on Facebook, at http://www.conchochristmascelebration.com, or feel free to call Donna at (325) 944-4444.
UPDATE:
As per her updated Facebook page for the Concho Christmas Celebration, Donaldson posted the following: "Due to the inclement weather forecast for Saturday, December 3rd, and for the care, comfort and concern for all the participants and attendees to these wonderful annual events, Concho Christmas Celebration is CANCELLING the Tree Lighting Ceremony and Lights of Christmas Parade on Saturday, December 3rd, and has RESCHEDULED the festivities for SATURDAY, DECEMBER 10, 2016.
THE CONCHO CHRISTMAS CELEBRATION TOUR OF LIGHTS WILL OPEN AS SCHEDULED ON FRIDAY, DECEMBER 2, 2016"
Get more stories like this by
signing up for our daily newsletter, The LIVE! Daily
.