SAN ANGELO, TX — Jaylon Lockett of Missouri City, a sophomore physics major at Angelo State University, has been awarded a $10,000 scholarship for the 2023-24 academic year through the TEAM-UP Together Scholarship Program (TUTSP) that is administered by the national Society of Physics Students.
The TUTSP is a cooperative effort of the American Association of Physics Teachers, American Astronomical Society, American Institute of Physics, American Physical Society and Society of Physics Students. It was launched in 2022 to aid Black and African American students who are pursuing bachelor's degrees in physics and astronomy - and who show financial need.
Fewer than 50 first-time TEAM-UP Together Scholarships have been awarded each year nationwide, and Lockett is the first ASU student to receive a scholarship award. He will be eligible to apply for scholarship renewal each year.
"Jaylon has been an excellent student in my classes and has done great work on research with me," said Dr. Kenneth Carrell, associate professor of physics. "I am very happy that TEAM-UP Together has awarded him this scholarship to help make his time here at ASU financially easier and to make his future goals more attainable."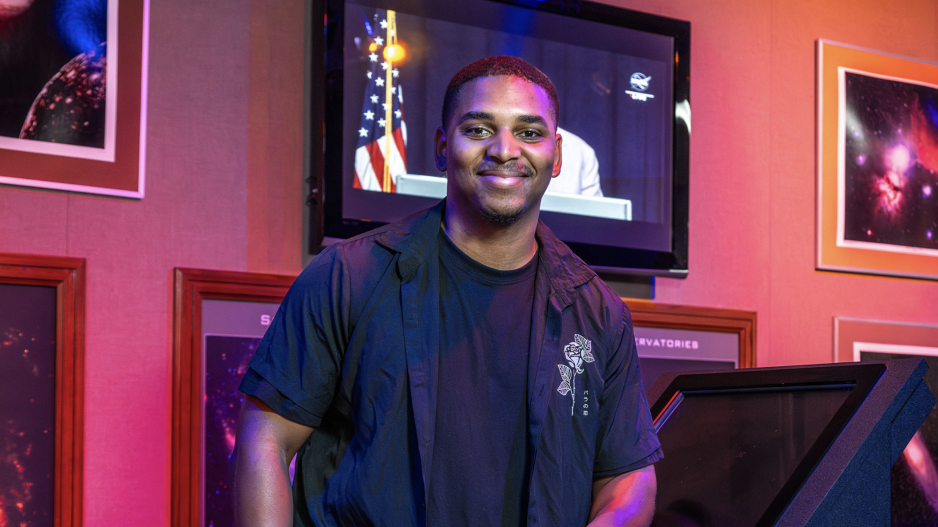 In addition to his regular classes, Lockett worked with Carrell on a research project on variable stars titled "Transient Changes in TESS Lightcurves of RR Lyrae," that was funded by the National Science Foundation. They presented their research at the national meeting of the American Astronomical Society in Seattle in January, and then Lockett presented his research poster at the annual meeting of the Texas Academy of Science hosted on the ASU campus in March.
Currently, Lockett is working with Carrell on a research project dealing with stellar populations in globular clusters of the Milky Way that is funded by a grant from the Sloan Digital Sky Survey Faculty and Student Team initiative. He is also a member of the ASU chapter of the Society of Physics Students and a regular on the ASU Dean's List.
Profiles of Lockett and the other 2023 scholarship recipients are available at teamuptogether.org/scholarship-recipients.
Most Recent Videos