SAN ANGELO, TX — The San Angelo Independent School District recently announced that three of its schools received the distinction of being named a Texas Education Agency (TEA) Purple Star Designation campus. In a release, San Angelo ISD explained what the distinction was and congratulated its three campuses on their continued work with military-connected students.
"The award recognizes schools that excel in meeting the needs of military-connected students and their families," SAISD said in a release. "Congratulations to Central High School, Glenn Middle School, and Glenmore Elementary for your dedication to our families at Goodfellow Air Force Base and in the military community. SAISD is home to approximately 750 military-connected students and is honored to support the children of our military servicemen and women."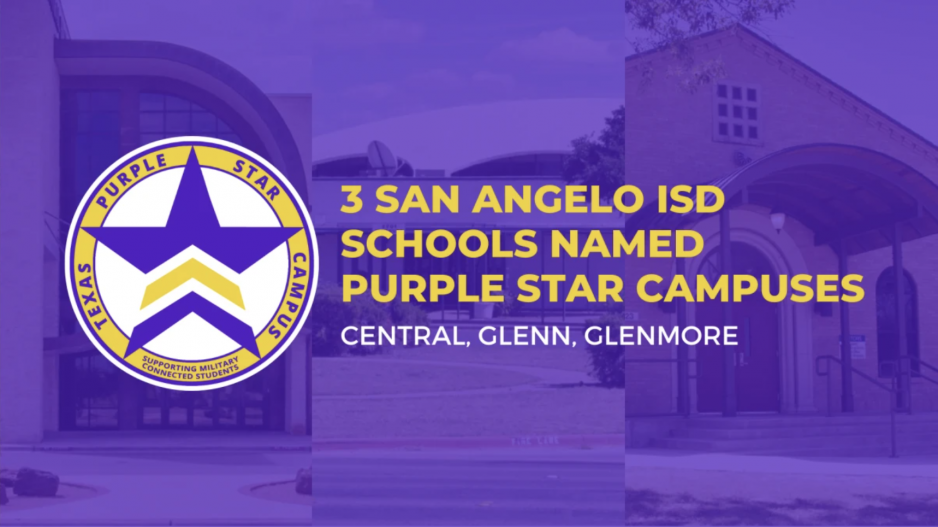 The school district also spoke to Glenmore Elementary and Central High School Principals about the distinction.
"It is truly an honor and a privilege to serve our military-connected students and families," said Teri Gould, Principal at Glenmore Elementary. "Glenmore's support and commitment to meeting the unique needs of our military-connected students and their families truly makes the difference as they adjust to living in a new community. We are so proud to receive this distinction and work hard to maintain the relationship we share with our partners at Goodfellow AFB." 
San Angelo ISD said that these campuses work to provide "extra support systems for military-connected students" throughout the district. One such program entails connecting civilian students with newly enrolled military children to ease the transition of constantly being the "new kid" at school. The new and current students then tour the campus, eat lunch together, and answer questions that come with moving to a new place. The school district said that Glennmore, Glenn, and Central all exemplify the characteristics withing the SAISD Educator Profile through their commitment to students by providing each student with an inspiring educational experience that prepares them for the future.
"Central High School has a long history of dedication to service," said Jill Ross, Principal at Central High School. "As we begin the 2023-2024 school year with this designation, we will dedicate our campus to continuing the service to our country and community. May we honor the lives of our military-connected children and their families through our daily walk at Central."
Most Recent Videos