WITCHITA FALLS — Stacia "Stacy" Haynie, Ph.D., will begin her tenure as the 13th president of Midwestern State University effective August 1. The official appointment was made today (July 11) by Tedd L. Mitchell, M.D., chancellor of the Texas Tech University System (TTU System), following the 21-day waiting period required by state law.
Haynie was unanimously selected as the sole finalist for the position last month by the TTU System Board of Regents. She returns to her alma mater following a 33-year tenure at Louisiana State University, where she was instrumental in countless academic endeavors and achievements that led to national recognition.
"It is the honor of a lifetime to be named president of my alma mater. MSU Texas provided me an impeccable academic foundation that has served me well in my professional endeavors," said Haynie. "I look forward to partnering with the exceptionally talented faculty and staff to provide the same exceptional education I received to the students who—like me—claim MSU Texas as home."
Haynie will arrive in August to a full slate of activities as the university prepares for the arrival of its newest class of Mustangs. In addition to the annual opening meeting for faculty and staff, Haynie will meet with governance groups, colleges and departments, and individuals to reacquaint herself with her alma mater. 
"We are thrilled to welcome Dr. Haynie as the 13th president of Midwestern State University," said Mark Griffin, TTU System chairman of the Board of Regents. "On behalf of our regents, I'd like to congratulate and thank RegentsGinger Kerrick Davis, Shelley Sweatt, Pat Gordon and the entire MSU Texas Presidential Search Committee for the tremendous work that went into searching for and identifying a field of outstanding candidates for this critically important position. I join my fellow regents in expressing the utmost confidence that Dr. Haynie will provide MSU Texas with the visionary leadership, sound judgment and guiding hand required to continue advancing the mission of the university to provide students with a rigorous undergraduate and graduate education."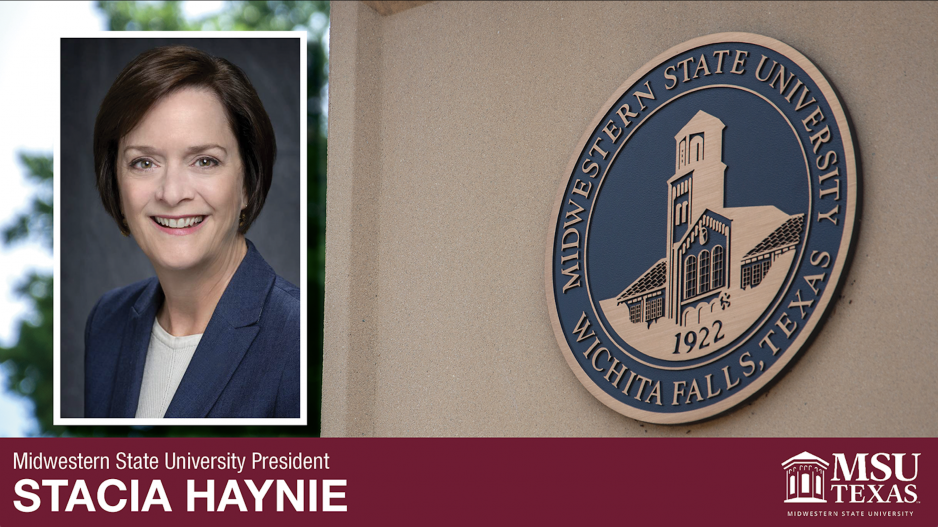 Haynie's extensive background and leadership service at LSU includes recently serving as executive vice president and provost and chief academic officer; dean of the College of Humanities and Social Sciences; vice provost for Academics and Planning; associate and interim dean of the Graduate School and department chair, all while serving as a professor teaching judicial policies, constitutional law, comparative judicial behavior and American politics as the J.W. Annison Jr. Family Alumni Professor.
"This is an exciting day for MSU Texas and the Mustang family as we welcome the next great leader of our proud institution," Mitchell said. "I commend Regent Ginger Kerrick Davis and the presidential search committee for their diligent and exceptional work throughout this search process. Dr. Haynie has an incredible story that will resonate with stakeholders across our system. On a journey that began as an inspiring scholar from Clay County, she embarked upon a career in higher education that has been filled with excellence, accolades, and meaningful growth and innovation as a professor and leading administrator. Today, she becomes president of her alma mater, and I'm thrilled to join the MSU Texas family in welcoming Stacy and her husband, Scott, home to MSU Texas and the Wichita Falls community." 
Haynie, who is originally from nearby Henrietta, Texas, earned a pair of degrees from MSU Texas with a bachelor's degree in theater—graduating summa cum laude—and a master's degree in political science. She received her doctorate in political science from the University of North Texas.
She was named Outstanding Education Student at MSU Texas in her senior year. In 1999, she was named a Distinguished Alumna by the MSU Texas Department of Political Science and earned the same recognition from the MSU Texas Fain College of Fine Arts in 2011. Haynie returned to her alma mater in 2013 to serve as the spring commencement speaker.
Haynie arrived at LSU as an assistant professor in 1990 and then climbed the ranks to associate professor before becoming a full professor in 2003. Her appointment as president is the culmination of a nationwide search that began in March. 
"I want to thank Keith Lamb, Ph.D., vice president for enrollment management and student affairs and chief strategy officer, for stepping up and providing exemplary service to MSU Texas as the interim president during the spring semester throughout the search process," said Mitchell.
Haynie will be joined in Wichita Falls by her husband, Scott, a native of Wichita Falls.
About the Texas Tech University System: 
Established in 1996, the Texas Tech University System is one of the top public university systems in the nation, consisting of five universities – Texas Tech University, Texas Tech University Health Sciences Center, Angelo State University, Texas Tech University Health Sciences Center El Paso, and Midwestern State University. 
Headquartered in Lubbock, Texas, the TTU System is a $2.65 billion enterprise focused on advancing higher education, health care, research, and outreach with approximately 21,000 employees and 63,000 students, more than 375,000 alumni, a statewide economic impact of $16.4 billion and an endowment valued at $1.7 billion. In its short history, the TTU System has grown tremendously and is nationally acclaimed, operating at 26 academic locations in 22 cities (20 in Texas, two international). 
In addition, the TTU System is one of only nine in the nation to offer programs for undergraduate, medical, law, nursing, pharmacy, dental, and veterinary education, among other academic areas.
Most Recent Videos