WINTERS, TX- For the upcoming school year, Winters ISD is considering a 4-day school week instead of the usual 5-day school week.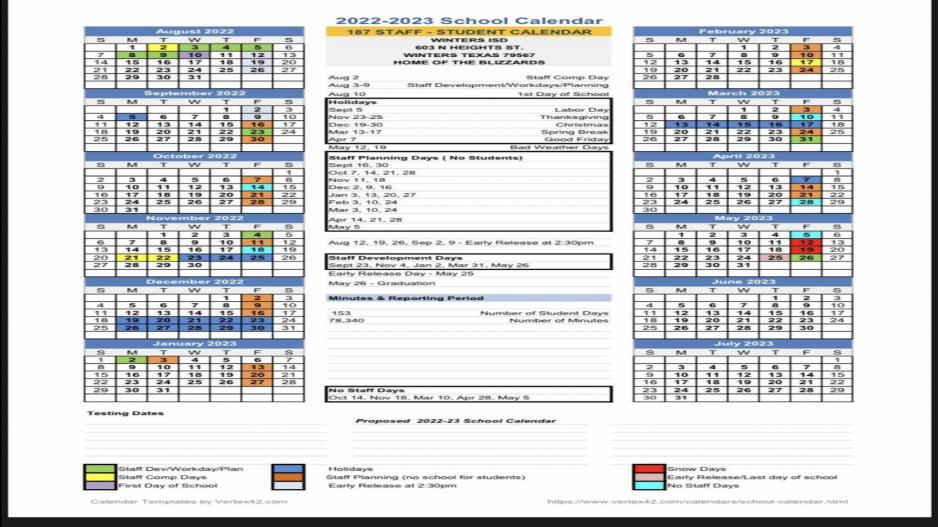 A committee met recently and came up with two calendars, one for 4-days and the other for 5-days. The staff supported the 4-day calendar over the 5-day calendar. In a social media post, Winters ISD Superintendent Sean Leamon proposed the 4-day calender.
Winters ISD is considering moving to a 4-day instructional week for the 2022-2023 school year. A calendar committee comprised of members from each campus met and worked to create a calendar we felt would be best for faculty and students. Things considered while creating the calendar: length of school day, length of school year, state requirements for staff and students, state required tutorials for those students not meeting testing standards, teacher burn out, student burnout, days missed because of extra-curricular activities, where will our younger kids go on the "off" day, providing meals while out, what will be expected of staff members on the non-instructional day, and the availability of substitutes. Two calendars were created at the meeting and then sent out to our staff members for feedback. The consensus was the 4-day calendar.
Where will my younger students go on Fridays? ACE will run for 5 hours and breakfast and lunch will be provided for every WISD student all year. We are working to create a fun environment to make kids excited to be at school.
What will be the length of the school day, since we have one less instructional day? The first bell will ring at 7:40 AM and we will dismiss at 4:00 PM, adding 15 minutes to the elementary day, which will allow more time for extensions and/or an actual recess time for free play with their peers, promoting social-emotional health. For secondary students, this will allow for longer classes, providing more time for teaching and explanation.
Length of the school year? "We must be out before Memorial Day!" Mission accomplished, because this calendar has our kids out of school on May 25th and graduation on May 26th.
Will the overall instructional time be less than what we have had in past years? With this proposed calendar, we have 125 fewer minutes with the students over the entire school year. Divide this by the 153 student days, and that is a very minimal amount of time.
How does this help our teachers and students? Teachers have a heavy load planning and getting ready for their kids each week. Between planning, teaching the curriculum, grading, putting grades into the gradebook, tutoring, meetings, and the other extras our state mandates we do, it is a heavy load. Having a day each week to re-group and do this will keep teachers fresh and on their A-game. We want to keep our great teachers in WISD and this should help. For students, Fridays will be a day that they can get extra help/tutoring and recharge their batteries.
Extra-curriculars/Subs- There are very few substitutes available. Friday is the day that 80% of extra-curriculars take place, so we are left shuffling our support staff to cover or asking secondary teachers to give up their conference to cover classes.
Our thought with this proposal is that we are going for quality over quantity. Covid has had a major impact on students and adults over the past two years. This has been one of the hardest years in education statewide for everyone and we are going to continue to see the ripple effects for the next few years. Our hope is to retain and attract great teachers, provide the best education for our students, and put WISD on the map as a district that does whatever it takes to achieve these goals. We appreciate the opportunity to educate your kids and consider each our own. We do not take these decisions lightly when creating calendars and schedules because we know that the future of this generation rests in our hands.
If we decide that this is not for WISD this year, we will move forward and continue to do what is needed to educate and prepare the kids of WISD to be successful.
Most Recent Videos