LUBBOCK, TX – Former San Angelo Police Officer Robert Nathan Roger has been sentenced to 20 years in Federal Prison for receiving and distributing child pornography so disturbing it cannot be described in this article. 
Federal Bureau of Investigation agents conducted an undercover operation in Feb. 2022 through the KIK messenger phone application.  Court documents show "KIK messenger is an online communication application that allows users to send messages, images, and videos to one another." 
In stipulated facts before the court, the investigation shows the FBI was investigating a chat group named "#daugiveaway." "The chatroom appeared to be for men that were sexually interested in their daughters, stepdaughters, or sharing their daughters with other men on the internet." 
The FBI confirmed Roger used the username "bignate2014."  One of the chats included "bignate2014" expressing an interest in traveling to Mobile, Alabama to have sex with a 14-year-old girl. The communication included messages between "bignate2014" and a person he believed to be the father of the minor girl. 
Agents also found and described videos too graphic to describe here.  
Agents through the investigation confirmed an IP address in San Angelo through a subpoena which showed a local address where Roger lived.  
Through a separate records search and surveillance, agents confirmed Robert Roger resided at the address. 
Roger was arrested by FBI agents and admitted he "...used the KIK application and that his username is "Oil Field Trash."  He also admitted to the Feds that he was chatting in a room named "Daughters for Rent."  
At one point during the investigation, Roger said, "there is a whole lot more, you know, that I'm sure y'all already know, if you dug through my KIK history from day one until now."
Roger pleaded guilty in January 2023 to one count of distribution and receipt of child pornography.  He was sentenced to 240 months in Federal Prison then supervised release for 25 years.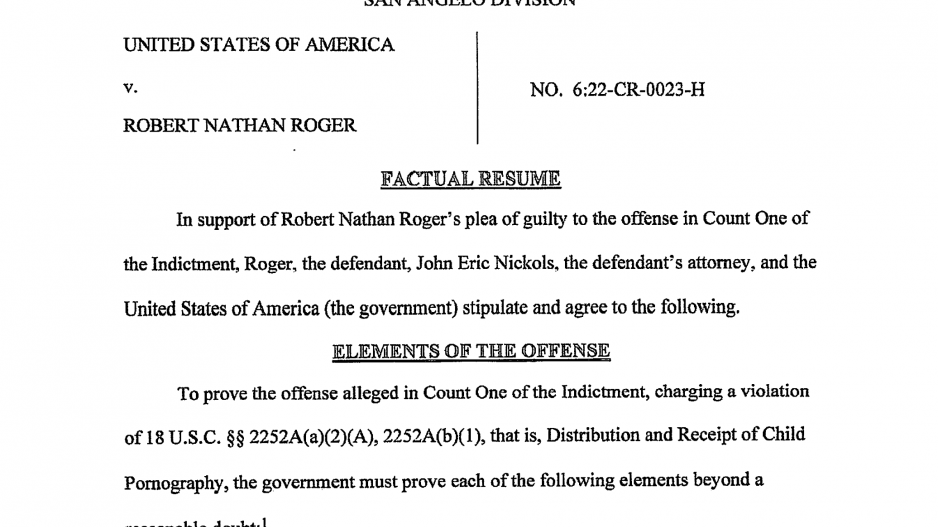 Most Recent Videos