HIDALGO, TX – Border Agents and agriculture specialists at the Hidalgo International Bridge intercepted 10 live baby parrots in a single enforcement action.
"Our frontline CBP officers and agriculture specialists encountered something we don't see every day, 10 baby parrots hidden within a passenger vehicle," said Port Director Carlos Rodriguez, Hidalgo/Pharr/Anzalduas Port of Entry.  "As this enforcement action illustrates, CBP remains committed to upholding our agriculture mission, preventing the spread of animal diseases, and preventing the exploitation of protected animals."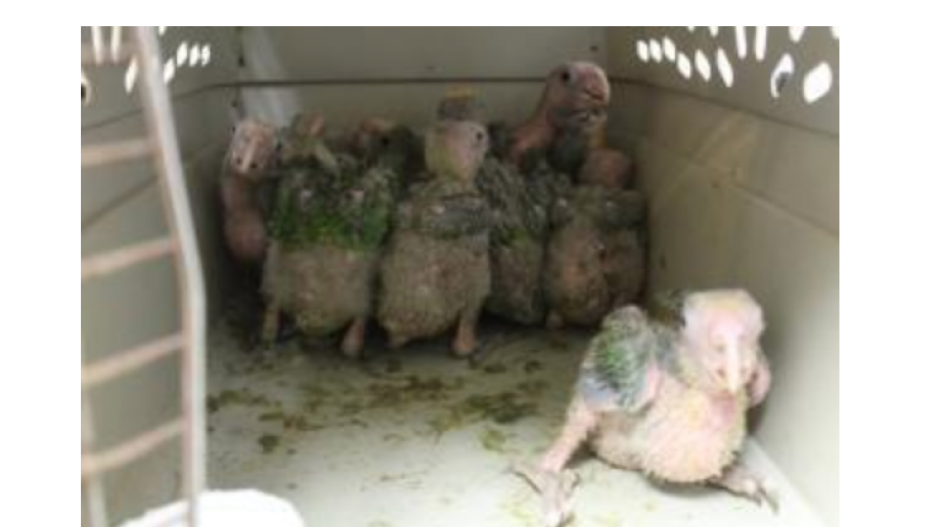 The incident occurred on April 29 at Hidalgo International Bridge when CBP officers referred a passenger vehicle for a secondary inspection.  At secondary, CBP officers and agriculture specialists discovered five parrot chicks in a pillowcase and five more in the front seat area.  CBP personnel intercepted a total of 10 live yellow headed baby parrots.  A penalty was assessed to the driver.
The parrots were transferred over to the United States Department of Agriculture's (USDA) Veterinary Services.
CBP would like to remind the public of the USDA Animal and Plant Health Inspection Service (APHIS) regulations that prohibit live birds, fresh eggs, and raw poultry from Mexico as Mexico is affected with virulent Newcastle disease and Highly Pathogenic Avian Influenza (HPAI).   Both diseases affect poultry, are serious diseases of concern, and are highly contagious.  In addition, yellow-headed parrots (Amazona oratrix) are protected under the Convention on International Trade in Endangered Species of Wild Fauna and Flora (CITES) and require proper paperwork for lawful importation. Attempting to bring these prohibited items could lead to traveler delays and may result in a fine ranging from $300 to $1,000.
Most Recent Videos