SAN ANGELO — A former youth leader at the House of Faith in San Angelo has been indicted by a grand jury for possession obscene images of children.
James Needham, 29, has been indicted by a Tom Green County grand jury for possession of child pornography. According to court documents, the Tom Green County Sheriff's Office received a cybertip which provided information that the Discord account "HD#9287" and Snapchat account "hometowndude" had uploaded images containing child pornography over several days in June 2022 and August 2022. An e-mail address and phone number were attached to both accounts.
Frontier Communications received a subpoena and provided the information showing an IP address registered to one James Needham on the 1100 block of South David Street in San Angelo. Snapchat also received a subpoena, which provided information that an Apple iPhone 12 Pro Max cell phone was used to log into the account the same day the lewd images were uploaded.
A search warrant was executed on the 1100 block of South David Street. Numerous electronic devices were seized from the residence and Needham was interviewed by investigators. Needham allegedly told the investigator that he lived at the residence for about a year and that "hometowndude" was his Snapchat account as wel as "HD#9287" was his Discord account.
Needham also allegedly told investigators that he did view and download/save child pornography to this cell phone using his Discord and Snapchat account and that the images that he viewed and downloaded contained images of young boys. The children were approximately aged eight to 12 years old and were performing sexual acts in the photographs.
In the affidavit, it lists the House of Faith as Needham's place of employment.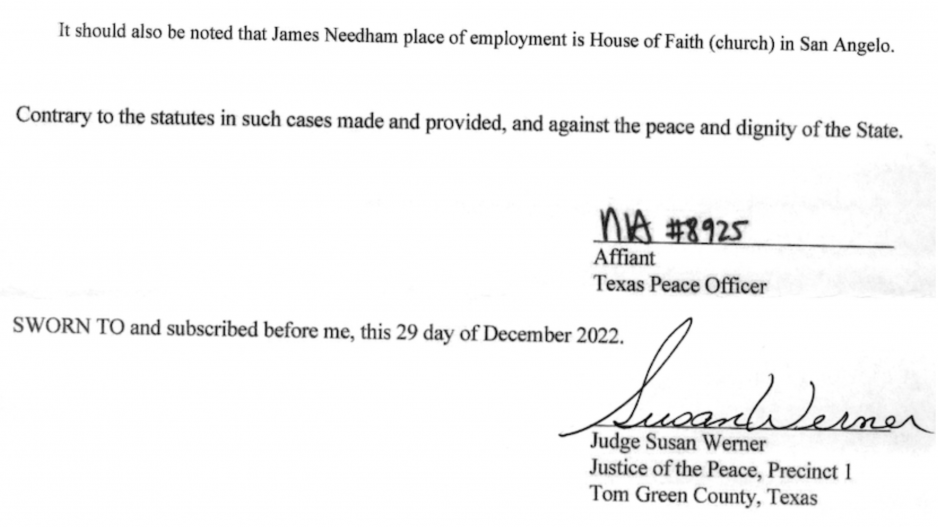 Most Recent Videos