SAN ANGELO – The San Angelo Municipal Court generated a list of individuals who have outstanding warrants. In order to have a name on the warrant list removed prior to publication, the individual's warrants must be disposed of prior to 4:30 p.m., Friday, July 22, 2022.
Failure to appear and dispose of outstanding warrants will mean that the individual is subject to being arrested at any time, place of employment or home.
Under Texas law, individuals who appear before a court and make a good faith effort to resolve their outstanding Class C warrants are afforded safe harbor and not subject to arrest.
These warrants are the result of the individuals' failure to appear in person or in writing at the court or failure to comply with a court order. City marshals have made several attempts to locate and serve these warrants but have been unable to locate these individuals.
To resolve outstanding warrants, it is required to appear in person at the Municipal Court, 110 S. Emerick St. The office is open Monday through Friday, 8 a.m. to 4:30 p.m. Please call our office at 325-657-4371 for alternative options to further assist in resolving a case.
Money orders, cashier checks, cash and credit cards will be accepted, but personal checks will not be accepted. Those who wish to pay in full via credit card may call 325-657-4365 or go online at cosatx.us/municipalcourt.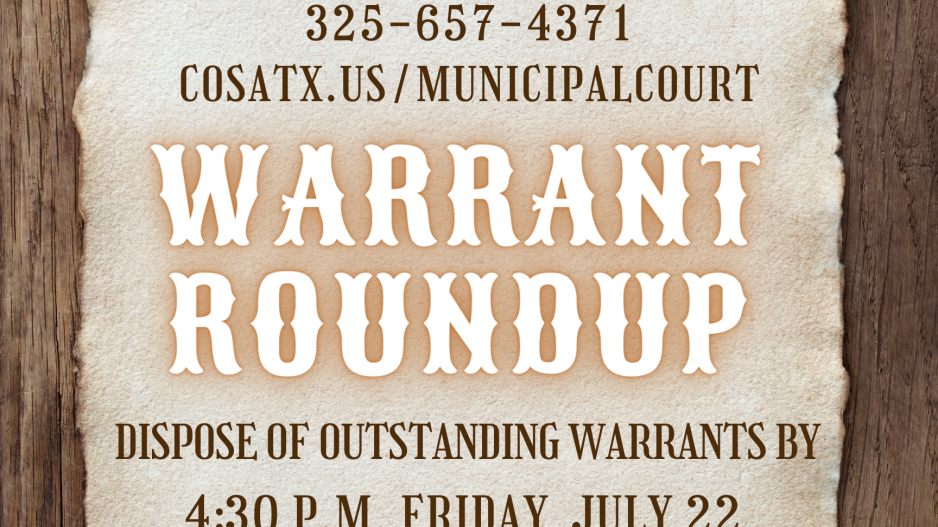 Most Recent Videos