EDEN, TX – Texas Rangers are investigating a fatal shooting involving two law enforcement officers in Eden late Monday evening. 
According to reports, two law enforcement officers were shot and killed Monday evening in Eden and a crime scene has been taped off on the northeast side of Eden in Concho County. One civilian was also reportedly shot in the stomach and rushed to Shannon Medical Center in San Angelo.  
San Angelo Live! has a reporter on the scene.  
There is no known motive at this time and the victims have not been identified. 
According to witnesses, Law enforcement officers pulled the suspect over and they heard the cops say, "Roll your window down and then put up your hands."  According to witnesses, the driver fled and after a short pursuit the suspect stopped at his home around the corner. 
The next thing witnesses reported hearing was nine or ten gunshots.  "People shooting back and forth..."
Reporters on the scene relay that witnesses said there are six dogs that are vicious that control the neighborhood.  One witness said the suspect was yelling at law enforcement saying, "Those aren't my dogs.  You are always harassing me and tasing me.."
Witnesses say there was a short standoff when the shooter barricaded himself inside his home.  He shouted out to officers that he has Constitutional rights. 
After a few intense minutes, the shooter surrendered uneventfully to law enforcement and was handcuffed and placed into the back of a Concho County Sheriff's office vehicle. 
According to reports, Eden Mayor Pete Torres convinced the suspect to surrender.  The shooter was barricaded for about 30 minutes during the standoff.  
Mayor Torres reportedly lives around the corner from the crime scene in a stone house.  
This is a developing story.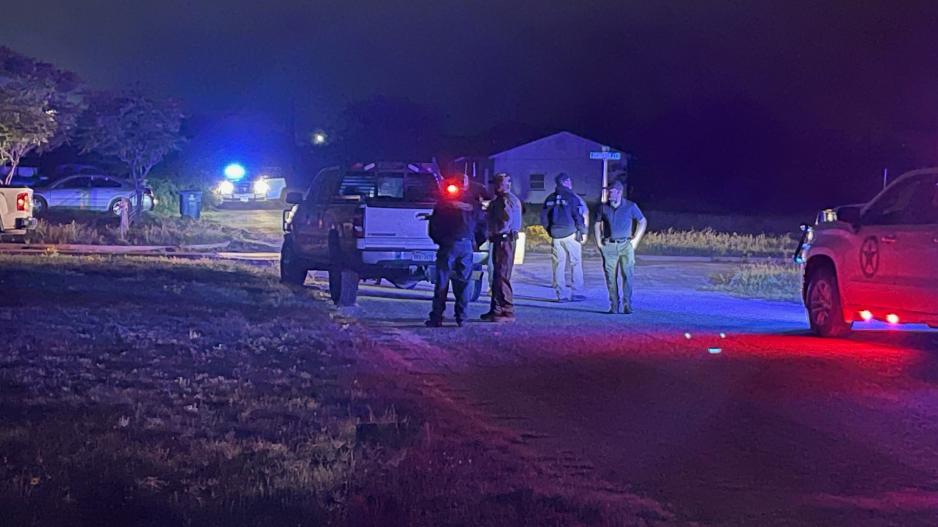 Most Recent Videos