MASON, TX — Law enforcement is in hot pursuit of a man who claims he burned down the Mason County Courthouse. The suspect, Nick J. Miller, is live streaming his run from the law somewhere near Mason.
According to Brady radio station KNEL, Miller is suspected of setting fire to both his uncle's (and cousin's) house as well as the Mason County Courthouse.
While he is running with the live video rolling, Miller notes that a helicopter is above him. He said that his tires were spiked. He claimed someone shot and killed his kids.
In the video, Miller said his girlfriend or wife left him. In an earlier post, he wrote, "Leave it to a blonde to throw away a good dad, dumb bitches."
He said on the video that he will not turn himself in until he is assured his kids will be taken care of.
In another Facebook post, Miller asked, "Who fired that round at me yesterday night cross the creek?"
His live stream ended just before 11:30 a.m.
From the background in the live video, it appears it was being filmed while driving in what looks like the cab of a pickup. Most of the time, the video camera is trained on Miller's face as he expressed his despair.
More on this story: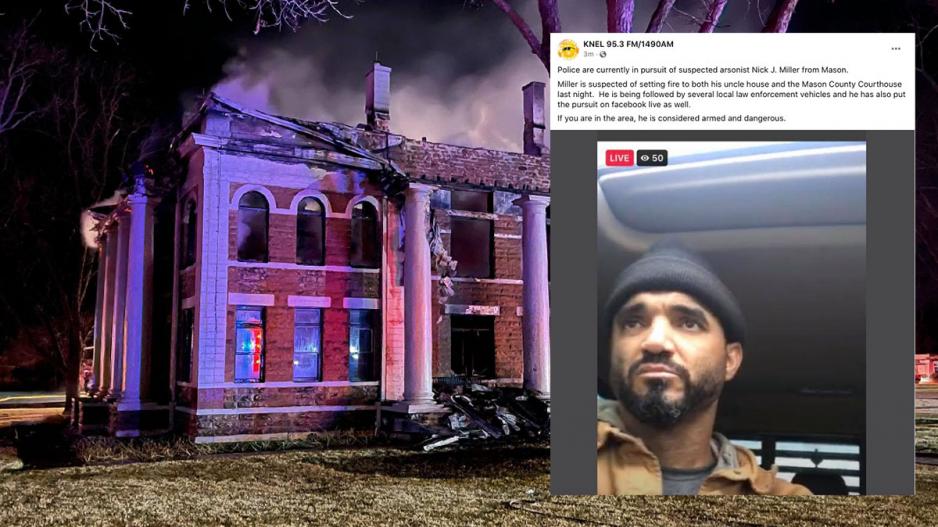 At the end of the video, as someone was imploring him to pull over, Miller screams at someone, "Show me my kids are okay!"
The Mason County Courthouse was on fire last night starting at around 10 p.m. Flames fully-engulfed the historic structure. The morning after, it appears the courthouse is a total loss. According to KNEL, just before the courthouse fire, firefighters battled a blaze nearby on Rank Street in Mason.
"We are strong enough, and we will rebuild," Mason County Judge Jerry Bearden said, as reported by KNEL.
Most Recent Videos