SAN ANGELO, TX – There is going to be a food fight Dec. 14 to determine who is a better chef, San Angelo's own Tim Condon or San Antonio Chef Teddy Liang.
Liang was a popular guest on the San Antonio-based "Homegrown Chef", an online culinary series and catering company, and has partnered with Condon's Angry Cactus West Texas Bar and Grill in downtown San Angelo to put on a one-time-only dinner and chef battle - a.k.a "Food Fight in West Texas - Battle for the Golden Spoon" between San Antonio's renowned Chef Teddy Liang of The Hayden and the equally well-known and seasoned Chef Condon of The Angry Cactus.
The battle between the two chefs will provide guests with eight dishes or two different takes on four separate foods.
The first plate will be sweet potatoes, then pork belly, followed by lamb and then finishing off with Stone Fruit.
"We've never done something like this before, so it will be a really fun episode," said Homegrown Chef co-creator, Kimberly Suta.
"Chef Ed and I have worked with Chef Teddy in the past through the Chef Cooperatives, and we absolutely love him, but Tim is a new connection out there in west Texas. The imaginations and creativity of both are, no doubt, going to lead to some phenomenal dishes!"
The diners will decide who made the best meals and the winner will receive a Golden Spoon.
"This event will be an interactive dinner," said Condon. "You will be able to have dinner and a show."
While Condon is the owner San Angelo's most notable resturaunt, the Angry Cactus, he also owns Lonestar Cheeseburger where the claim is made that it sells the best burger in Texas.
But Condon waxes poetic praise on his to-be nemesis from the Alamo City.
"Liang is a super talented chef," said Condon. "This is not just a meal but two perspective on four separate dishes."
Dining guests will get to enjoy four courses and eight dishes. The courses will highlight a key ingredient, including Battle Sweet Potato, Battle Pork Belly, Battle Rack of Lamb and Battle Stone Fruit.
Each course will be served with two variations on one plate - one from each chef. The guests then vote on their favorite dish from each chef, and as you know, the evening's winner will receive the Golden Spoon.
"In today's world, food is much more than just putting products on a plate, it's about creating an interactive experience for the guest. That is what we try to accomplish when we do events like this!" said Chef Tim Condon.
Chef Teddy Liang added, "Cooking is my passion; cooking for others is my fuel!"
The battle is set for Dec. 15 at 7 p.m. To purchase your tickets, call the Angry Cactus at (325) 703-6999.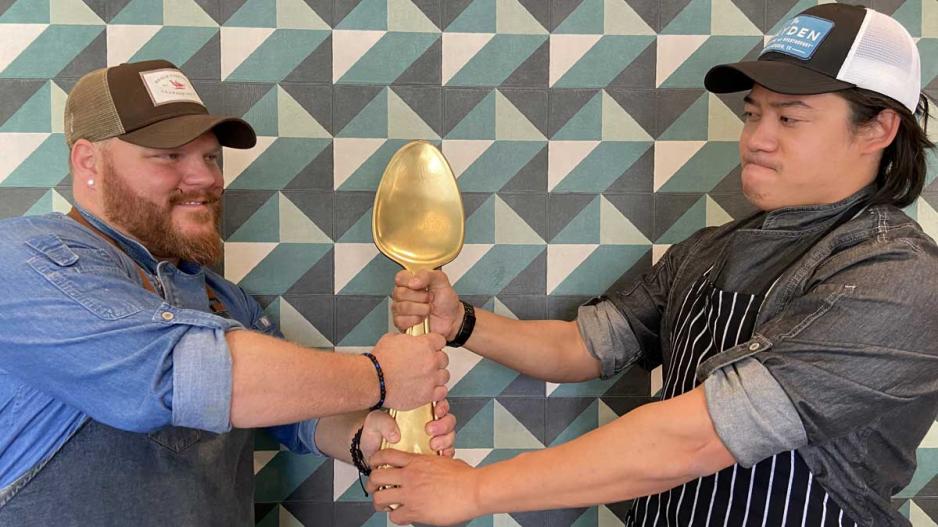 WHEN:
Monday, December 14 @ 7 PM
WHERE:
Angry Cactus
1 West Concho Ave.
San Angelo, TX 76903
MENU:
Battle Sweet Potato:
Purple Sweet Potato Gnocchi, Orange Sweet Potato Puree, Crispy Brussels leaves (Chef Condon)
Ying to the Yams - Purple/Yellow Yams, Honey, Blueberries, Chili Pepper, Fritters (Chef Liang)
Battle Pork Belly:
Spiced Rum Cured Pork Belly, Apple Chutney, Crackling Crunch (Chef Condon)
Buns Out Porks Out - Braised Soy Pork Belly, Pickled Ginger Cucumbers, Mash Potatoes (Chef Liang)
Battle Rack of Lamb:
Rack of Lamb, Quinoa Croquette, Avocado Aji (Chef Condon)
Keep Calm and Curry On - Savory Japanese Curry Style Rack of Lamb, Chimi sauce (Chef Liang)
Battle Stone Fruit:
Honey Roasted Peach, Prosecco Sponge Cake, Oatmeal Crisp (Chef Condon)
Too Peachy for Your Blueberries - Poached Peaches, Rum Whip, Blueberry Compote, Granola Crumble (Chef Liang)
RESERVATIONS/TICKETS:
Interested parties can call Angry Cactus to make their reservations. The phone number is: 325-703-6999.
Cost:
Individual Tickets: $100
Tables of Four: $350
Tables of Six: $500
Get updates on the pending battle at the Event Page.
Most Recent Original Videos