Texas Rangers Release Details About Police Chief Assaulting Teen
HAMILTON, TX – Hamilton, TX Police Chief Anthony "Tony" Yocham was arrested on the morning of Sept. 12 by the Texas Rangers for the charge of continuous sexual abuse of a child as previously reported.
According to the affidavit, Yocham was found to have recently messaged the 15-year-old girl on Instagram saying, "U wanna rub mine again," and even admitted to performing sexual acts on the teen almost every morning for the last several weeks.
 Court documents indicate Yocham, who was recently fired following his arrest over the weekend, began sexually abusing the victim when she was 8-years-old in Somervell County.
Investigators discovered Yocham, who is currently married, would contact the victim through Instagram, where authorities found several inappropriate messages that had been shared between the two, according to a probable cause affidavit obtained on Tuesday.
Records state that the most recent sexual abuse occurred on Tuesday Sept. 8, when Yocham was still in his position as police chief according to the affidavit in support of his arrest.
The city of Hamilton is approximately 100 miles southwest of Fort Worth, and roughly 47 miles southwest of Glen Rose, also known as Somervell County.
Yocham was arrested Saturday Sept. 12 by members of the Texas Rangers and faces the sole charge of continuous sexual abuse of a young child. 
The following day Yocham was released after posting $500,000 bond.
In an announcement on Monday, the city of Hamilton Mayor Jim McInnis noted that Yocham was no longer employed with the Hamilton Police Department.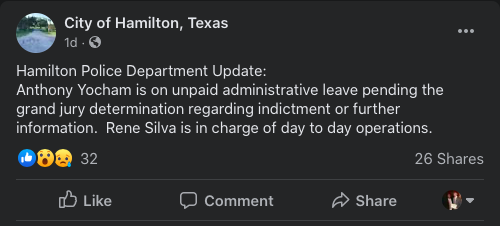 An affidavit written by Texas Ranger B.J. Hill gave the following brief account of Yocham's alleged crimes:
On Sept. 8, officials with the Somervell County Sheriff's Office spoke to a man who made a sexual abuse complaint against Yocham involving a 15-year-old girl. 
The man reported that he found several graphic Instagram messages between the teen and Yocham which indicated the two were having some type of sexual contact.
Investigators obtained screenshots of the messages. One Instagram message that Yocham sent to the teen read, "U wanna rub mine again...."
During his investigation Hill, the Texas Ranger, met with investigators with the Somervell County Sheriff's Office on Friday afternoon, as officials with the Paluxy River Children's Advocacy Center in neighboring Granbury conducted an interview with the teenage victim.
The teen told investigators that Yocham had been touching her breasts and private areas over her clothing since she was 8-years-old, and mentioned the last time being on Sept. 8.
During the interview the victim admitted that around 5 a.m. on Sept. 8, Yocham had entered her room as she slept and began performing a sexual act on her, but she forced him to stop, which caused him to become very upset.
Yocham immediately left the room and sat on a couch, followed by the teen who "apologized for her behavior", according to the affidavit.
During this time, Yocham further instructed the teen to perform a sex act on him once more, the affidavit states.
At this time Yocham faces one count of continuous sexual abuse of a young child which is a felony of the first degree, punishable by imprisonment in the Texas Department of Criminal Justice for life,and  or for any term no more than 99 years or less than 25 years.
In addition to state prison time, a person convicted of a first-degree felony is required to register as a sex offender and may face up to $10,000 in fines, not to mention any damages awarded to the victim in civil court.
Get more stories like this by signing up for our daily newsletter, The LIVE! Daily.