Woman Kidnapped, Beaten, and Forced to Commit Crime; Still in Jail
SAN ANGELO, TX -- Three men were arrested Thursday morning after police say they kidnapped and tortured a woman for six hours. 
According to the affidavit signed by Justice of the Peace Fred Buck, on October 14, the San Angelo Police Department responded to a burglary of a habitation on the 2800 block of Jomar St. 
When officers arrived, they learned that four people had broken into the house. After further investigation, police identified the four as Sabrina Orona, 24, Joshua Gonzalez, 24, Kistoffer Magallen, 25, and 17-year-old Luis Duron. 
Police say they first located Orona who claimed she was kidnapped and forced to burglarize the house. She says that prior to the burglary, the three lured her into an apartment at the Windmill Park Apartments. 
Once inside, the three men blindfolded Orona, duct taped her hands, and tied her to a chair. After beating her with a belt, the three forced her into a car and took her to Jomar St. This is when the burglary took place. 
The four then burglarized the home and Orona was taken to an unknown location to be held. During this incident, the three men allegedly beat her with a deadly weapon and threatened to kill her multiple times. 
After six long hours, the three let her go in hopes of her taking the blame for the burglary. 
Police say when they were first speaking with Orona that she had obvious tape residue on her wrists and clothes. 
Gonzalez, Magallen, and Duron were arrested and charged with aggravated kidnapping as well as burglary of a habitation. Their bond is set at $500,000. 
Booking reports indicate that Sabrina Orona is currently in the Tom Green County Jail and is charged with burglary of a habitation. Her bond is set at $50,000.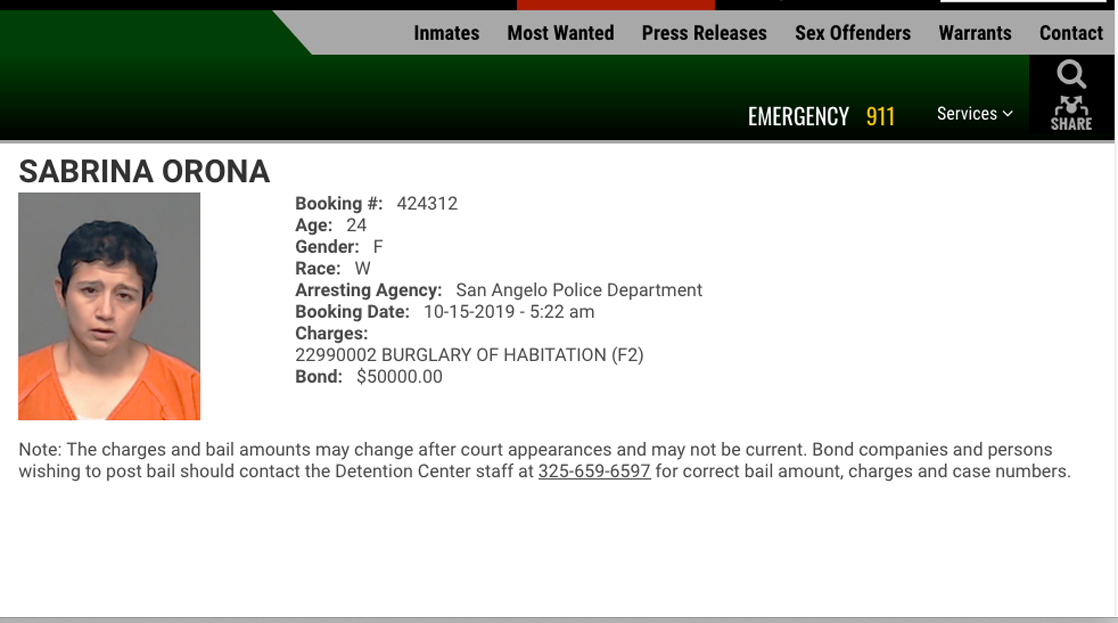 Get more stories like this by signing up for our daily newsletter, The LIVE! Daily.