Detectives: Concho River Death Happened After Man Fell From Bridge or Tree
SAN ANGELO, TX — The San Angelo Police Department Criminal Investigations Division was seen Wednesday morning taking meticulous measurements near the 600 block of Veterans Memorial Drive where the body of Phillip A. Lara, 26, of San Angelo was found Sunday morning.
According to SAPD CID Sgt. Sturm, his two detectives, Josh Jones and James Hernandez, are wrapping up their investigation by taking the measurements for the medical examiner's office.
"According to the medical examiners, the cause of death is trauma to his head and to his back," Sturm explained. He and the detectives were taking measurements to see if Lara could have fallen off the W. Beauregard bridge or from a nearby tree.
"We have no indications there was foul play unless something else comes up," Sturm said.
The information from CID contradicts an erroneous report from the San Angelo Standard-Times late Tuesday. "The office of Justice of the Peace Fred Buck reported the autopsy results for Phillip Alfonso Lara, 26, were 'inconclusive.'" This was the heart of a report by Gannett's San Angelo Standard-Times reporter Ngan Ho, titled "Autopsy results returned for body found floating in Concho River."
Below: screen shots of the inaccurate San Angelo Standard-Times story: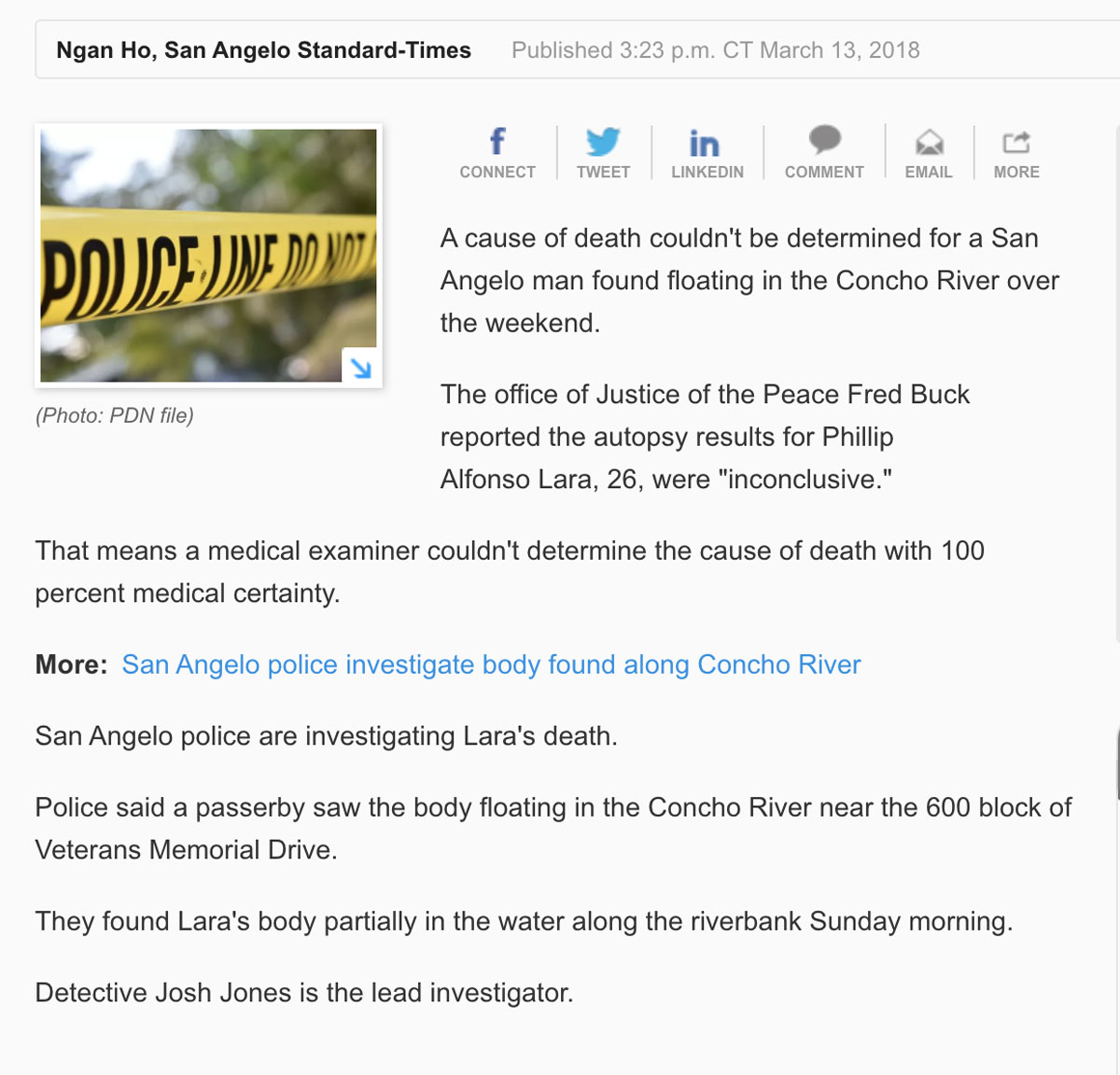 Below: The title of the above article with the inaccurate headline. There was no autopsy returned.

San Angelo LIVE! journalists Zoey Hanrahan and John Basquez dropped in the offices of Justice of the Peace Fred Buck this morning. He told us the autopsy is not complete. There is no public record of the autopsy results available because the autopsy report has not been written. Buck ordered the autopsy and its results will come to his office first.
To report that an autopsy report is "inconclusive" without having a copy of said report is irresponsible.
In cases like these, it will usually take more than a week for results to return. In the last death in the Concho River, the case of Daniel Perez, the autopsy results took five months to come back.
Sunday, police dispatch was tipped off by a passerby that there was a "man floating in the Concho River" near the 600 block of Veterans Memorial Drive. The man found dead was later identified as Phillip A. Lara, 26, of San Angelo.
Wednesday morning, law enforcement officers were back at the 600 block of Veterans Memorial Drive and W. Beauregard Ave. investigating the death.
We have reported on the results dozens of autopsies throughout the years. These reports will reveal much about the person who died, and often give more than "inconclusive" determinations.
Get more stories like this by
signing up for our daily newsletter, The LIVE! Daily
.