Young Trial: Photos of Sullivan Signing a Will Produced as Defense, Prosecution Rest
SAN ANGELO, TX — San Angelo investment advisor Greg Estes Wednesday showed the John Young jury pictures of John Sullivan signing a handwritten, holographic will in 2013.  
Defense attorneys put Estes on the stand Wednesday with the evidence that was only discovered yesterday, on Tuesday.  Estes said, "He (Sullivan) created a holographic will in my office and signed it."  Then the defense introduced pictures of Sullivan holding a pen to a handwritten will on a legal pad.
The bombshell evidence rocked the courtroom on the final day of testimony.  Estes testified that he didn't present the evidence earlier because he only just recalled that Sullivan wrote the will just before he had knee replacement surgery in 2013.  
Estes said, "I held a copy of the will.  When Sullivan got better he said he was going to destroy it."
Estes said Sullivan came back a few months later and picked up the will saying that's not what he wanted to do with his estate and he was going to destroy the will.  
The 2013 will left Sullivan's estate to the Society of Saint Pius X (SSPX) and to Matthew Bryan, a minor who Sullivan was accused of molesting.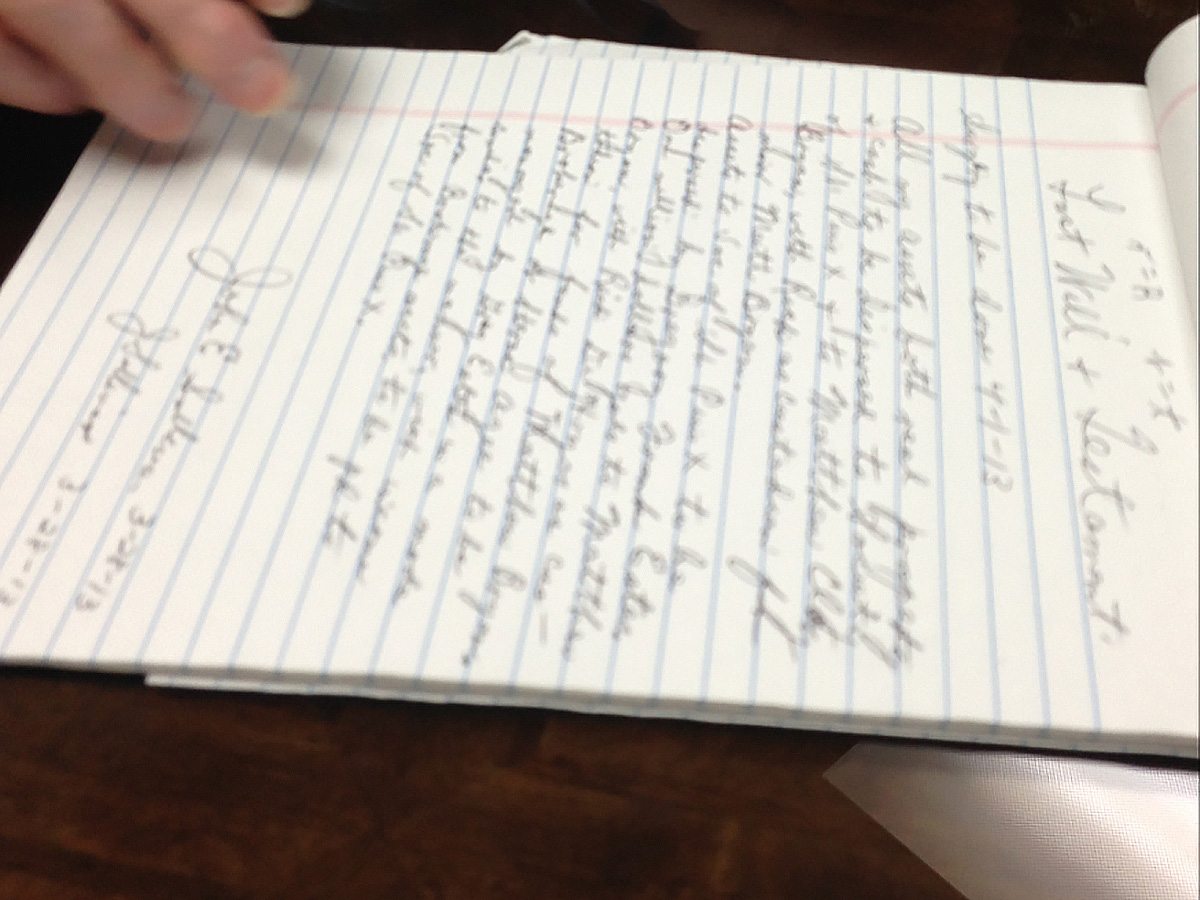 Above: A hi-res photo that Estes produced in court of Sullivan signing a 2013 will. (LIVE! Photo)
The appearance of the 2013 will showed the jury that Sullivan was fond of holographic wills because he had previously written one. The will Zapata was convicted of forging, and Young benefitting from, was written days before Sullivan's death in 2014.
Wednesday's testimony ended with San Angelo attorney Tip Hargrove taking the stand.  Hargrove is a graduate of South Carolina's military academy, The Citadel.  Hargrove testified The Citadel's honor code states, "A cadet does not lie, cheat or steal and doesn't tolerate those who do." At defense attorney Daniel Hurley's urging, Hargrove took a coin he carried in his pocket that had the Citadel's Honor Code engraved on it and showed it to the jury. "I have carried that Honor Code in my heart since 1967 and now I also carry the coin in my pocket," Hargrove said.
Hargrove's last words to the jury, the last words the jury heard, were about John Young. "He is an honest man," The Citadel grad said.
Just after Greg Estes testified, defense attorneys called Jean Bundrandt to the stand.  Bundrandt is a local real estate investor who ate lunch at the senior center with John Sullivan on occasion.  She told jurors Sullivan told her that he wanted to leave his estate to his attorney and that the alleged will was consistent with Sullivan's wishes.  
Defense attorney Frank Sellers also called Stephen Thompson back to the stand.  Thompson is a research specialist for the Texas Attorney General's office and a member of the prosecution. Sellers showed Thompson several checks Ray Zapata's wife, Julie, wrote out of Juan Marquez's IOLTA account and compared her handwriting to the alleged will. The checks, Sellers said, were gathered from the voluminous documents the State requested from Zapata's banking records and placed into evidence. Thompson testified that Julie Zapata's handwriting was not submitted to the DPS forensic lab for testing.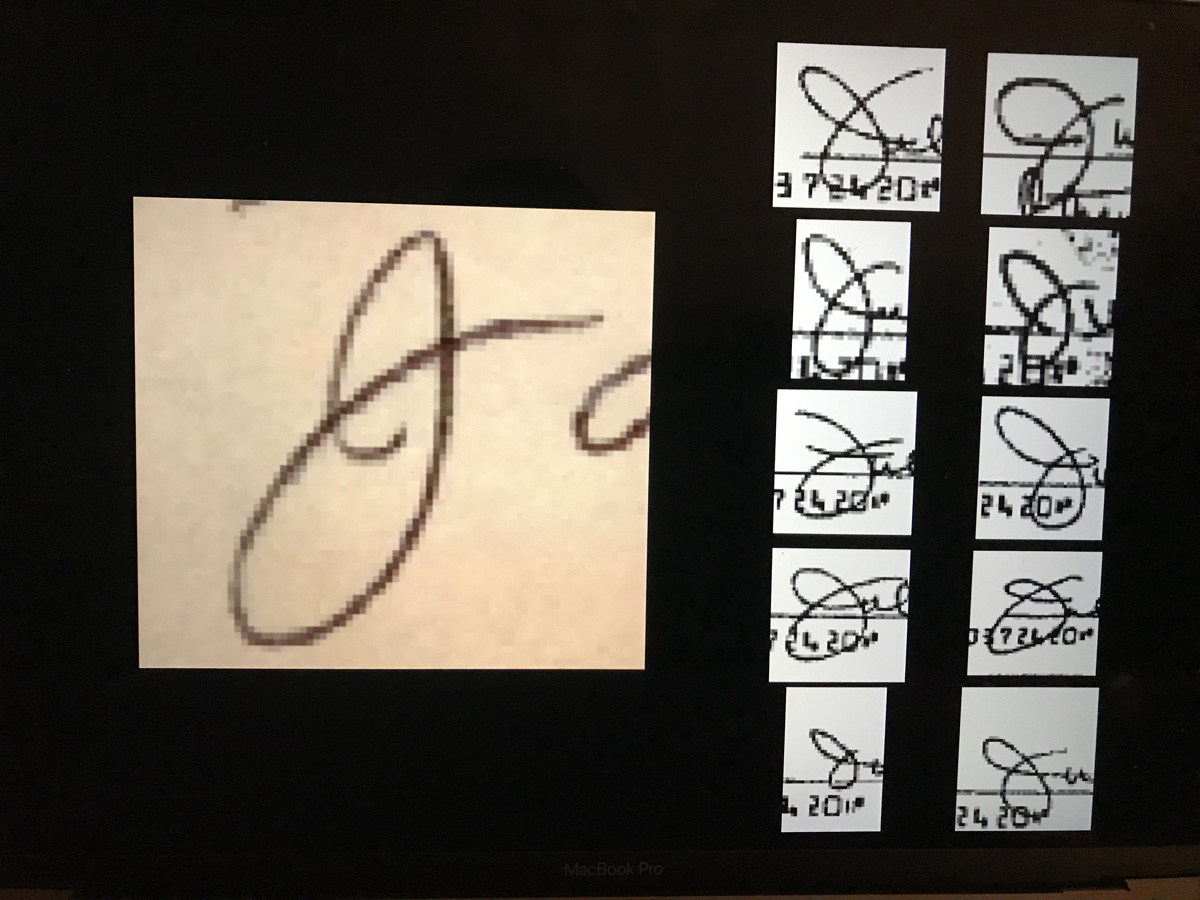 Above: John Sullivan's "J" from his signature shown left of 10 samples of a "J" in the signature of Julie Zapata's on checks from subpeaonaed banking records of the Zapatas, as shown by the defense team of John Young. (LIVE! Photo) 
It was as if Sellers was suggesting the State Attorney General's team's entire theory of the Sullivan will forgery was in question. What if Ray Zapata didn't write the will, and Ray's wife did? Why didn't the State analyze that angle? What else did the State miss?
Wednesday's testimony included character witness testimony in favor of John Young from Sweetwater insurance agent Kathleen Poe and Abilene Federal court bailiff Ventura Ortega.
Testimony ended at 3:40 p.m. and both the prosecution and defense closed and rested without closing arguments. Judge Jones released the jury and told them they would reconvene at 10 a.m. Thursday morning.  
The judge and attorneys retired to his chambers to write the charge for the jury.
Get more stories like this by
signing up for our daily newsletter, The LIVE! Daily
.