Burglars Pillage Backbeat Music
UPDATE: 11.01.2017 From the BackBeat Music Company page, "A HUGE thank you to the SAPD and to the person who gave them information. All of the items that were taken have been recovered!!!! We owe a debt that we will never be able to repay. Thank you again to all of you for your support!!! Now I'm going to try and sleep."
SAN ANGELO, TX – Under the cover of darkness last night, someone or group of burglars entered through the skylight and packed a truck full of hundreds of dollars of merchandise out of the back door to BackBeat Music Company at 102 N Chadbourne St. The stolen items range from music equipment to computers.
What seems to be a robbery of "Mission Impossible movie style" in execution has left Backbeat's business owners searching through camera footage trying to locate images of the suspects.  Alex Cunningham, owner of BackBeat Music Company, came into her business to find the skylight broken and the back door left wide open after being closed Monday.  "if feels like we were violated," says Cunningham after describing the impact of the theft.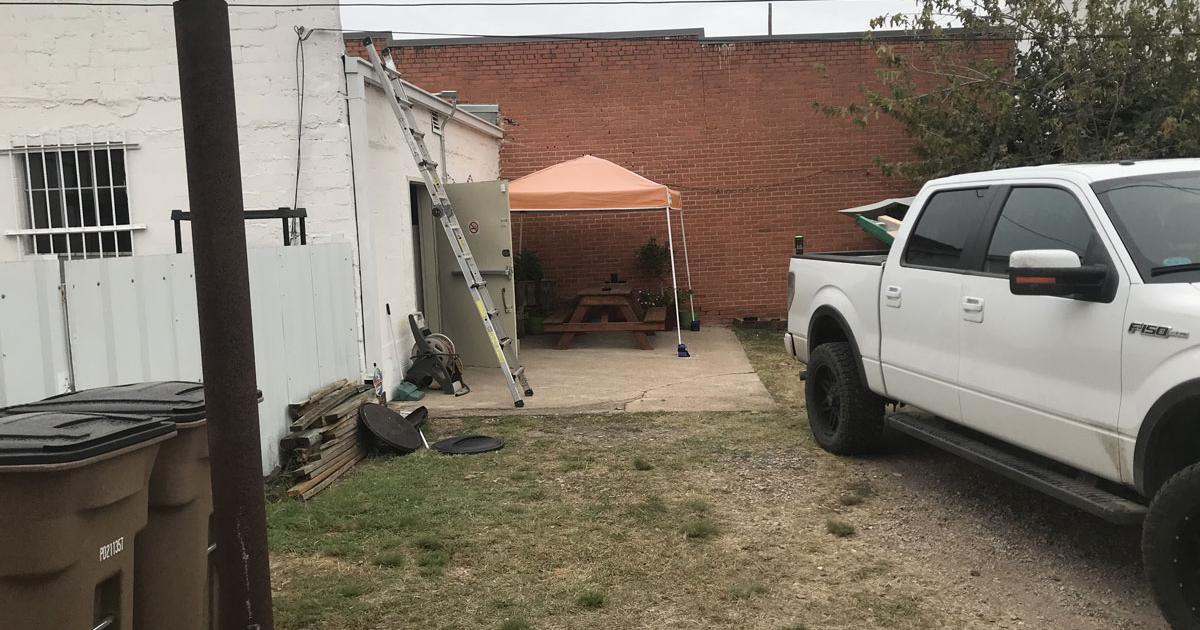 Above: Backbeat Music was burglarized on Oct. 30, 2017. (LIVE! Photo/Brandy Petty)
Many items were taken and strangely a some of the goods left behind by thieves left the impression with Cunningham that they had been patrons of the business.  The skylight into the indoor performance area is not visible from anywhere outside the building.  Also, the thieves left behind a computer on the sales counter, while taking computers and an external hard drive from behind the counter.  While the thieves took an amp from the indoor performance stage, they passed on other items located on the sales floor. The burglars also stole instruments they knew would be choice or expensive such as a brand-named Stratocaster guitar. The Strat was not on the sales floor but in a non-viewable area. The crooks also took the money from the register ranging between $300-400.
Above: Backbeat Music was burglarized on Oct. 30, 2017. (LIVE! Photo/Brandy Petty)
Cunningham described the robbers as someone who must have "wanted to hurt our business."  A police report has been filed and she is currently compiling images of the many specific items stolen. 
"We are offering a substantial reward," Cunningham said.
If you have information that can lead to the recovery of the stolen items or finding the parties responsible you can email  [email protected], or message them at their Facebook page here.
Get more stories like this by
signing up for our daily newsletter, The LIVE! Daily
.