Judge Accepts Guilty Plea in Cold Case Murder of Brian Kyle Plunkett
SAN ANGELO, TX — In the 51st Judicial District Court, Judge Barbara Walther accepted a guilty plea on a cold case murder charge.  
Kimberly Nicole Linthicum, 32, pleaded guilty for murder. She was accused of planning and "knowingly" causing the death of Brian Kyle Plunkett on June 13, 2010. She pleaded guilty to an enhanced controlled substance charge.  
According to the complaint filed by the Tom Green County Sheriff's Office, Plunkett and Linthicum were in a sexual relationship leading up to the murder. They both used narcotics on a regular basis and were also acquainted with co-defendant George Dale Simmons.
Simmons and Linthicum were also in a sexual relationship during this time, the complaint stated.
Plunkett had made plans to return to his home in the state of Louisiana with Linthicum. This was revealed in an interview with Linthicum where she provided details leading up to the murder.
But before the couple left for Louisiana, Linthicum said she and Simmons made arrangements to ambush Plunkett, and take the guns he owned as well as his cash. She also admitted she and Simmons believed Plunkett would not resist their efforts to "punk" him of his personal property and currency.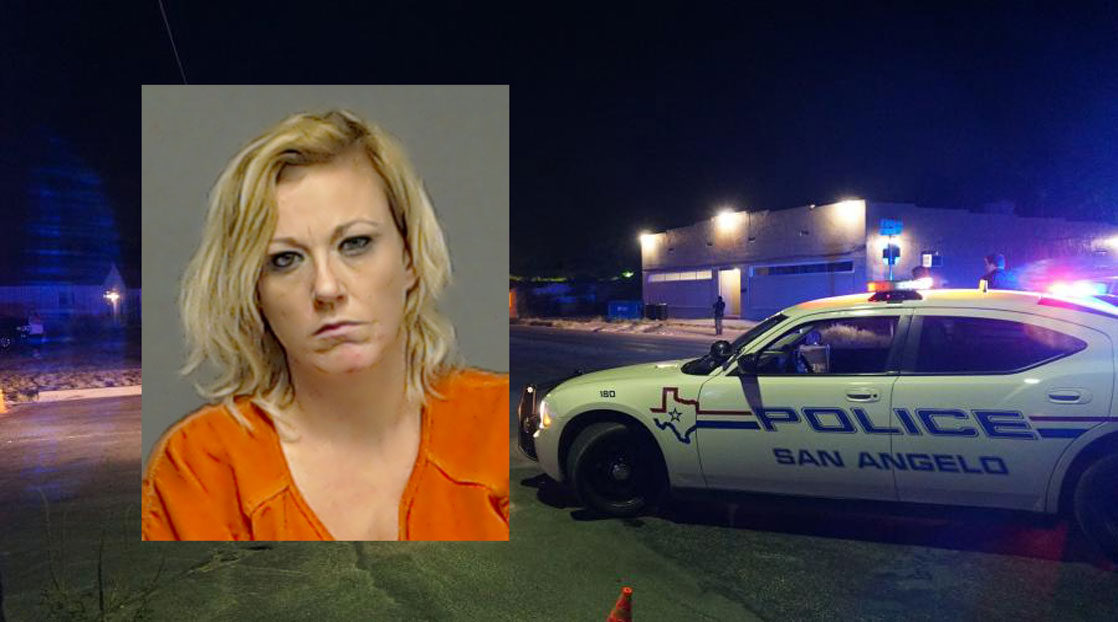 Above: Kimberly Linthicum's arrest photo. (TGCJ)
The day of the murder, Linthicum recalled a physical altercation between Simmons and Plunkett, and said that Simmons got Plunkett in a stranglehold.
"Linthicum stated that Simmons continued to strangle Plunkett until he was dead," stated court documents.
The altercation took place on a roadside in the area of FM 2288 and Old Sterling City Highway near Grape Creek.
After Plunkett's relatives confirmed he was missing, a search was conducted. Officials found the body in the area near where Linthicum said the altercation took place. Plunkett's body was in a near skeletal state condition on or about Oct. 25, 2010.  
Today's Plea Hearing
The courtroom was full of anticipation as Plunkett's family waited to hear the sentencing. After the recommended plea charges from the State, Judge Walther set the sentencing at 8 years in the state pen for the murder charge, and 10 years for the controlled substance charge. Both prison sentences will run concurrently and neither offer the option of parole.
"How do you plea," Judge Walther asked Linthicum.
After taking a short pause, Linthicum told the court she was guilty. 
Judge Walther accepted the guilty plea, and then allowed for Plunkett's family to address the court.
Plunkett's father stood-up and turned to face the defendant.
"You may not have taken my son's life, but you set him up for it," he told Linthicum.
He spoke of the hardship his family had gone through since the day their son was murdered.
"I'm still going on with my life the way [Brian] would have wanted me to," the father of the victim said. "I have watched my wife suffer, and all I can do is stand by her."
He said he didn't agree with the sentencing, and added that Linthicum was fortunate to be handed down such light punishment. 
Knowing Simmons had not been charged, he then asked Linthicum to confess who killed their son.
"Please, do right by us for once," he requested of Linthicum. 
Linthicum then turned to face the family, with tears in her eyes, and told them she was sorry.
Then, Plunkett's mother spoke for the first time, and said, "''Sorry' doesn't bring my son back."
Judge Walther then had to interject and said the court rules do not allow the defendant to speak with the family.
The court was adjourned after this discussion, and left a quiet courtroom in its wake.
The murder of Brian Kyle Plunkett was a cold case Sheriff David Jones and his lead Detective Lt. Terry Lowe cracked in November 2015. "If you look at the totality of the circumstances... Sometimes, it's like when the water is flowing, the river takes its route. I keep it simple. And sometimes the simplest answer is the correct answer," Lowe said then.
George Dale Simmons has not been charged with murder, however.
John Best, DA for the 119th Judicial District, explained why.
"It's not a question of us going after [Simmons]; It's a question of evidence," Best said. "What I want to make sure that everyone knows and understands is if new evidence arises that tends to connect George Simmons to the murder, we will certainly receive that evidence from the Sheriff's Office, or anyone else who has information of his role in the murder."   
He said that, under Texas law, there has to be evidence that tends to connect Simmons to the murder other than an accomplice's statement. He said this lack of evidence meant they are unable peruse the charge of murder against Simmons at this date.
Get more stories like this by
signing up for our daily newsletter, The LIVE! Daily
.