SAPD Investigates Overnight Burglary of Foster Communications Coliseum
SAN ANGELO, TX - This morning at 9:30 a.m., the San Angelo Police Department held a press conference at the Foster Communications Coliseum, located at 50 E. 43rd St., to discuss an early morning burglary that took place over night.
Public Information Officer Tracy Gonzalez told the press that, at about 8 a.m. this morning, officers dispatched to the Coliseum for the report of a burglary.
"Some of the civic staff, or event staff employees, arrived to work this morning and discovered the building had been burglarized," said Officer Gonzalez.
Officers made entry, did a walk through, and cleared the building to make sure all was safe and clear before allowing employees back inside.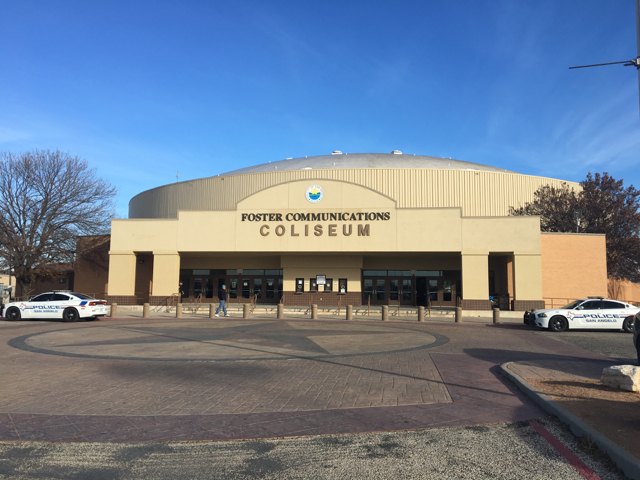 "They did not locate anybody inside," said Gonzalez. "We had staff come back in, and they did a walk through with us."
Officers cannot determine how many people broke into the venue, but they gained access to it by forcing entry through one of the side doors of a concession stand on the south side of the building.
"Once they gained access to that concession stand, they forced their way out through one of the windows, and that gave them access to the interior," added Officer Gonzalez.
She said the burglars did gain access to all the concession stands inside the coliseum.
"At this time, it doesn't appear anything was taken. They were probably looking for money and didn't find any," Gonzalez said.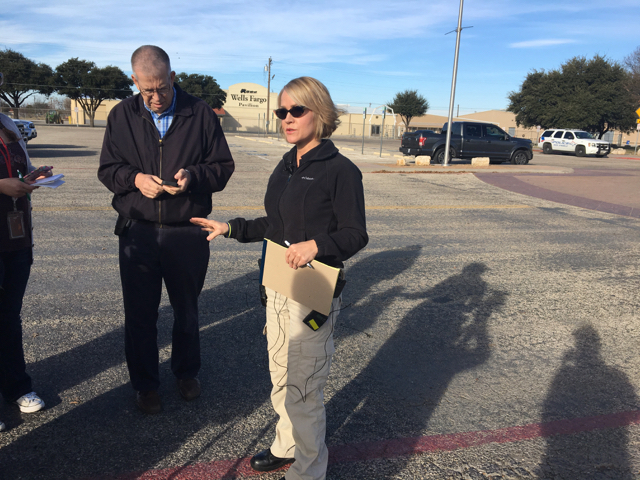 The burglars, however, did force their way into an office by breaking the window, and they stole several power tools.
"They don't have an estimate right now on how many tools," Gonzalez noted. "It's going to take several days for them to complete an inventory of the property, so, at this time, we cannot even give you a value, a dollar amount."
Gonzalez noted that she doesn't believe there are surveillance cameras installed inside the coliseum, so it will take several days for a thorough investigation to be completed by police.
Also, based on the broken glass, pry marks, and the burglars forcing their way into certain areas, the Coliseum is considered vandalized.
It also appears the burglars attempted to do something with the ATM machine inside the building. Gonzalez said she wasn't sure if they were trying to move it, or push it over, but they did not gain access to the funds inside. The thieves also attempted to gain access to the main ticket office, but they did not succeed.
Currently, three CSI detectives are investigating the scene because of the large space, and they're collecting evidence they feel will be important to the case.
"CSI teams are going to process and get whatever they can," said Gonzalez.
She mentioned that the last employee was at the Coliseum until about 6:30 p.m. last night, so officials know the burglary occurred over night before the first employee showed up this morning.
At this time, the main detective has yet to be assigned to the case. Patrol officers, supervisors, and CSI teams are currently investigating the scene.
Gonzalez noted that San Angelo definitely has an issue with property crimes, especially with vehicle burglaries.
"We have stressed to the public weekly that it is super important, not only to lock your door, but to also take your items from your vehicles. Consistently, we see the same information on these incident reports, either that there was no forced entry, or, if there was forced entry, items were taken that were left in plain view. We're talking wallets, computers, tablets, just property of value that one should not leave in one's vehicle. We have struggled with vehicle burglaries for as long as I've been at the department."
Gonzalez said the public is the department's eyes and ears. There are only a set number of police officers, and although they wish they could be in every parking lot and driveway across the city, that's simply not possible.
Therefore, "We really need you to be our eyes and ears," she said. "If you have information, there are several ways to contact us and remain anonymous. We have Crime Stoppers. You can text us through Nixle. We give the public many opportunities to communicate with us and remain safe. So, if you hear or see anything, please reach out to us. We need you. We need to work together. This is [your] property as well. This building is for our residents and for people traveling. We all need to work together to protect this town."
Update 1:53 p.m.
Officer Gonzalez is asking for those individuals who may have information regarding the burglary at the Coliseum, or the suspect (s), to please contact SAPD at (325) 481-2718. To remain anonymous, tip online at http://bit.ly/SAPDTips247, via text: text TIP SAPD to 888777 and follow the prompts, or by phone at 1-855-TIPS-247.
Get more stories like this by
signing up for our daily newsletter, The LIVE! Daily
.