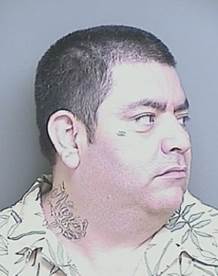 AUSTIN – Jesse Cruz Jr., 49, a violent sex offender wanted for failure to comply with sex offender registration requirements, is now on the Texas Department of Public Safety's Texas 10 Most Wanted Sex Offenders list. A $3,000 cash reward is being offered for information leading to his capture, said a press release Wednesday.
Cruz, who has ties to the San Antonio area, was convicted of indecency with a child by sexual contact after an incident in Bexar County involving a 12-year-old girl in 1993. His criminal history also includes aggravated assault with a deadly weapon and unlawful carrying of a weapon. For more information and updates about Cruz's arrest, click here.
According to DPS, Cruz is 5 feet 6 inches tall, weighs approximately 255 pounds, has a large tattoo on the right side of his neck, a small tattoo near his right eye and various other tattoos. He also has prior work history with moving companies.
Texas Crime Stoppers, which is funded by the Governor's Criminal Justice Division, offers cash rewards to any person who provides information that leads to the arrest of one of the Texas 10 Most Wanted fugitives or sex offenders.
To be eligible for the cash rewards, DPS officials said there are five different ways to provide anonymous tips:
DPS officials stated that all tips are guaranteed to be anonymous regardless of how they are submitted.
DPS investigators work with local law enforcement agencies to select fugitives for the Texas 10 Most Wanted Fugitive and Sex Offender lists. Individuals can find the current lists, with photos, on the DPS website at http://www.dps.texas.gov/texas10mostwanted/.
Because fugitives like Cruz are armed and dangerous, DPS officials request for the public not to attempt to apprehend these individuals.