POLICE: Train Crashes into SUV in West San Angelo
SAN ANGELO, TX – An SUV and a train crashed into each other Tuesday morning in San Angelo. 
According to information from the San Angelo Police Department, on Jan. 7 at around 9:00 a.m., Officers with the SAPD responded to a crash involving a train and a 2003 Chevrolet Suburban.
When officers arrived to the 900 block of West 19th St., they found the SUV on the tracks with extreme damage.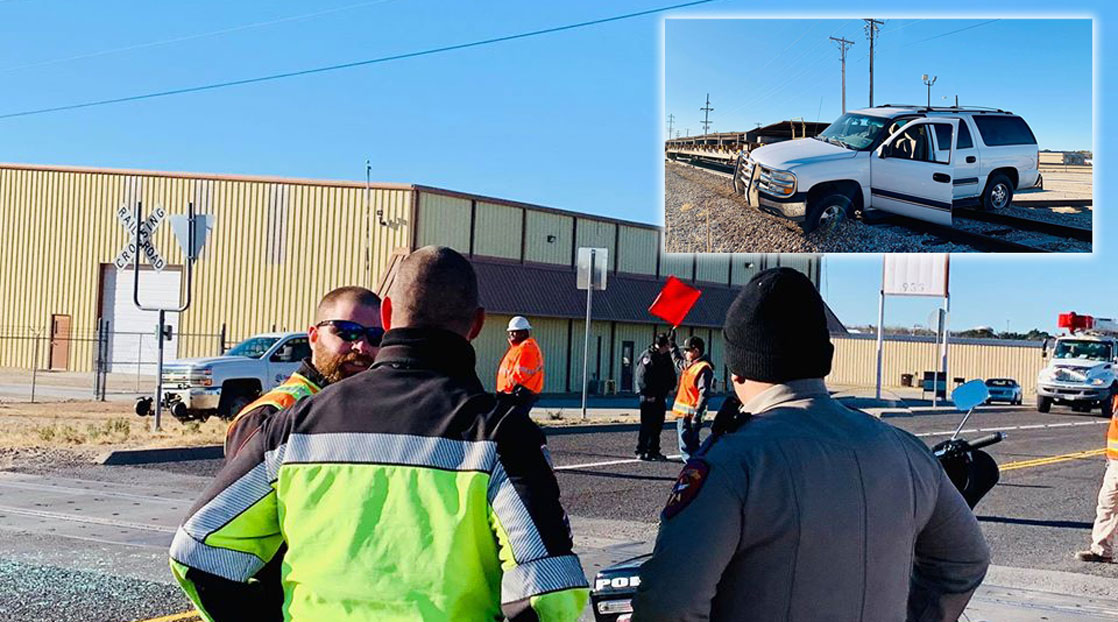 After further investigation the officers determined that the SUV was traveling eastbound when the driver failed to react to Texas Pacifico Transportation flagmen who were alerting motorists at the crossing. 
No one was reported injured but the train did push the SUV several hundred feet. 
The SAPD reminds everyone of a few tips while driving near a railroad: 
Turn down your stereo and listen for a train.
If red lights are flashing or if crossing arms have been lowered, stop.
Never stop on the tracks. A train going 50 miles per hour needs a mile and a half to stop.
Be sure all tracks are clear before crossing - there may be more than one set.
Texas law requires motorists to yield the right of way to trains. It is also against the law to cross tracks if a train is visible or to drive around gates that have been lowered at a railroad crossing. If the gates are down and no train is coming, the road is closed]
Here's a few stories we've covered about train crashes: 
VIDEO: Driver Escapes Injury when Train Crashes Into 18-Wheeler
Texas Student Killed When Train Crashes Into School Bus
Truck Driver Miraculously Walks Away from Collision with Train
Get more stories like this by signing up for our daily newsletter, The LIVE! Daily.