Snapchat Video Surfaces of Driver's Video Moments Before Her Fatal Crash
SAN ANGELO, TX — A San Angelo woman was killed in SH 158 near Midland on April 26. Multiple acquaintances of hers provided San Angelo LIVE! with a smartphone video she purportedly shared minutes before the fatal crash.
According to the Texas DPS, Lacy M. Connell, 29, was westbound on SH 158 just seven miles from Midland. DPS didn't indicate how fast she was driving, but noted that she "failed to control speed" when she rammed her 2018 Nissan Titan into the back of a 2018 Western Star truck tractor that was travelling the same direction ahead of her. . Connell was rushed to Midland Memorial Hospital where she was later pronounced dead by Dr. John Peterson, according to the DPS preliminary crash report. Connell was driving alone.
Besides Connell, a passenger of the Western Star truck was taken to the hospital. He had minor injuries, according to DPS.
The time of the 9-1-1 call concerning the crash was Friday, April 26, 2019 at 11:14 a.m., according to DPS.
A video surfaced over the weekend purportedly created by Connell just before 11 a.m. It was posted on Snapchat prior to the crash. In the video, posted by Snapchat user "lacy_conn1," a caption was placed, declaring, "I love Fridays cuz they play all the old Skool jams! #flashbackfridays #93.3 #midland", referencing a radio station. The time on the video shot during daylight was 10:5__. We could not tell what the last number was.
Multiple friends have told us that "lacy_conn1" is Lacy Connell.
WATCH: The purported Snapchat followed by a video taken by a driver passing the crash scene.
We have talked to multiple friends who witnessed the video on Snapchat. The video shows the Nissan navigation map of the truck traveling on SH 158 about to cross an intersection. We could not verify the name of the cross road on Google Maps. Based on the diagonal orientation of the cross road, it could be SH 137 that also has the name of FM 1800. If so, this places the Snapchat video being made about 5 to 7 miles prior to the crash scene.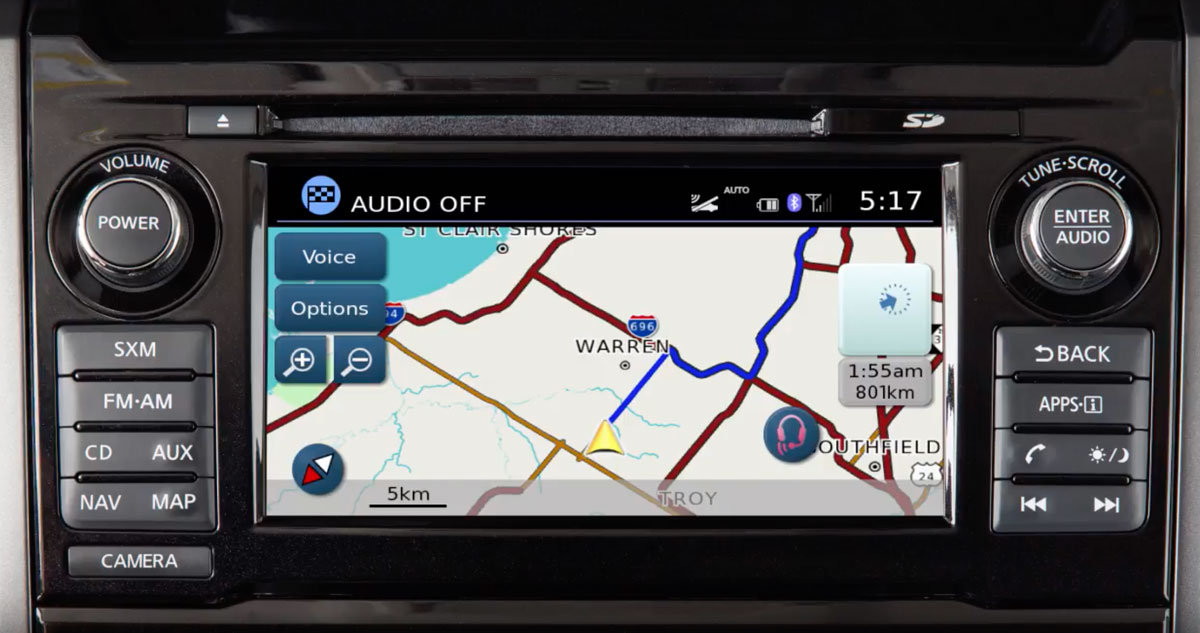 Above: The 2018 Nissan Titan navigation screen (Screenshot, Nissan factory video) The map content is not the same on the Snapchat video.
Friends say Connell was notorious for posting videos taken when driving. Friends' comments on a video she posted on Facebook four years ago admonish her for videoing while driving.
Connell replied, "Don't worry guys. I know not to video and drive. I was in B.F.E. where no one else was around. Trust me I know better. Around lease roads no one is there but you and u go about the speed of a turtle…..I would never put others in danger…those in the oilfield know around lease roads it's jus you and the rocks."
DPS reported the speed limit on SH 158 where Friday's crash occurred was 75 mph.
Get more stories like this by signing up for our daily newsletter, The LIVE! Daily.