SAN ANGELO – Tom Green County Commissioners Tuesday morning proposed one of the lowest property tax rates since 1884. 
According to Tom Green County Pct. 3 Commissioner Rick Bacon, the property tax rate in the 1880s when the county was established was .50 cents per $100 in property value.  The proposed rate for FY2024 for Tom Green County is .47290.  
But that's only part of the tax bill puzzle.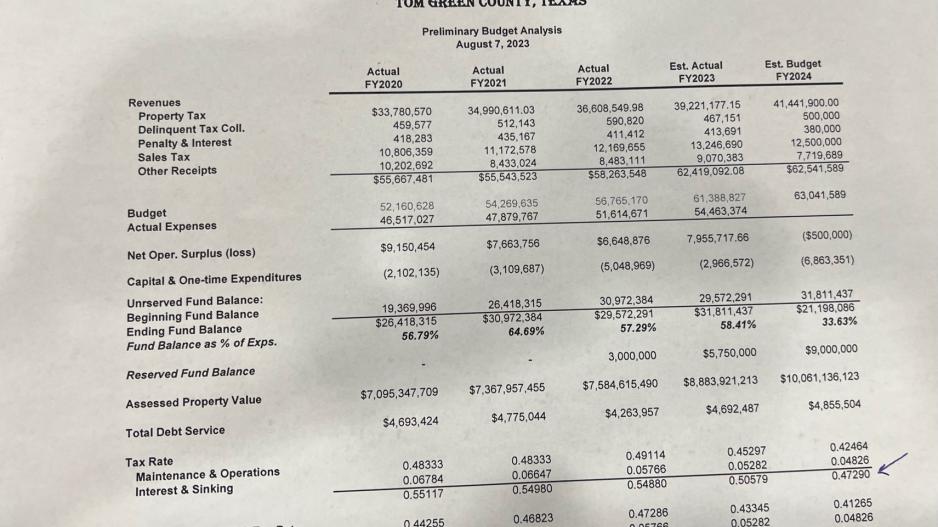 Tom Green County is only one of the taxing entities that sets a tax rate on the tax bill property owners receive each year. The other taxing entities include the San Angelo Independent School District and the City of San Angelo.  
Residents who own property outside the San Angelo City Limits pay property tax to a school district and the county and in some locations, a water district or an emergency services district.  
The city and school districts will set their tax rates later this summer. 
The tax rate reduction comes after a tax appraisal crisis created by the TGC Central Appraisal District which saw property tax appraisals skyrocket for property owners county wide.  
According to information from the county Tuesday, the new appraisals raised the total property values in the county from $8.883 Billion last year to $10.061 Billion for FY2024.  
Judge Carter says because of the increased property values, the lower tax rate increases revenue by about $4 million.  
The Texas Legislature mandates that the Texas Comptroller of Accounts, Glenn Hegar, ensures property tax appraisals in Texas are within 5% of market value.  
The Comptroller regulates Appraisal Districts in Texas. The TGC Central Appraisal District under Chief Appraiser Tyler Johnson increased property values in Tom Green County from $8.883 Billion last year to $10.061 Billion for FY2024.  
Local taxing entities like the County, City and School District set a property tax rate based upon the property value mandated by the legislature through the Comptroller to the local Appraisal District.  
The property tax bill has two parts, the total tax rate set by the local entities, and the property value set by the state-regulated Appraisal District.  
That total bill will be mailed to property owners later this year.  
The proposed tax rate will fund a budget for Tom Green County that includes an 8% Cost Of Living Adjustment (COLA) salary increase for county employees with a 2% merit raise possible amid 14.27% inflation.  
Most Recent Videos