SAN ANGELO, TX — Robert Martinez, a retired San Angelo Police Officer after more than twenty years of service, ventured into the Target on 4235 Sunset Drive on May 17, 2017, to purchase a new bicycle. He looked around and picked out the one he liked, a 28" hybrid Schwinn which had a sign attached which said "Roll me to the register, I am ready to go."
He paid his due and once through the doors hopped on the bike to test it out and take it to his car, "not knowing that the handle bars were loose. The loose handle bars caused [the] Petitioner to lose control of the bike and caused him to fall and strike his shoulder necessitating shoulder surgery," says Martinez's counsel.
All bicycles enter the store in a box and are then assembled by a Target employee meaning Martinez claimed faulty assembly was the cause of a crash and Target should be held solely responsible. However, Target denies all responsibility in this regard and instead faults Martinez for, as surveillance video shows, riding the bicycle with a full shopping bag on one wrist. 
Martinez, in seeking over $100,000 in restitution to cover rotator cuff surgery and rehabilitation as well as emotional damages, opted for an old police trick. He brought in an expert engineer who specializes in the forensic recreation of car crashes. The expert witness, while examining the bicycle, noted that, "the measured torque of the top cap pinch bolts were below specifications", meaning loose handle bars were indeed the culprit. 
But such evidence has now been thrown out as new deposition reveals the bicycle had been tampered with. After the Plaintiff left the scene by ambulance, "his nephew took possession of the bicycle and transported it to his (the nephew's) garage. Approximately one year later the Plaintiff's nephew, firefighter R.J. Hernandez, decided to return the bicycle to Plaintiff. Before returning it, however, he tightened‐up the handlebars, put the bicycle in the bed of his truck, and drove the bicycle over to Plaintiff's house. When he dropped the bicycle off, he told Plaintiff's wife, '[T]ell Uncle Bobby [I] tightened everything up.'"
Because of the allegation the plaintiff withheld the bike itself as evidence, this 6-figure case is entirely up in the air. The Plaintiff hopes to have his doctor's testimony and that of the forensic crash scientist (see drawing below) take him to the finish line while Target is surely putting up a fight.
Years in the making, the Martinez vs. Target case is finally being heard by the judge this week in district court.
The sketch in court documents detailing the plaintiff's complaint about the loose handlebars: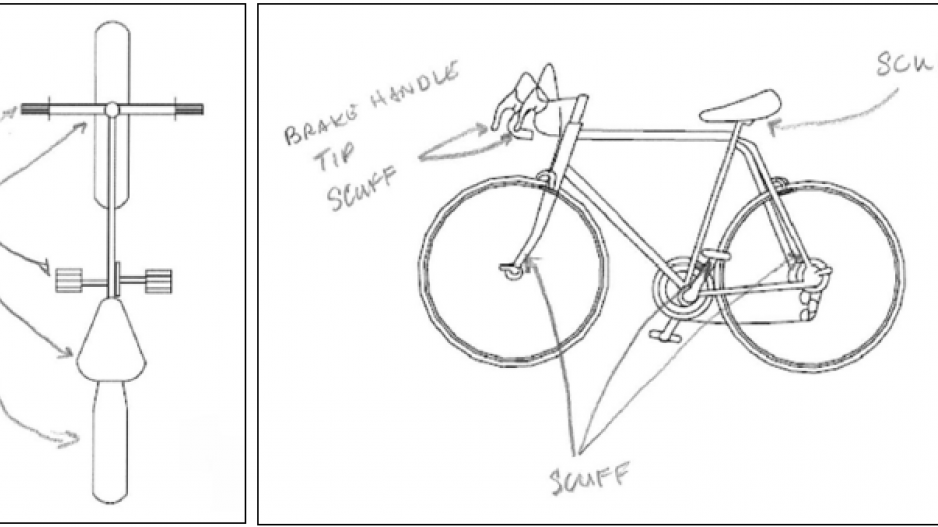 Most Recent Videos