First Responders Donate Cook-Off Proceeds to 7-year-old Boy Battling Leukemia
SAN ANGELO, TX — Proceeds from the first annual First Responders Barbecue Cook-Off were presented to the family of Aiden Snyder of San Angelo who has been battling leukemia for three years.
Tom Green County Constable Mike Magee and San Angelo Police Chief Frank Carter presented a check for $4,411.65 to Aiden's father Tuesday.  Aiden's father, Chris, shared this information with San Angelo LIVE!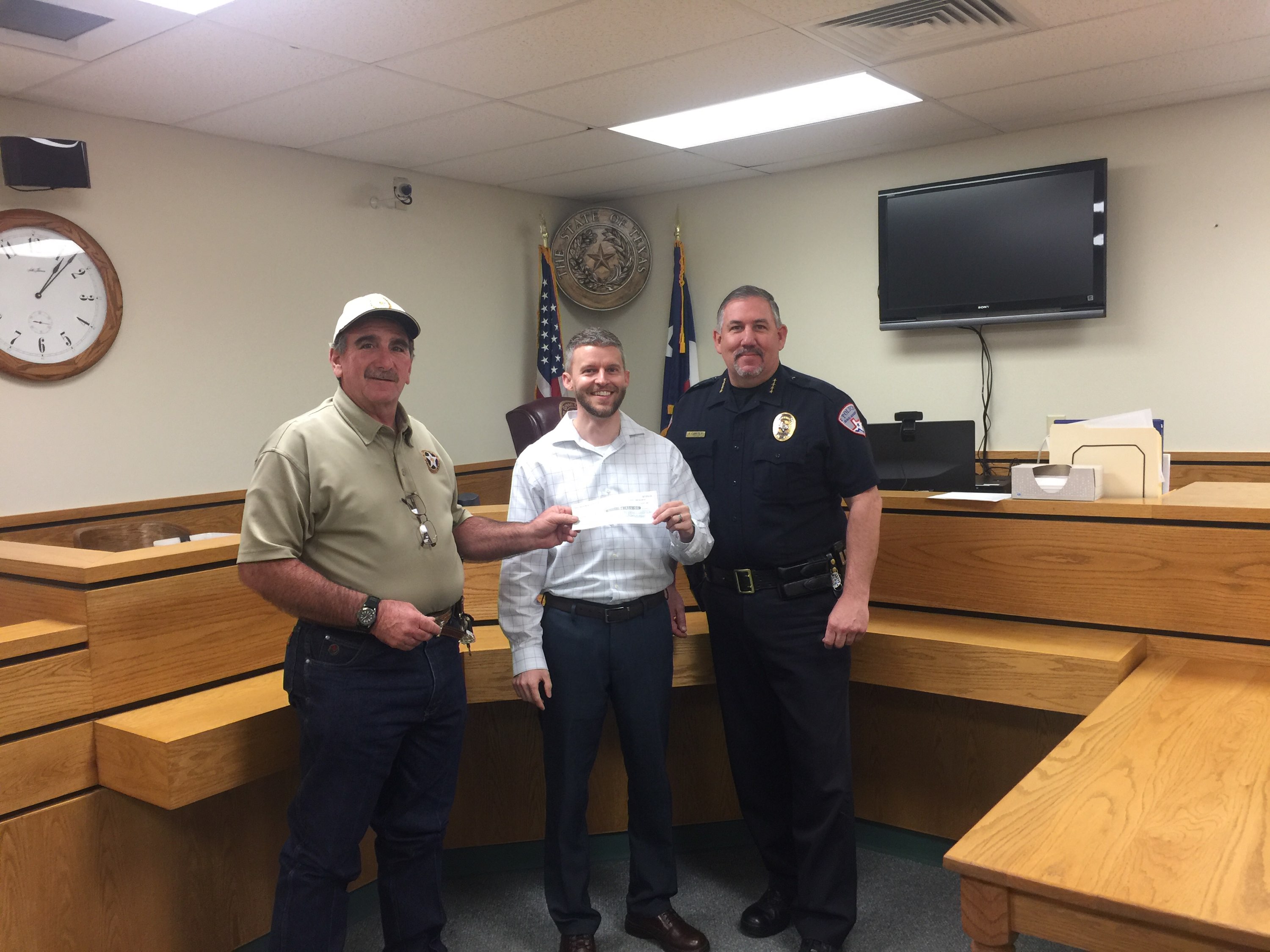 Above: Mike Magee, Chris Snyder, Frank Carter. (LIVE! Photo/Yantis Green)
"On May 2, 2016, we took Aiden to his pediatrician after noticing some concerning bruises on his legs.  After some blood work he was flown to Cook Children's Hospital in Ft. Worth, TX and he was diagnosed with Philadelphia Positive ALL, a rare form of leukemia.  He underwent two years of chemotherapy and finished treatment in April 2018. Things seemed great after that and Aiden was back in school and being a normal kid again.  Then on Halloween 2018 he relapsed.  He's been in Ft. Worth either in Cook Children's or next door at the Ronald McDonald House for the past six months.  He underwent a cord blood transplant in January 2019 and has been slowly recovering since then.  We hope he can finally return home in a few more weeks.  His eighth birthday will be next week on May 8."
On Saturday, April 27, 33 cooking teams competed in the first annual First Responders Barbecue Cook-Off.  Them teams competed in jalapeño poppers, chicken, ribs and brisket. The competition raised over $4,000 and several of the winning competitors donated their winnings back.
Magee and Carter thanked the competitors and volunteers for participating.
Chris Snyder said, "We are thankful for Mike Magee coming up with this cook-off contest to benefit Aiden and beyond grateful to all the people who came out to participate.  Over the past three years this community has been so supportive of Aiden and our family and it has been a huge blessing to us as Aiden continues to fight."
Get more stories like this by signing up for our daily newsletter, The LIVE! Daily.