General Hawkins and Wife Maria Named San Angelo Citizens of the Year
SAN ANGELO, TX — The annual Chamber of Commerce Banquet was packed this year with 520 seats sold. At the banquet, the Chamber recognized citizens who have contributed to the enhancement of San Angelo's business climate and culture.
U.S. Air Force (ret.) Lt. General Ronnie Hawkins and his wife, Maria, were honored as this year's Citizens of the Year. This is the first year the Chamber has recognized a couple rather than an individual.
Hawkins retired from the U.S. Air Force in 2015 and began a second career here in San Angelo as both an ordained Baptist minister and community leader and volunteer. Hawkins' expertise in the Air Force surrounded high technology. His final assignment was as Director, Defense Information Systems Agency and Commander, Joint Force Headquarters – Department of Defense Information Networks (DODIN), Fort Meade, Maryland. But his heart is in educating our youth and saving souls.
The general arrived in San Angelo three times. He was born here, but his father, a Chief Master Sergeant in the U.S. Air Force was transferred soon thereafter. His family returned in time for Hawkins to graduate from San Angelo Central High School.
Hawkins graduated from Angelo State University in 1977 with a Bachelor of Business Administration degree in computer science. But prior to going to college, the general said he met Maria in history class at San Angelo Central High School. They have been married for nearly four decades.
The Hawkins have been a team, serving their country and now their community together.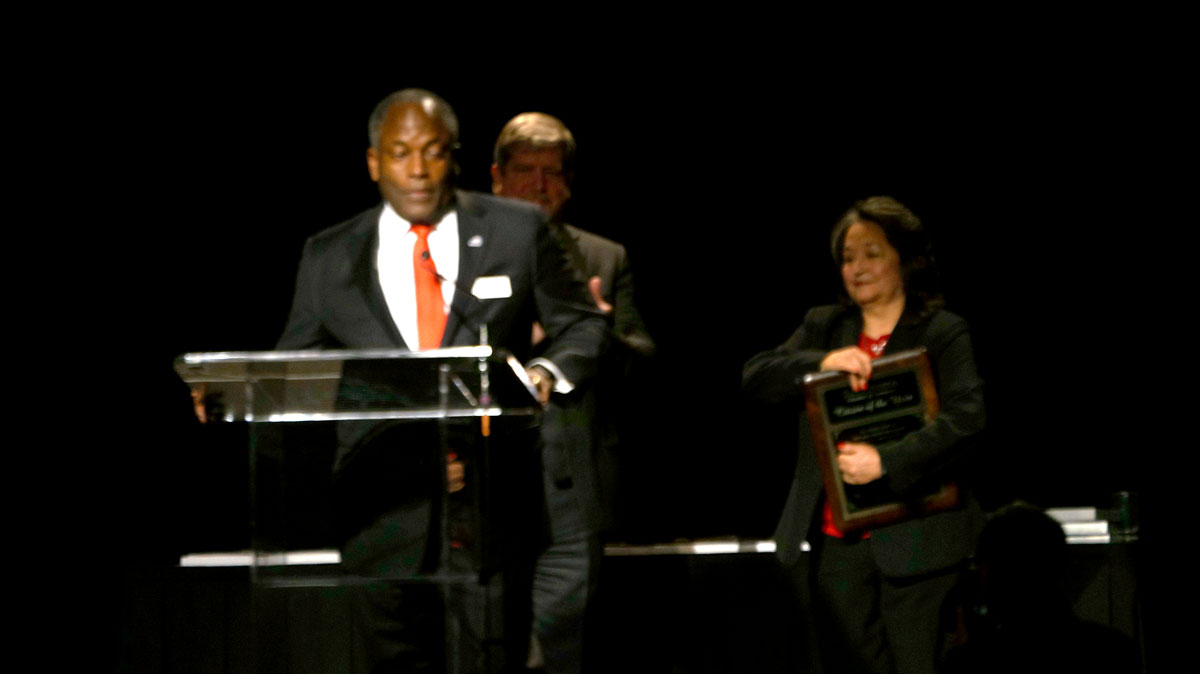 Above: General Ronnie Hawkins announces the all-day prayer and praise event at San Angelo Stadium to be held on May 4, 2019. His wife, Maria, looks on. (LIVE! Photo/Joe Hyde)
During his career in the U.S. Air Force, the general earned a Master of Science degree in management and human relations at Abilene Christian University and a Master of Science degree in national resource strategy, in addition to all of the traditional professional military education required for promotion.
Towards the end of Hawkins' military career, he earned a fourth degree, a Master of Divinity degree (Cum Laude) in church ministries from Liberty Theological Seminary in Lynchburg, Virginia.
Last year's Citizen of the Year Rick Mantooth, after quipping that Hawkins has more degrees than the thermometer reading in Death Valley, described Hawkins' leadership style as having a heavy dose of caring for the people who report to him and as being sought after as an outstanding mentor.
In the Air Force, like all of the armed services, the quality thrives in organizations where senior leaders mentor the junior members, especially company grade officers. Some of those who are captains now will be generals in the years to come, and the Hawkins understood how to foster excellence through mentorship.
Mentorship and education figure large in the Hawkins' life.
In 2010, the Hawkins were introduced to the plight of the people in Haiti and the husband and wife team have led humanitarian and missionary operations to there ever since. Maria said they have helped establish a school in Haiti that today has 350 students enrolled.
In San Angelo, the Hawkins lead the Christian Fellowship Baptist Church where the general is the pastor.
The couple adopted Goliad Elementary School because the couple learned that that the K-5 school had over 70 percent of its student body living in poverty. The Hawkins organized donation drives for coats during the colder months and school supplies year round.
The Hawkins spearheaded the restoration of a former Tom Green County Library called Dunbar, built in 1932, located on Martin Luther King Blvd. behind the new Taco Bueno that faces N. Bryant. Decommissioned by the County in 1972, the old wood building held historical and cultural significance to the black community in the Blackshear neighborhood of San Angelo.
Alerted that the Northwest Lions Club, who owned the old library and met there weekly, were considering abandoning the building because it was in such disrepair, the Hawkins formed a 501(c)(3) non-profit organization and organized a diverse group of capable partners, including the San Angelo Area Foundation, who restored the old building to carry on its original mission as a library as well as serve as a museum.
The significance of the Dunbar Library is that before the civil rights movement, black people were not allowed in the county library downtown because of segregation.
In 2016, the Hawkins, who are Angelo State University alums, established a scholarship for a student to study at Angelo State University.
The general said that when he was in charge of all of the Reserve Officer Training Corps (ROTC) for the Air Force, he had scholarships available for minorities, particularly minority males. Yet, he could not award many of them because there were not enough qualified applicants.
The Hawkins were alarmed with the national trend in low graduation rates.
In San Angelo, the high school graduation rates for minorities run about four to five percentage points higher than the state average. The Hawkins view this as a community advantage, but still believe the minority graduation rate is too low at nine points below the white graduation rate. This is one reason why in 2018 the general led the effort to pass the San Angelo ISD bond.
The bond election failed twice, but the general is undeterred.
"There's always a third time," he said with a smile. San Angelo kids deserve the very best facilities, the general said. He's not giving up the fight.
In addition to education, the couple is worried about the spiritual health of San Angelo. The Hawkins are organizing a Christian revival at the San Angelo Stadium. The general took his time at the podium Thursday night to announce it.
On May 4, the Hawkins, along with several Christian churches and organizations, are holding the inaugural Clarion Call 4 Jesus Christ. Their goal is to attract 14,000 people to come to the stadium for several hours of prayer, praise and worship. The event is nondenominational.
Besides advocating education so San Angelo's youth can realize their full potential in life, the Hawkins believe a strong Christian influence on the community is needed to foster eternal happiness for all.
When asked how he felt about sharing the award with his wife, the general smiled, looked at Maria with a nod, and said, "She was first to speak and accepted the award for a very good reason."
General Hawkins spoke about San Angelo's need for excellence in education at the 2016 NAACP banquet in San Angelo. This is what he said.
Others honored by the Chamber for their contributions in 2018 include:
Mike Boyd
Special Recognition Award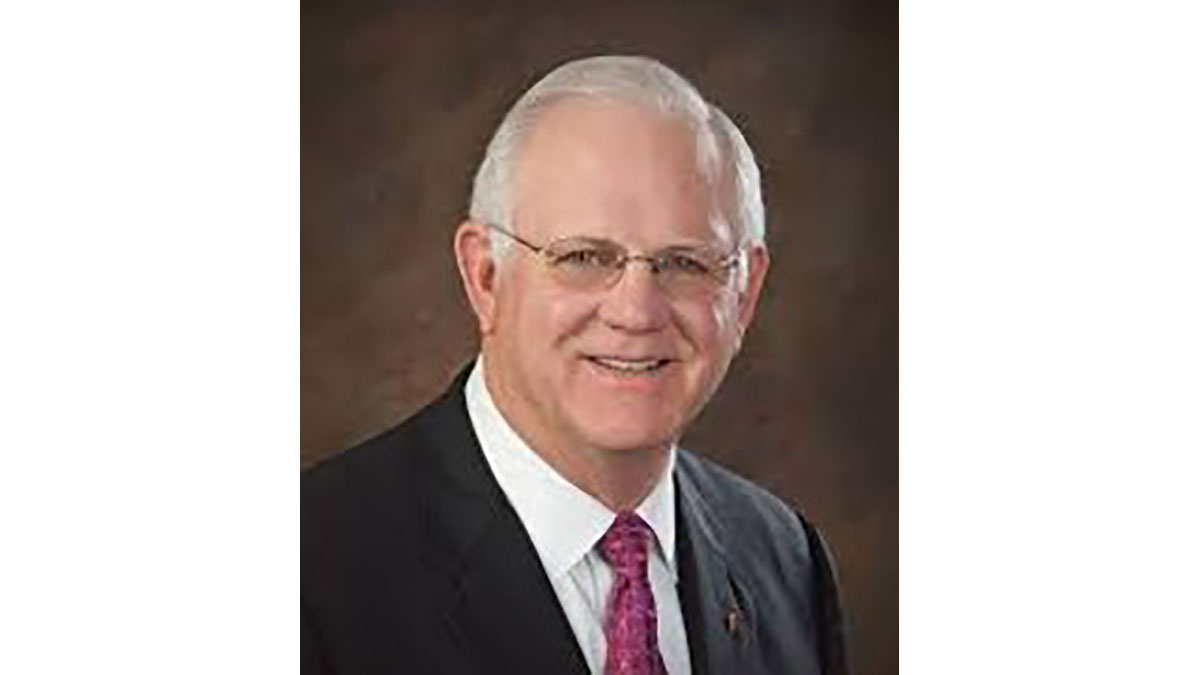 Above: Mike Boyd
Named the Citizen of thee Year in 2015, Mr. Boyd was called on to serve one more time. After former Chamber President/CEO Dan Koenig moved to Iowa in early 2018, Boyd agreed to the void as the Chamber's interim president. Outgoing Chamber Board Chairman C.J. Muniz said that he, along with many others, are thankful for his service. Muniz noted Boyd's passion and loyalty to this community.
"A great man and a great leader – job well done! Because of this, we have chosen to give a Special Recognition Award to Mike Boyd in recognition of his dedication, commitment and contributions to our Chamber and the community," said Muniz.
Conventions and Visitors Bureau
Special Recognition Award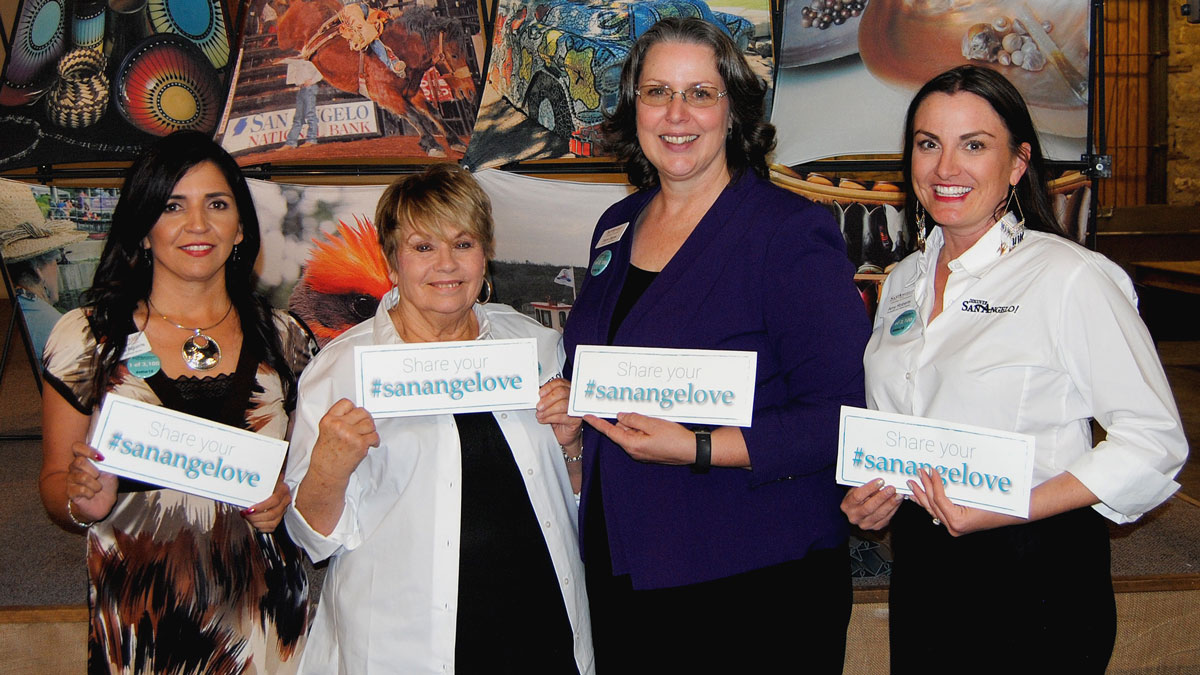 Above: The CVB staff, Suzanna Aquirre, Dian Bayes, and far right, Amy Roberts. 
The Convention and Visitors Bureau sells San Angelo as a tourist destination nationwide and helps put "heads in beds" at the city's hotels and motels. As of fourth quarter 2018, hotel/motel occupancy grew from 50 to 60 percent. Aiding that were 78 bookings completed by the CVB that provided San Angelo with an $8.8 million economic impact.
The bureau serves as the destination marketing organization for the community. This in turn enhances the quality of life for the citizens of San Angelo through increased tourism. The four-member staff performs these duties through targeted sales efforts, niche and cooperative marketing, tourism development, and communications showcasing San Angelo as the oasis in west Texas, just off the beaten path.
If not for tourism in 2018 in San Angelo, every household would have to pay an additional $399 in taxes to local governments.
Here are the honors given to the CVB and the City of San Angelo for its tourism promotion:
Named Judges' Choice and People's Choice Winner of the Best Website at Texas Association of Convention & Visitor Bureaus Annual Conference
Ranked #2 Top 10 Western Town in the U.S. by True West Magazine in 2019
Attained Film Friendly Texas Designation from the Texas Film Office
CVB Director Diann Bayes named to the Board of Directors for the Texas Travel Industry Association
CVB specialist Amy Roberts named Rookie of the Year for the Desk and Derrick Association of Midland
"I think we can all agree that Diane Bayes, the VP of the CVB and her team have taken the CVB to a new level, diversified for all," Said Muniz.
Tim Hall
Special Recognition Award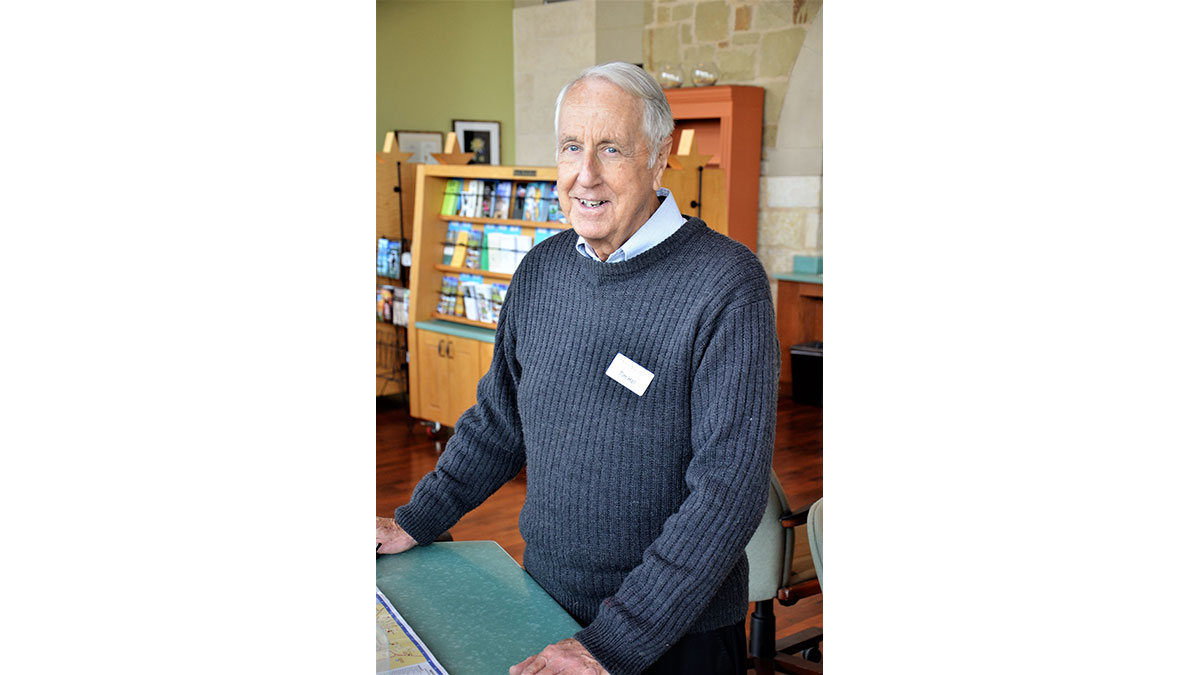 Above: Tim Hall
For 15 years, Hall has played a vital role at the Visitor Center, logging more than 2,700 volunteer hours greeting and receiving guests, said Muniz. In addition, once a week, Hall arrives to sort through the staff's recycling, learning that sometimes they don't know the difference between paper and plastic. Then he personally delivers what would have gone into the trash to be recycled.
As a former educator, Hall thrives on sharing knowledge he has learned about San Angelo with those who frequent the doors of the Visitor Center.
Roger Allen (Posthumously)
Phil Neighbors Spirit of San Angelo Award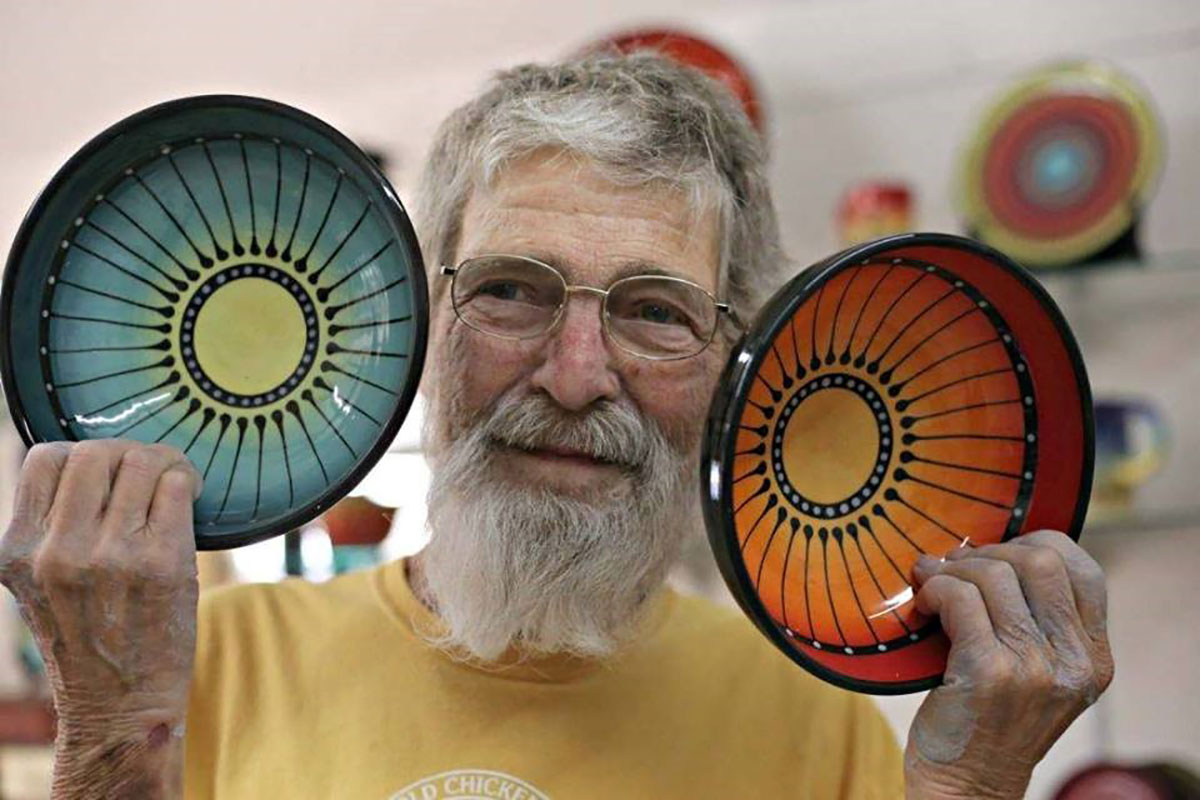 Above: Roger Allen
Roger Allen was a very special gentleman who saw a vision and had a passion that greatly influenced the cultural development of San Angelo.
"He built it and they came," said Munoz.
Born in Amarillo in 1943, he was an educator at San Angelo Central High School for several years before turning The Chicken Farm Art Center into his full-time passion.
Over the years, Allen hosted many classes, workshops, artists, concerts and dinners to help those with the same passion as his. The Chicken Farm, tucked away in north San Angelo on Martin Luther Kind Blvd., became a destination.
Allen was the driving force behind the arts in San Angelo and he was instrumental in San Angelo's national recognition for its local artists.
His motto and the motto of The Chicken Farm Art Center is, "Sharing the Art Spirit". Allen lived by those words in every project he worked on, every person he helped, and from dawn until dusk, his spirit was what shined brightest in all he did.
Prior to Allen's death, the Chamber was able to share the news of this award with him and provide a certificate in honor of his hard work. The Phil Neighbors Spirit of San Angelo Award is given in recognition of Allen's outstanding contributions in the San Angelo community and to its Chamber.
San Angelo Diabetes Coalition
Special Merit Award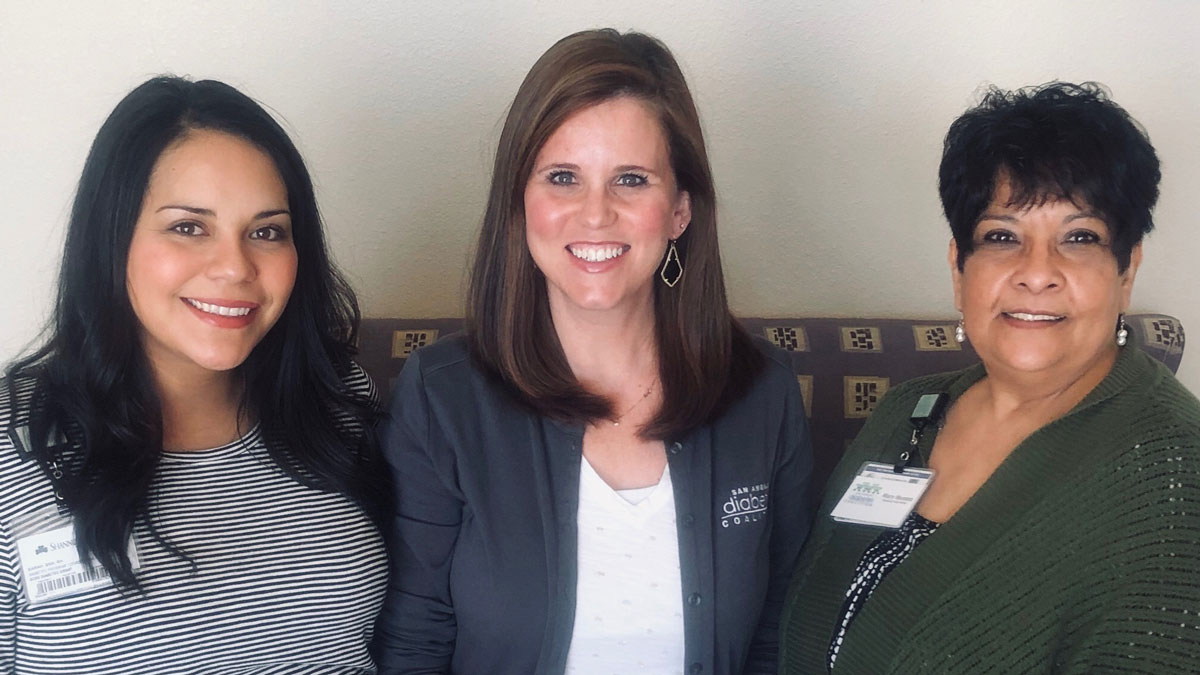 Above: Sarah Santellano and the staff. (LIVE! Photo/Joe Hyde)
Healthcare is a focal point for all who live in San Angelo that has two major healthcare organizations, Shannon Medical Center and San Angelo Community Medical Center.
All healthcare professionals recognize the need to help, educate and save lives. Diabetes is not an uncommon disease. It may have affected you personally or someone close to you. It is a disease that many must take medication for and have continuous education and testing to manage the disease.
For the past eight months, the coalition hit the streets providing information and promotional materials to over 3,300 citizens. They have held 40 health fair and outreach events. In addition, the coalition has educated over 500 patients at educational seminars and 33 at diabetes education classes.
These individuals have access to one-on-one coaching with a Community Health Worker and Registered Nurse, access to registered dieticians, physical therapist- recommended physical activity and community resources. During fourth quarter of 2018, the SADC program participants realized an average of 10 percent decrease in their A1C.
Jordan Burrell
Educator of the Year Award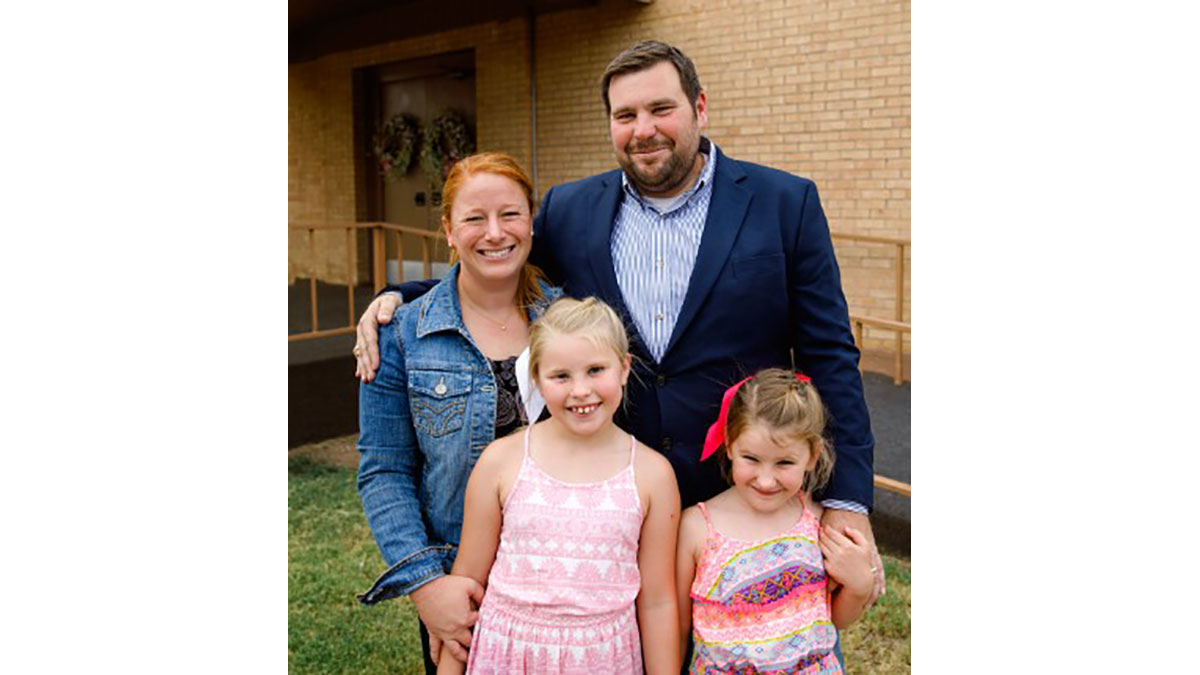 Above: Jordan Burrell
Burrell grew up in San Angelo, and graduated from Texas A&M University in College Station with a BA in agricultural economics, international agricultural development, and education. He obtained a teaching certificate at A&M, too.
He has a wife, Allison and two beautiful daughters. He started his career at the Texas Baptist Children's home (Miracle Farm in Independence, Texas) and served as the Executive Director of The Association of Baptist Students at Texas A&M University.
Burrell has since been a public school educator for 15 years. This is his 12th year with the San Angelo ISD. He taught at Lincoln Middle School from 2007 until 2018. There, he taught in the self-contained program working with children with disabilities. He taught all core subjects and provided all his students exposure to therapeutic farming as well as music by playing many instruments himself.
He is well known for creating the small farm at Lincoln that was funded by grants that he worked tirelessly to obtain.
Burrell is today the Vocational Adjustment Coordinator for the San Angelo ISD and has made astounding strides developing internships within the school district and the San Angelo community.
He recruits new companies for employment for his students, increasing the variety of job investigation sites while expanding and aligning the focus of the district's transition programs to meet student needs in high schools and in the 19 year old and higher program at Howard College.
He is also the preacher and the music director for 7th street Baptist Church in Ballinger. Through this he helps with the children's ministry, has helped to head up programs to insure students have backpacks and school supplies, visits to the nursing home there, orchestrates food bank donations, and the angel tree.
De'Ja Gomez
Student of the Year Award
For the past two years De'Ja Gomez has exemplified what it is to be an active giving member of the Lake View High School student body and community. Not only has De'Ja served countless volunteer hours for the Northside San Angelo Recreation Center, she has participated in the activities such as Healthy Families Christmas, Adopt-a-Highway Trash Pick Up, plus countless hours of performing with the Lake View High School Mariachi Band. In the last two years De'Ja has accumulated over 350 volunteer and community service hours
Mary Grace Pidgeon
Student of the Year Award
Mary Grace Pidgeon is a true example of Central High School's motto "Central Can!" This year as a senior, Mary Grace has led countless school in community service projects as both the Student Council and National Honor Society President. A true servant leader at CHS, Mary Grace has helped coordinate Blood Drives, Staff Appreciation Day's, Project Santa, Homecoming Festivities, and has never missed a minute as a student leader of our CHS Orientation sessions. She not only gives of her time at school but has given over 300 hours at her church, serving on the youth group's lead team, and on two mission teams. Mary Grace said "serving both the staff and students of CHS and the community of San Angelo, has been a top priority for me since I began high school." Mary Grace will graduate near the top of her class and will attend Texas A&M University at College Station in the fall to major in architecture.
In addition, the Chamber recognized Jaton and Courtney Hampton with the Innovation Award for their food truck business, Hampton's Barbecue; the Lake View Mariachi Band received a Special Recognition Award; and former San Angelo ISD Superintendent Carol Ann Bonds received the Chairman's Award.
During the banquet, Muniz passed the chairmanship of the Chamber over to the 2019 Chamber Board Chairman, Sheryl Pfluger.
Pfluger spoke about the Chamber's goals for 2019. The priority is to implement the Vision 2050 plan. The long-range planning document will set goals and tasks to be accomplished based upon the anticipated needs of San Angelo 10, 20, and 30 years from now.
In addition to Vision 2050, Pfluger promised to prioritize improving broadband Internet access in San Angelo, particularly for large enterprise applications such as what is needed at Goodfellow Air Force Base to expand its mission there. Economic development is also a priority for Pfluger, who intends to strengthen Chamber ties with the city, county and school districts.
To illustrate working together, during the middle of her remarks, Mayor Brenda Gunter sensed that Pfluger needed a glass of water and ordered a glass for her.
Gunter is advocating for economic expansion beyond just the San Angelo Industrial Park. Not specifically mentioned in Pfluger's speech is that community leaders are eying Lake Nasworthy and the municipal airport, Mathis Field, for expansion in the wake of continued success gaining tenants at the San Angelo Industrial Park. Phase II there is already underway.
Pfluger said the theme for the 2019 West Texas Legislative Summit this summer will be trade.
Sponsoring this year's Chamber banquet were:
Blue Cross/Blue Shied of Texas
Black Plumbing
Shannon Medical Center
Foster Communications
WTX Oil Field Services
Lamar Outdoor Advertising
Four N Ranches
City of San Angelo Development Corporation
BEPC
The Cactus Hotel
Goodyear
First Financial Bank
Gentry Creek Ranch
Johnson's Funeral Home
LIVE Design and Print Shop
West Texas Rehab
San Angelo Area Foundation
Sonora Bank
Texas Bank
Get more stories like this by signing up for our daily newsletter, The LIVE! Daily.